Adding gates to the map
Once you have your map set up in the platform, you might want to create a series of gates, or entrances, which will help you when directing your customers and scanning in their tickets. The Gates feature allows you to connect sections from your seat map to specific entrances, and the relevant gate/entrance will be shown on your customers' tickets.
Please note that this feature must be activated on your account, so if you would like access to it, contact us here.
Let's say you want everyone sitting in Section A to enter only through Gate 1, and everyone in Section B to only enter through Gate 2. You would create these two gates, and then select which sections on your seat map they relate to. You would then assign the gates to certain users on your account, meaning that your staff member standing at Gate 1 will only be able to scan in customers sitting in Section A. Anyone with seats in Section A will see "Gate 1" on their ticket.
Creating a new gate
| | |
| --- | --- |
| | Once we have activated this feature for you, you will see a new tab appear in the main menu called Gates. If you have not yet created any gates, this page will appear empty. Once you have created some gates, they will be displayed here. |
1. Start by clicking Create under the seat map you want to apply gates to.
2. Name the gate. Remember this is what will be displayed on your customers' tickets.
3. You can choose to add an image if you like.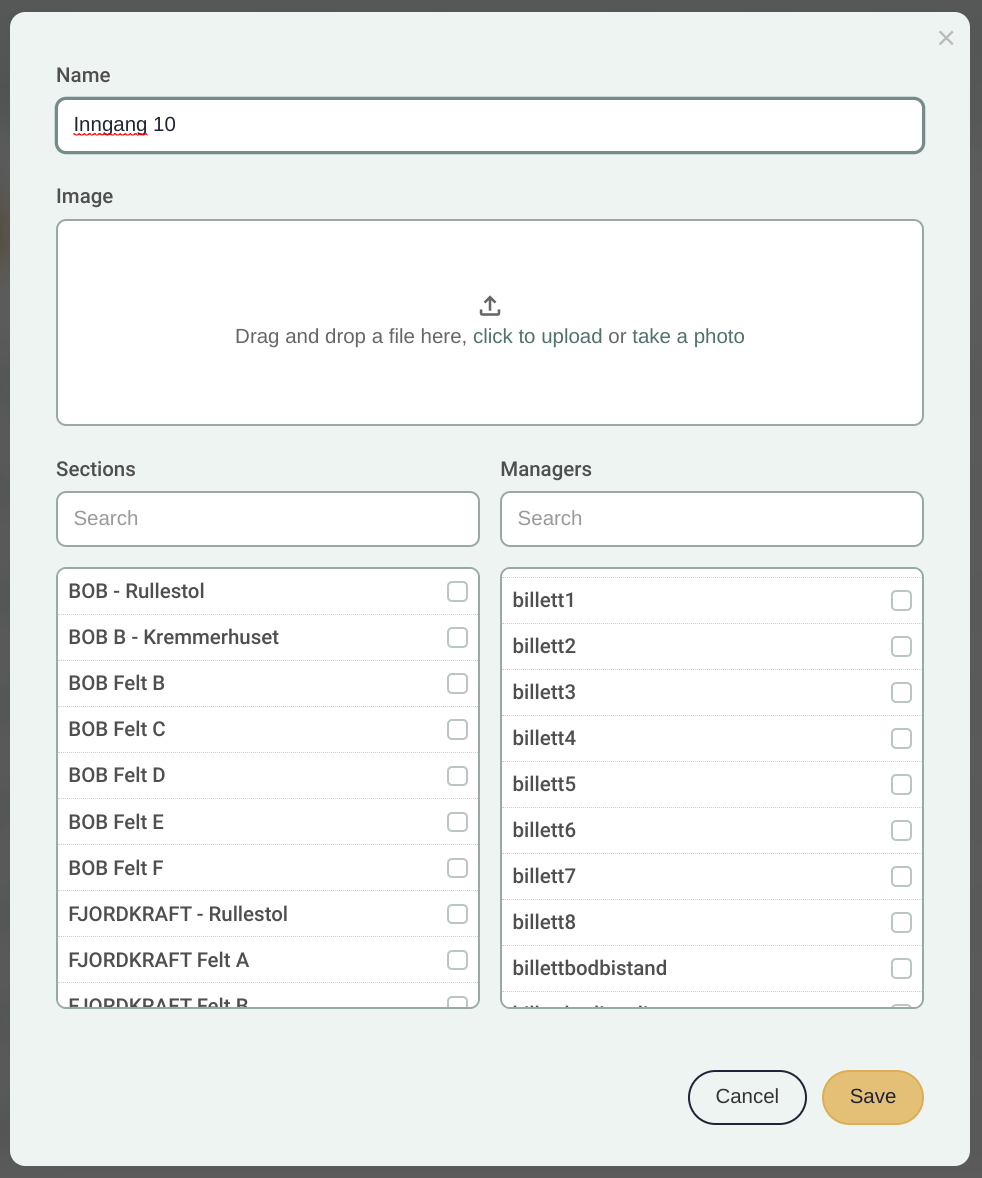 4. Now select the relevant sections that this gate applies to, and choose which managers/users on the account will be stood at the gate. This ensures that only the users selected will be able to scan in tickets sold for the sections selected on the left-hand side. It is possible to link multiple sections from your seat map to one gate, and vice versa. Hit Save.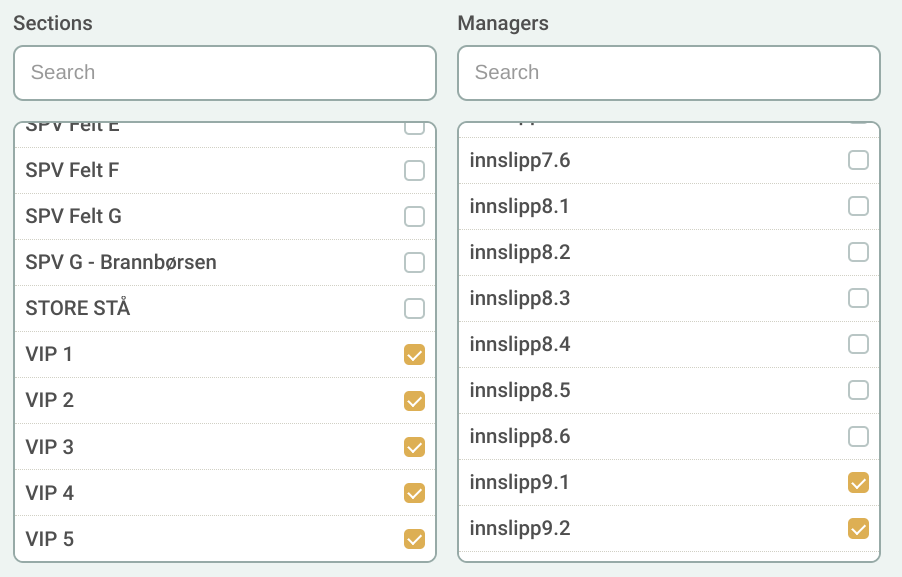 In the example above, you can see that the VIP sections on the map are linked to the users called "innslipp9.1" and "innslipp9.2". This means that anyone buying items within the VIP stands will see this specific VIP gate on their tickets, and they can only be checked in by users logged into the app under "innslipp9.1" and "innslipp9.2".
Connecting a ticket type to a gate
You can also assign certain ticket types to gates by going to Ticket types, navigating to the ticket type, and manually activating the gates there. This can be useful if you are selling VIP tickets in multiple sections on the map, but you want to override this and ensure that VIPs all enter through one special VIP entrance.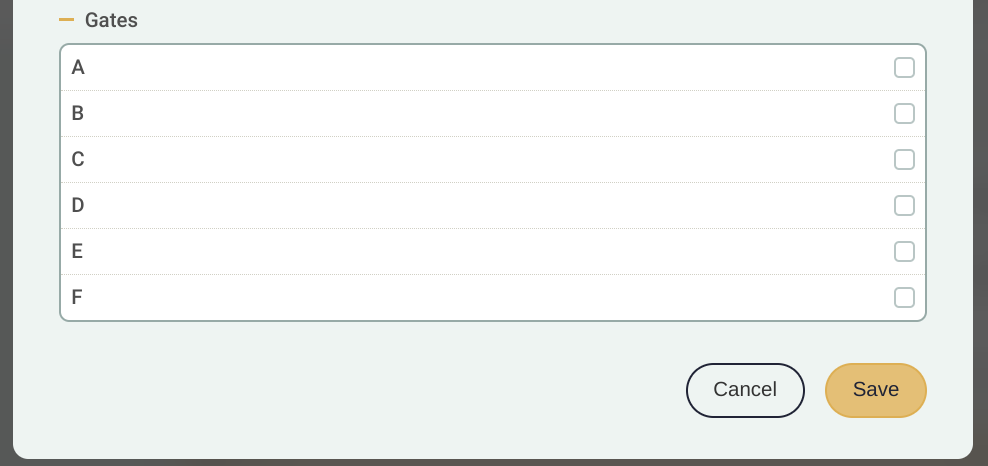 NB! Gate settings selected under Ticket types override the settings created under the Gates tab, so make sure that you only use this if you want to make exceptions for certain ticket types.
Connecting a user to a gate
As well as assigning users under the Gates menu, you can also do this under Managers.
Go to Organizer Settings, then Managers.
Select the appropriate user (or create a new user if you have not already done so).
When you scroll down on the user's page, you will be able to see your different gates, and you can select the relevant gates and Save.
Scanning tickets at the gate
The user should log into the TicketCo admin app and scan tickets as usual. More help with scanning tickets is found here.

If a ticket buyer turns up to the wrong gate, an error message will be displayed for the user. The user will then know to redirect the customer to the correct gate.