Gates is a function that allows you to connect certain fields from your seat map to specific entrances. Say you want everyone sitting in Section A to enter only through Gate 1, and everyone in Section B to only enter through Gate 2, then this is a great function for you.
To employ this function, you will essentially create gates and connect them with the desired fields. You then connect the different users on your organiser account with the different entrances. According to the aforementioned example, this then means that User X connected to Gate 2 can only scan tickets for Section B.
The relevant gate will be displayed on the ticket buyers' tickets.
NOTE: Gates is a function that we must manually activate for an organiser. If you would like this function, you should get in contact with us on support@ticketco.uk.
How can I create a new gate?
Once we have turned on the function for you, you will see a new tab appear in the main menu called "Gates".
Click on the tab. If you have not yet created any gates, then the page will appear empty. Once you have created some gates, they will be displayed here.
Creating a new gate
Click on Gates in the main menu.
Click on Create.
Give a name to the Gate, and remember this is what will be displayed on the ticket buyers' tickets.
Tick off the relevant seating sections that you want to connect to the gate.
Save.
Connecting a user to a gate
Go to Settings in the main menu.
Go to Managers.
Click on the appropriate user (or create a new user).
When you scroll down on the user's page, you will be able to see your different gates, and you can tick off the appropriate gates here.
Save.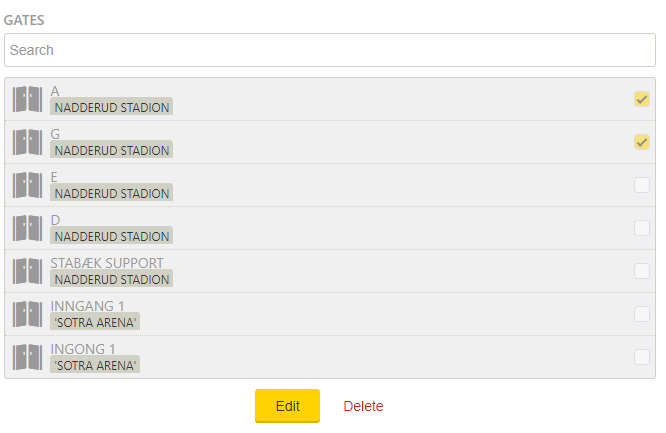 Scanning tickets at the gate
You should log in and scan tickets as usual. The only difference that may appear is if a ticket buyer turns up to the wrong gate, the following message will be displayed:
Multiple gates
It is possible to link multiple sections from your seat map to one gate, and vice-versa. For example, if you have a VIP ticket, you may want to permit your VIP guests to enter both through a VIP entrance and a regular gate.