How to integrate your digital event with Spektrix Follow


In this article we will go through everything you need to know to get started with TicketCo Media Services, with a specific focus on the Spektrix integration. We will give you some tips and best practices on how to make your event look and feel professional.
Important Note: Please make sure to bind your event and ticket types to Spektrix before publishing your event in TicketCo. If you publish your event before following the below steps, you will not be able to feed the data back for this event. Please note tickets must be binded to £0 tickets in Spektrix.
Getting started
In order to get started you'll need the following:
A TicketCo account
A Spektrix Account (Remember to give us the API key if you haven't already before you get started)
Setting up your streaming event with the Spektrix integration
Set up your instance within Spektrix, including your ticket types as normal.
Set up the event in TicketCo with the same ticket types, however DO NOT PUBLISH THE EVENT. If you are new to TicketCo, you should check out this article on how to set up your event.
Once your event has been created it is very important to bind your event to your relevant Spektrix instance. You can do this by selecting the instance in the dropdown menu at the bottom of the TicketCo event details page, and hit save. Again, please do not publish the event yet!

Once you have created your ticket types in TicketCo, remember to bind them to the corresponding Spektrix ticket on the ticket types page and hit save. You can do this by selecting from the dropdown menu inside each ticket type.

So you have now created your event in TicketCo, selected the Spektrix instance that the customer data will pushed to, as well as the relevant ticket types.
Now go to Technical information to activate your streaming channel. If your event is longer that 4 hours, you will need to contact support@ticketco.net and let us know you want to stream this event. Remember to include the name of your event.
Go to your ticket types and change the CATEGORY to Live Stream. This is crucial as this is what gives your ticket buyers access to the stream. If you do not do this, the ticket they receive will not grant them access to the show.
Under the tab called Technical information you will find the URL and Stream key field which will populate 1 hour before your event start time. Your producer will need these codes to connect your ticket buyers to the content.

Once the above is completed, you are ready to start selling. Simply go to Event details and click Publish.
The ticket buyer journey
Once you have published your event and added the link found under Event details to your homepage and Facebook-event, people will start buying tickets. The purchase journey is straight forward and works the same way as with regular events.
When someone has completed a purchase they will receive a text message and/or an email that looks something like this: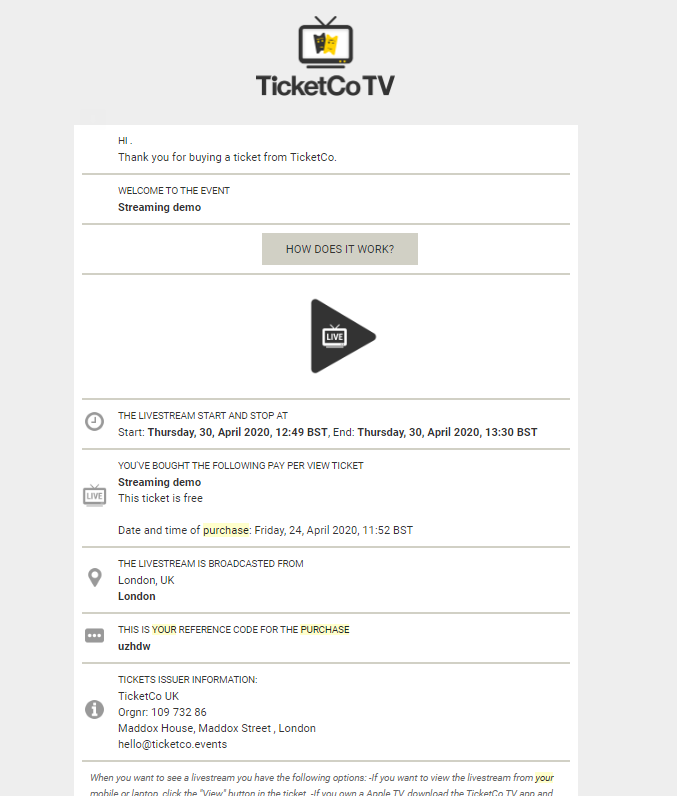 For more information on how to view the stream they can click the "How does it work" button or go to this link: https://start.ticketco.events/uk/ticketco-ppv/
We would like to take this opportunity to remind you that we also have an app for Apple TV, Fire TV & Android TV that your audience can download. More information can be found on the link above.
Setting up and testing your stream
Make sure you have enough time to set up and test your stream. This is mostly done in your broadcasting software but you'll need the URL and STREAM KEY from the Technical information tab in your event in TicketCo. You should give this to your producer so that they can add this to their broadcasting software.
Your testing workflow might look something like this:
Set up your cameras and audio hardware and connect everything to your computer.
Make sure all of your AV hardware is working with your broadcasting software.
Do the testing you can do in your software.
Click the "Start for 30 minutes" button found in the Technical information tab. This will open the stream for testing for 30 minutes. You can preview the stream on the same page. You might have to reload the page after starting the stream from your broadcasting software.
We recommend the OBS broadcasting software as a free alternative you can use to produce your stream. While different softwares work in various ways, some settings are universal for all broadcasting softwares. Please refer to our guide to the OBS software for more information on what settings to use.
We highly recommend that you share the above guide with your producer so that they can set up their software correctly.
Restricting who can view your stream
It's also important to restrict form which countries your stream can be viewed. You can select the which countries to restrict your stream to in the Geo-restrictions tab. Remember to only select the countries where you have the rights to distribute the content.
Ready to stream
You need the below to run an online event with TicketCo Media Services:
Broadcasting software of your choice that supports the RMTP protocol. We recommend OBS and you can find our guide for this software in our help pages.
Your own video and audio hardware.
A stable 12 Mbps upload connection. It's recommended that you have dedicated line for this as other devices and users on the same network can lead to reduced quality and lag on your stream.
A computer connected to the network via ethernet. If you attempt to stream using a WiFi connection this can lead to severe lag and buffering times.
A producer*
*On having a producer:
While TicketCo will handle the broadcasting part of your stream you need someone to produce your stream. This means collecting all the the different video and audio feeds in a broadcasting software and putting it together into a single feed that you show your audience via TicketCo. This task is not to be taken lightly as it is one of the biggest contributors to the quality of your stream. You might have someone in-house that can do this for you, or you might have to bring in outside help, but having someone in a producer role is not something you can skip.
Final steps
The stream will open 1 hour before the event start date/time set under Event details. This means that at you can start doing final testing at this time and preview the stream under Technical details.
When you get to the event start date/time, your producer takes over. At this point those who have purchased a ticket will be able to join the stream.
If someone tries to open the stream before the event start date/time they will see a message like this:

The screen on the left is the waiting screen with a countdown clock to when the event starts. The one on the right is an image we added to the broadcasting software to be shown when the event starts. This is to make the end of the countdown less abrupt and also to make sure you are completely ready before the stream starts.
It's recommended that you start streaming from your broadcasting software 15 minutes before the stream goes live. When you get to this point it's time for the your act to take over and start the show.
Further information
We've also conducted several webinars on this and related topics. Especially worth mentioning is our webinar on the legal implications of streaming. Feel free to check them out on YouTube.