3. Upselling & Item Sharing
If you want to sell items in addition to your physical or digital tickets, our upselling and item sharing tools could be a useful feature for you.
Why upsell?
You can also use our upselling features in order to actively ask your customers whether they are interested in your additional products once they have already selected to purchase a ticket. For example, you might want to offering your customers the chance to purchase a club t-shirt when they buy your season pass; or you could upsell some Video on Demand content for one of your matches.
Upselling items are displayed for the customer on a separate page once they have selected their initial purchase and clicked on "Place my order":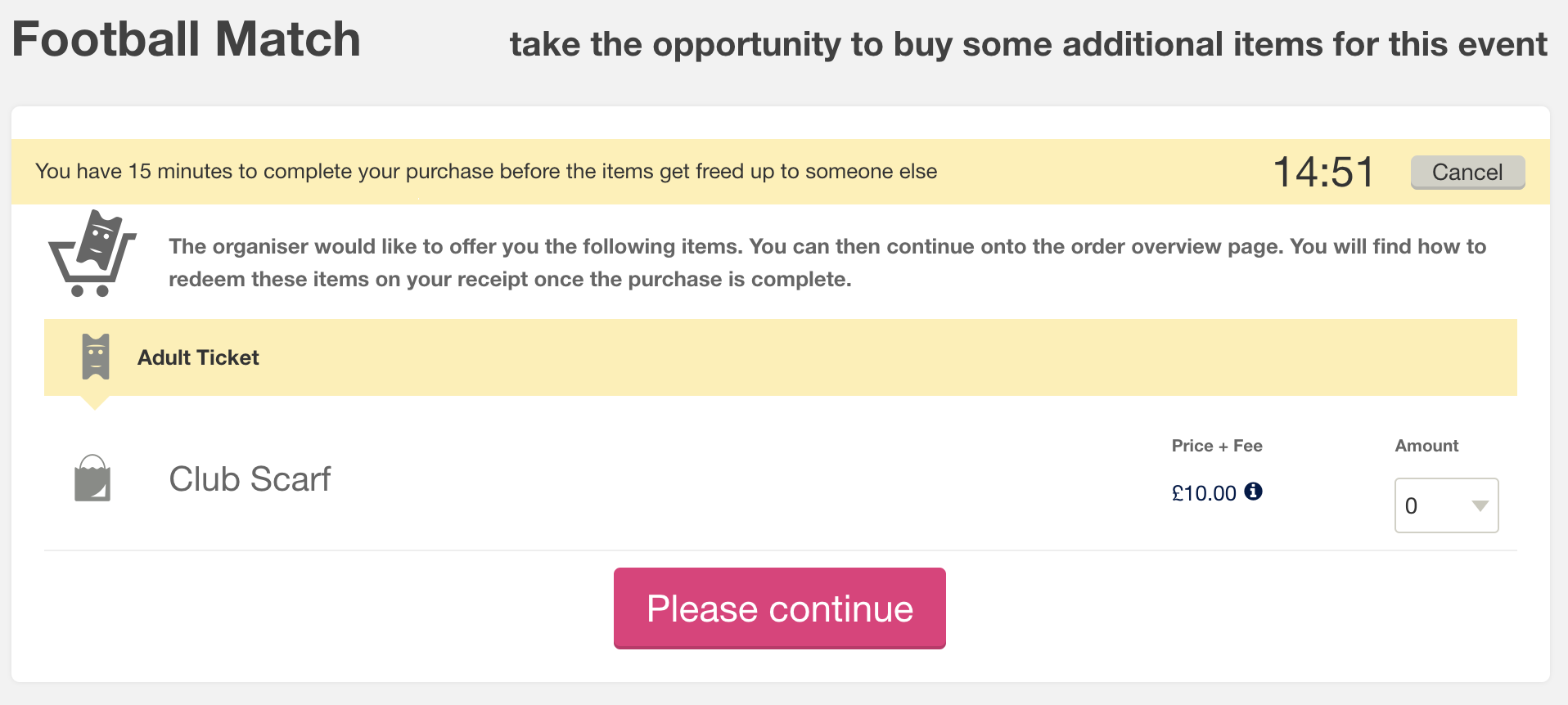 Creating upselling item types
These additional items or products can be created under the Ticket types tab, and you can sell them directly on your event page. Remember to apply the correct Category for your merchandise/products when setting up your item types e.g. snacks are "Food & Beverage" and a club t-shirt would be "Merchandise".
Upselling items under Ticket types
This is perhaps the easiest way to set up an upselling item. The best application for this is if you are wanting to set up an upsell as a one-off, meaning that there is a specific product you want to upsell for a specific event.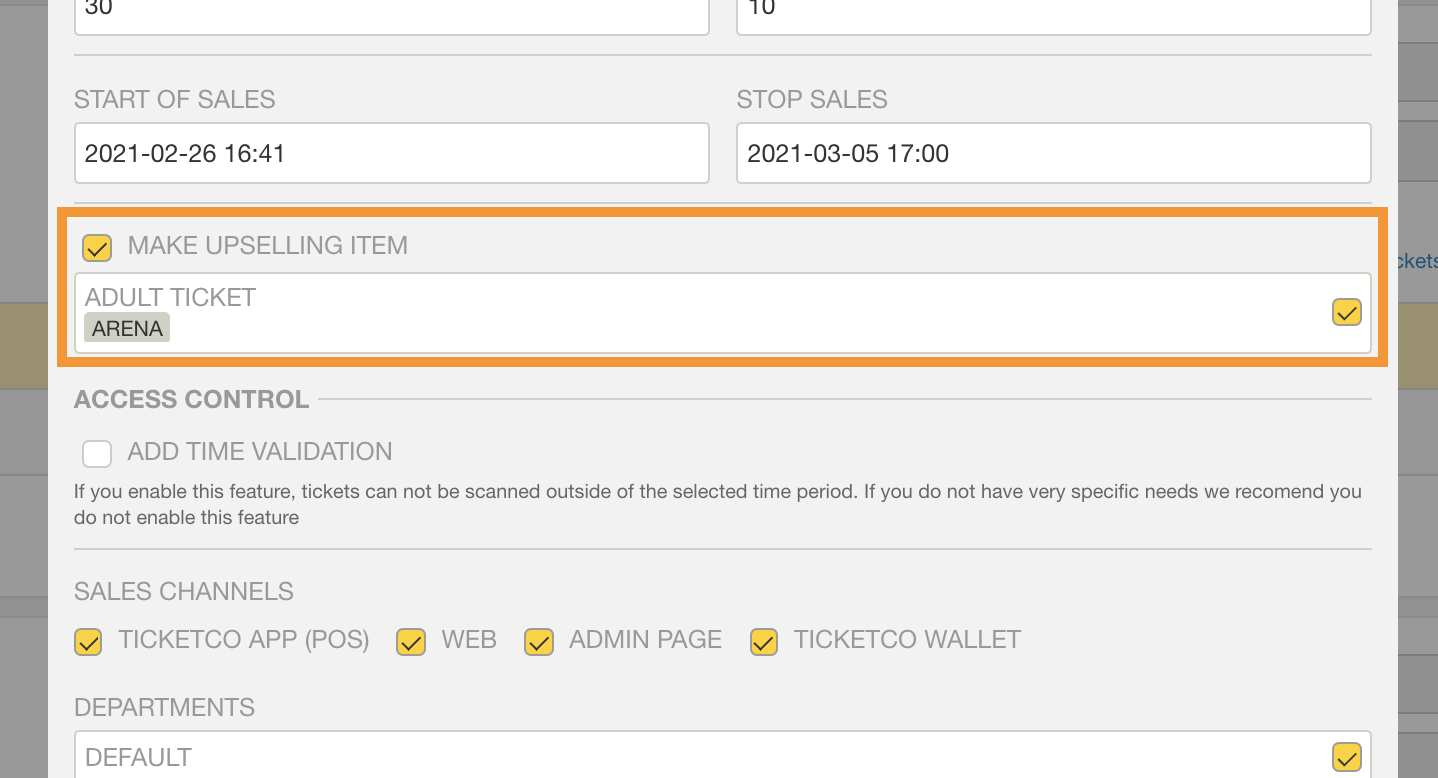 Find your event, and click Ticket types.

You can now either set up your item if you have not already done so, or you can edit an item type you already have.

Select Make upselling item and tick the tickets/items you want to connect your upsell to.

In the example here, item "Club Scarf" will be offered as an upsell every time the item "Adult ticket" is selected for purchase

Then click Save, and use Preview under Event Details to test out how the purchase process looks for your customers.
Item Sharing
If you are wanting to upsell the same item on various different events and ticket types, then you should use the Sharing feature. This saves you setting up multiple new item types in each of your events.
You could set up a hidden event specifically in order to create a series of products ready for upselling. This is great if you will likely be selling the same merchandise to various different matches throughout the season. Think of this hidden upselling event almost as an online merchandise shop.
Once you have set up your items, go to the Sharing tab. Clicking on each item type will give you three options: a) Share with tags, b) Share with events or c) Share with specific item types.

a) Share with tags
Input a tag or key word which you will use to tag different ticket types which you wish to associate or "share" the item with. Let's say we added the tag "clubscarf", we would then go to a match ticket, and enter the same tag under +Tags, so that every time a ticket with the "clubscarf" tag is ordered, customers would be offered the chance to purchase the club scarf.
b) Share with events
This can be used to upsell tickets to upcoming events you currently have on sale. You will be shown a list of your current published events, and you can use the checkbox on the right of each event to share your item with all tickets on the event. You can also select all events automatically by using the Share for All Events toggle.
c) Share with specific item types
This works very similarly to event sharing, but you will instead see a list of your published events and the item types on those events. You can then specify which specific items you want to upsell on.
Adding questions to the purchase process
When selling food or clothing, you might need to ask your customers some questions e.g. food allergies or size. You might therefore want to look into our Questions feature, and you will find more information about that here.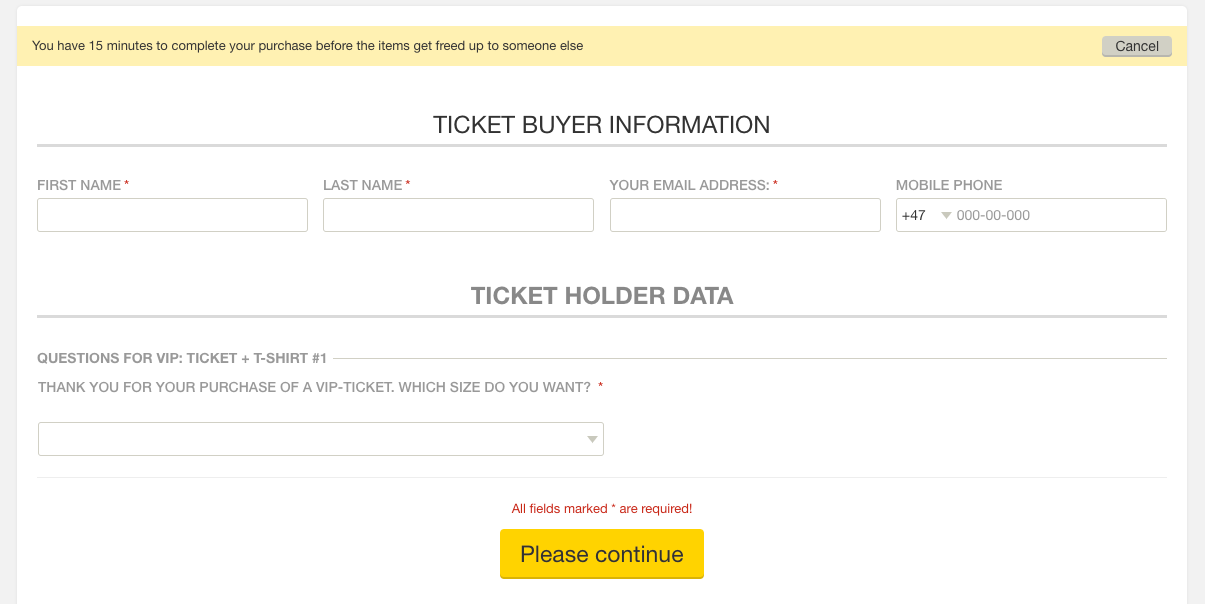 Note that you are responsible for delivering any upselling items to your customers, so you should consider how you will do this, and whether you require any additional information from your customers on order to do so. Make sure to communicate clearly how the items will be delivered (e.g. collected at a match, sent in the post) to avoid any confusion.
Go to your event, click Questions and then Create New Question. Add your question and select the relevant answer type from:
Radio button - a list of options where the shopper can select 1+ options from the list.
Free text field - a text box that can be freely filled in.
Dropdown menu - a list of options where the shopper selects a single option.
Checkbox - a checkbox the shopper can tick off before proceeding.
Date picker - a drop down date picker, often useful if DOB is required.
You can choose to make your question obligatory to fill in, and lastly you should select which item types your question is linked to. If you are asking for example about t-shirt size, then you would only select your t-shirt item type.
You must take into consideration the current regulatory guidelines and and privacy laws regarding data collection. There are many factors surrounding this issue and we recommend that you consult a professional on this topic if you are unsure of what information you can collect. We also touch on this topic in our GDPR blog post.
Preview
Once you have set up your upselling items, either under Ticket types or under Sharing, don't forget to preview the customer journey by using the Preview button under Event Details.