10. TicketCo App & Customer Enquiries Follow
Once your event is published and on sale, you should be prepared to deal with enquiries from your ticket buyers. We understand that this may be a new aspect to your ticket sales which were formerly handled by a separate team, so we hope that this article will help you prepare for these kinds of queries. We also cover scanning and selling tickets with our app, and creating admin sales.
The TicketCo App
You can use our TicketCo admin app to scan and sell tickets on the door. Head to Google Play or the App Store, search up "TicketCo" and download the event organiser app.
To scan tickets, log into the app with your username and password. Select Validations in the main menu. You can scan/validate tickets in three different ways:
Scan the QR code by using the camera view
Enter the ticket reference code under Enter verification code as the bottom of the screen
Select Manual in the top right, navigate to the event, and search up the customers' tickets
More help with how to scan tickets is found in this article.
To start selling, select the Sales option in the main menu. You will then be shown a list of your upcoming events and other items available for sale. Select the relevant event and ticket or item type which you wish to sell. Use the + and - symbols to add items to the basket.
When you have added all the items to the basket, select the payment method at the bottom of the screen. If you have a Zettle terminal linked to your device, you can accept card payments. Read here for more help on how to sell, and here for how to connect the Zettle terminal.
Admin sales
If you have any VIP guests or sponsors which you need to allocate tickets to, we suggest using our admin sales feature. More help with this feature is found here. Go to Admin sales on your event, and then hit +Create admin sale. You then be able to select which tickets and items to add to the sale, and if you have a seat map, you will be asked to select the relevant seat and ticket type. You can then choose to assign the sale as:
Reservation - a reservation link will be sent to the customer who can use it to redeem their tickets through our secure checkout
Invoice - you will settle the funds and invoice the customer yourself
Cash - you have accepted a cash payment from the customer
Note that invoice and cash sales will be displayed on your invoice from TicketCo, and will be reported as being settled outside of the TicketCo platform.
Contacting the organiser
You should consider which email address you will use to deal with queries from your ticket buyers. Note that the email address registered under Email in Organizer settings will be published at the bottom of the tickets. It is also the address used when ticket buyers send a message via Contact the organizer.

Exchanging tickets
This is often a very common question, particularly if you have multiple events and multiple ticket types. You should consider your policy when it comes to ticket exchanges and refunds, and it is also useful to include this in the Waiver section under Event details. If you wish to assist customers with erroneous purchases, you have a couple of options:
You refund the erroneous purchase, and the customer buys new tickets to the correct event/day. TicketCo may be able to help you with refunding tickets, and you can email us on

support@ticketco.net

for further information. You can also check out

this help article.
You may find it easier to simply reissue the customer with complementary tickets to the correct event/day. This entails having a free ticket set up under

Ticket types, and then using

Admin sales

to send the ticket to the customer. You can find out more

here.
Lost tickets
You can use the Report tab in the event pages to search up tickets. You can enter a name, reference code, email or phone number in the search box, and any matching items will be displayed at the bottom of the page.

The first thing the customer should do is to check whether the tickets have landed in their spam folder. They can also use our Find your purchased tickets feature on our main page to get any lost tickets resent.
More often than not, the reason for missing tickets is that the customer entered an incorrect email address when they ordered. If you find the customer's tickets in Report (by searching name or phone number), you can either choose to Resend ticket or Edit their mistyped email address to automatically resend their tickets to the correct address. Clicking on Edit under the settings symbol, will show you a pop-up box like this one: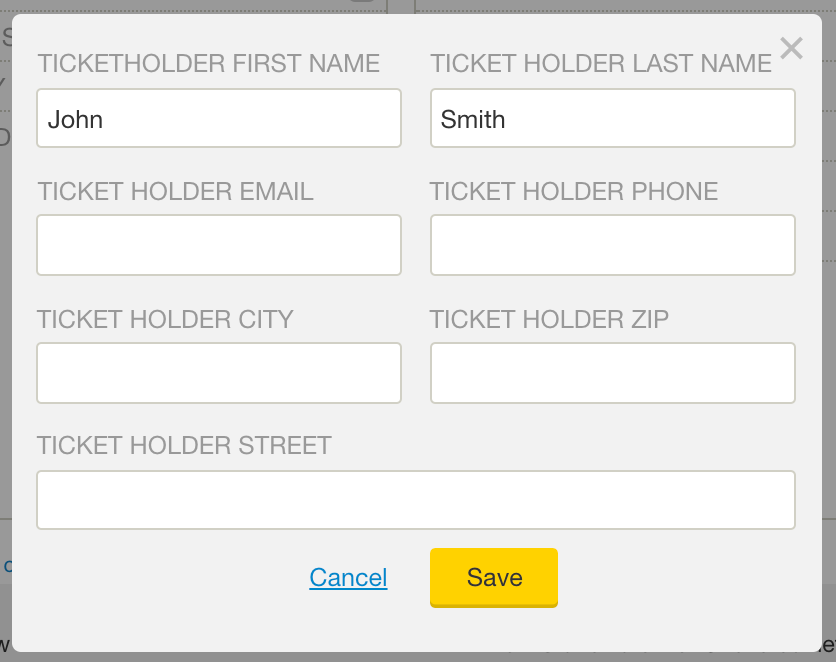 You can also simply click the PDF button to download the PDF version of the customer's ticket which you can then send onto them.
Refunds
Your refund policy should be defined in the Waiver section under Event details. As the event organiser, it is up to you whether you wish to refund a customer's ticket. If a ticket buyer requests a refund directly from TicketCo, we will always refer them to you first. Please see our TicketCo legal terms for end users which explains that TicketCo cannot be held responsible for the quality of the event.
If you wish to refund a ticket, you should send an email to support@ticketco.net. Generally speaking, we should be able to assist if the ticket purchase was made on a credit card through our mobile app or our website, and if we have not paid out the event funds to you yet. You can find more information here.
Changing a customer's seat
Now and again ticket buyers may request to change their seat for an event. Navigate to the relevant event, then go to Report. Find the customers' ticket(s) by searching up their reference code, email address, phone number or name. The tickets should be displayed at the bottom of the page. Click on the little arrow next to PDF, and then click Seating. You should then see a pop-up like this: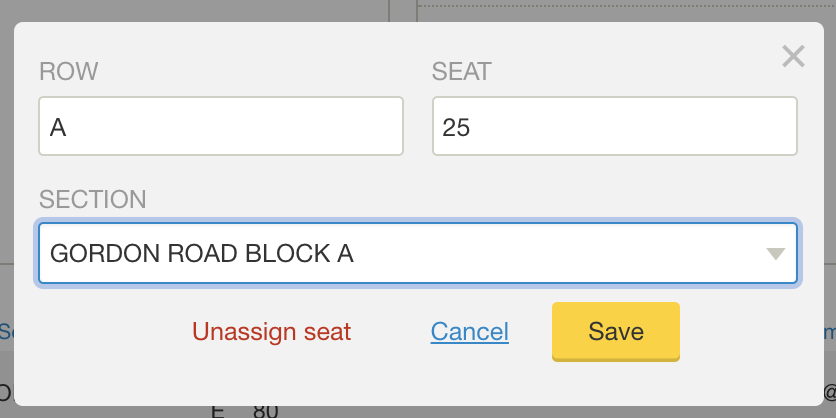 Simply type in the Row, Seat and Section you want to move the ticket to. This is where it's useful to check the seat map in the separate window, to make sure the the desired seat is available. If it is not available, you will not be able to save the changes. If the seat is available, you will be able to Save and this will automatically update and send out a new ticket to the ticket buyer.
Viewing digital events
Live stream and VOD tickets are sent out with a link to our help pages explaining how to watch; however, you may still get some questions regarding this. We recommend familiarising yourselves with the following pages, which you can also send directly to anyone who is unsure about how to view the event:
It is useful to have this information published in your event description, and also in the Post purchase message and/or How to use the item under Ticket types.

You could also use Contact attendees to send out an email with instructions on the day of the broadcast. Many organisers report that sending out reminder emails on the day of the broadcast dramatically reduces the number of questions and queries on the day of the broadcast.