9. VOD Matches
With VOD (Video on Demand), you can upload pre-made video content to TicketCo, which you can then sell access to. You could for example, record your live streaming match and then upload the recording for those customers who were not able to tune in live.
Uploading your video content
The first thing you need to do is upload your video file(s) to the TicketCo system. This can be done under Files in Organiser settings. If you do not see this option it means you do not have access to the Video on Demand feature, and you'll need to contact support@ticketco.net to get access.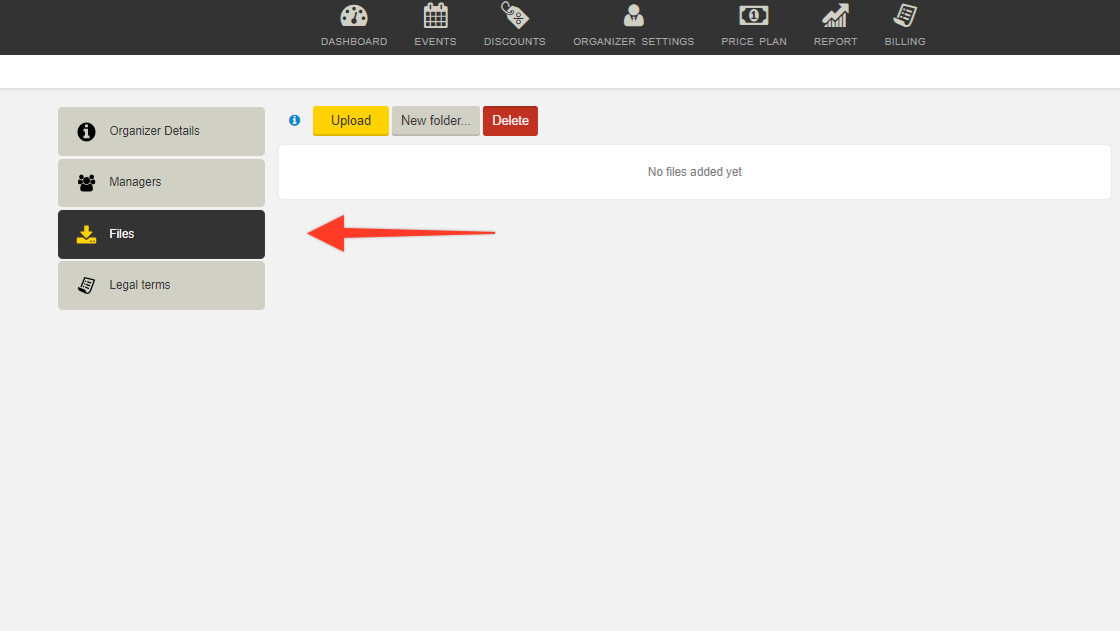 We recommend that you use folders to organise your content. It can take a few hours to upload a file and process it, depending on the file size. We recommend to have all the files uploaded at least 24 hrs before planned premiere to avoid any delays.
Please note that the supported files for video content are MP4, AVI, MOV and MKV. The maximum size of the file accepted by VOD feature is 15 GB. We have further guidance on video specifications at the bottom of this guide.
You can also upload captions to a video file so that your viewers can choose to watch with or without subtitles. In order to do this, upload an SRT file with the same name as your video file, at the same time as you upload your video. The SRT and video files must be uploaded simultaneously.
Creating a VOD event
When you are done uploading your files, you will need to set up an event if you have not already done so. When creating and event you will need specify a start and end date. For VOD events, these dates refer to when your video content will be available to view.
Once your event is set up, go to your ticket types and change the Category to Video On Demand. This is crucial as this is what gives your ticket buyers access to the video content. If you do not do this, the tickets will not grant them access to the content.
Under Attachments you can select the video content you uploaded earlier: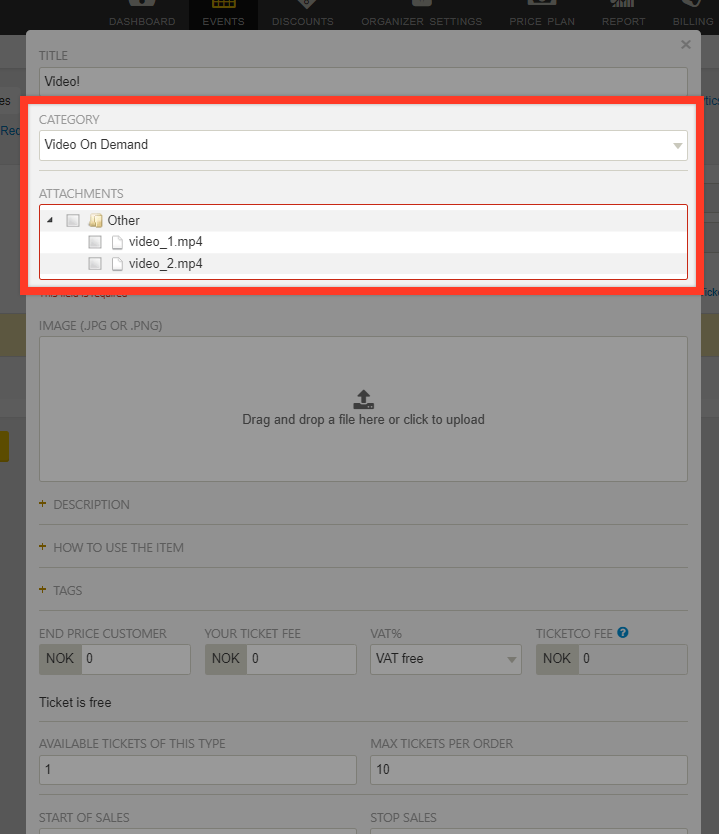 You can select the relevant video by clicking the little check box. Doing this will start the processing of the content, and you will see a little pending symbol while this is ongoing. Once fully uploaded, you will see a little green tick next to your video attachment, and you will receive a confirmation email.
Note that you can always create your VOD tickets and event in advance of uploading your content. Your customers can start purchasing tickets in advance, and then you can upload the videos once they are ready. We would advise you allow a minimum of 24 hours to upload the content to allow for processing time.
Access Control
You should also consider for how long your customers should be able to view your content. The dates you select under Access Control will control when your viewers can access the video. You should also pay attention to the Expiry field. This will let you select for how many days someone can view your content after having opened it. For example, the video may be available to view for 30 days, according to your settings under Access Control, but the Expiry may be 3 days. This means that your audience can start viewing the video at any time within the given 30 days, but once they start watching, they will have 3 days to complete viewing.
Geo-restrictions
You can also select which countries you wish to broadcast your content in. You can do this by adding countries to the SELECTED COUNTRIES list.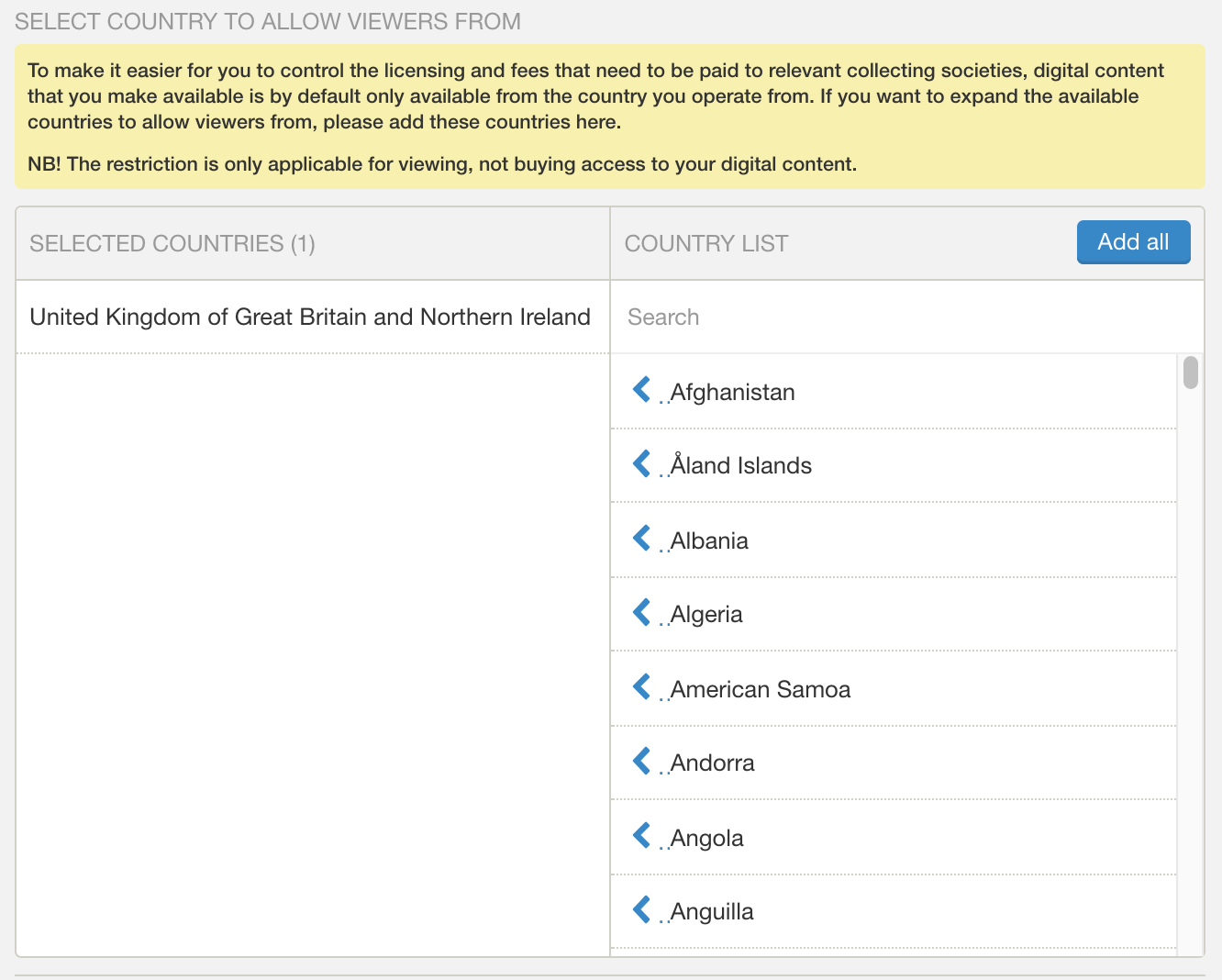 Viewing the content
To view your content, the ticket buyer can simply hit the play button in their digital ticket. Alternatively, they can input their five letter reference code into ticketco.tv or our TicketCo TV app. For further information about how ticket buyers can view the content, please see this help page.