8. Live Streaming Matches
This guide will get you started with how to live stream your matches or events. Our TMS (TicketCo Media Services) product allows customers to purchase tickets to an online digital event. Once they have purchased their ticket, they will be able to use the clickable link in their ticket to access the content. If you are unsure of the similarities and differences between live streaming and video on demand (VOD), check out this page.
Equipment & preparation
In order to stream your content, you will need:
An event set up with the Technical information tab activated (more on that below).
Broadcasting software that supports the RMTP protocol. We recommend OBS and you can find a thorough guide here.
Your own video and audio hardware. The production sections in our TMS Welcome pack provide a great description of some tried and tested equipment.
A stable 12 Mbps upload connection. We suggest that you have dedicated line for this, and that you connect via ethernet (not WiFi).
Someone to produce your stream. This means collecting all the the different video and audio feeds in a broadcasting software and putting it together into a single feed that you show your audience via TicketCo. You might have someone in-house that can do this for you or you might have to bring in outside help, but having someone in a producer role is not something you can skip.
Activating streaming on your event
Head to your event in TicketCo which you will be streaming. Go the Technical information tab and select Create. If you do not see this tab, ensure that you do not have VOD tickets activated on the event, and if it is still not showing up, send us an email. If your event is longer than 4 hours, you will have to ask us to activate this for you, so send us an email to support@ticketco.net
Now go back to your ticket types and change the CATEGORY to Live stream. This is crucial as this is what gives your ticket buyers access to the stream. If you do not do this, your customers' tickets will not give them access to the stream.
Technical information
Under this tab, once you have created your streaming channel, you will find a video player and some different fields. You can monitor your stream on this video player - this will show you what your audience can see.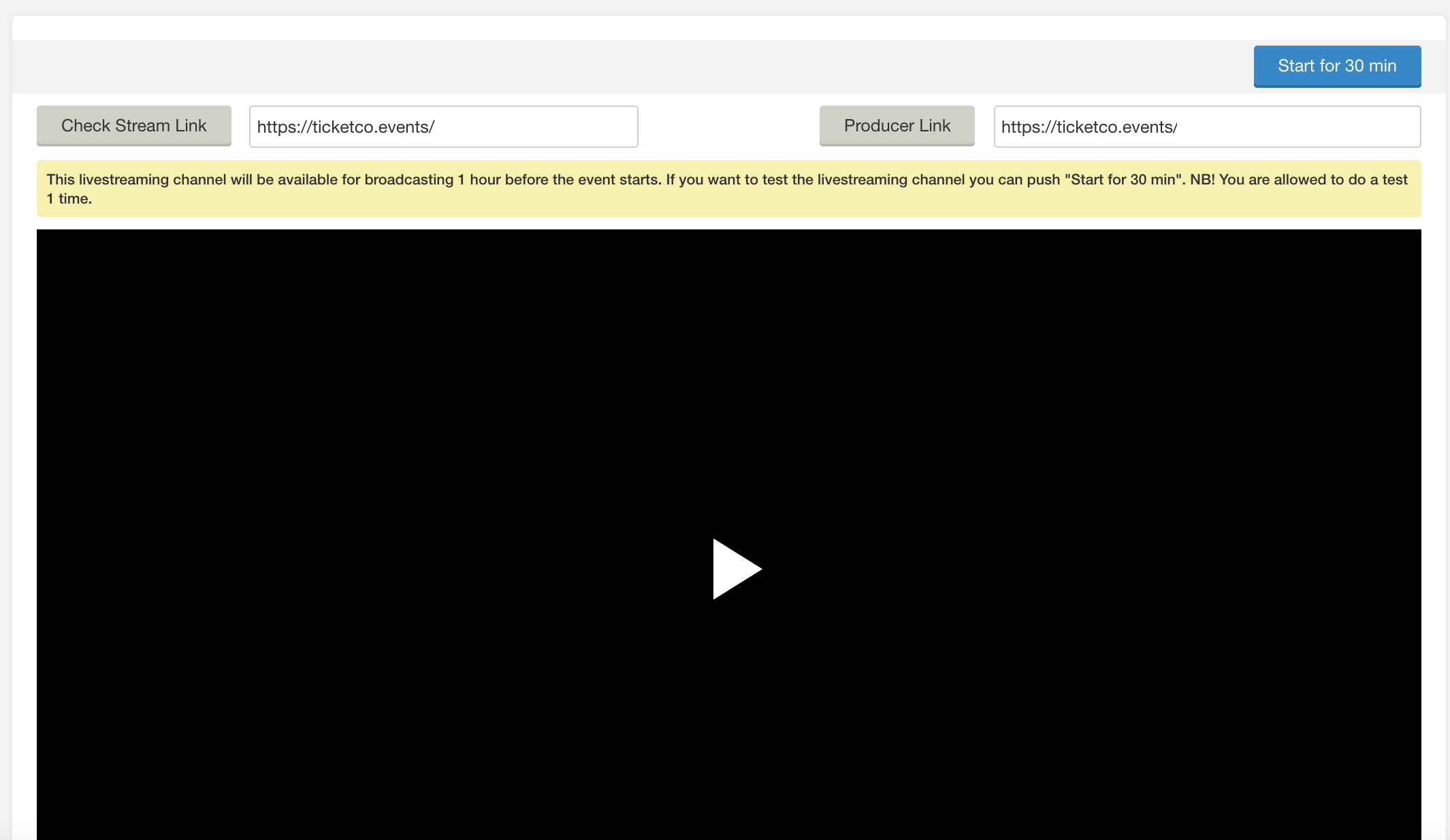 The Check Stream Link is the link directly to your stream, and the Producer Link is a link you can share with your production team which will give them access to this page.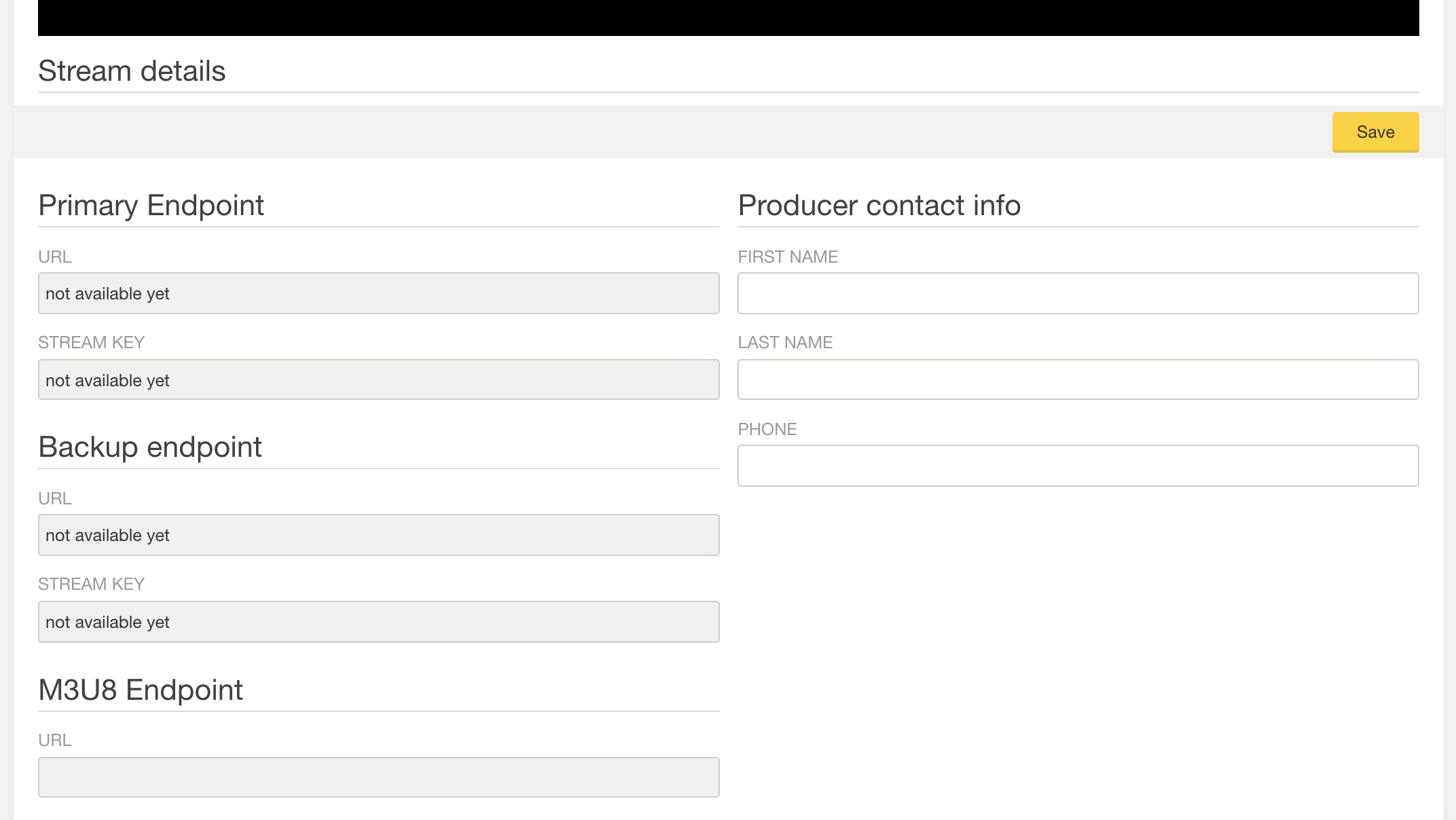 When you activate your Start for 30 min test, you will see that the Primary and Backup Endpoints will contain the URL and Stream keys which you will need to input into your streaming software. Once the 30 minute test is over, these URLs and keys will expire, and the fields will show "not available yet" as above.
These fields will repopulate one hour before your event start time. Note that the Stream key and URL for your actual event will differ from your 30 min test.
You can add in your producers' contact information on this page if you wish, meaning that we know to contact if we notice anything that might need changing with your stream.
Restricting who can view your stream
It's also important to consider who will be watching your stream, and you may want to restrict which countries your audience can view from. Remember to only select the countries where you have the rights to distribute the content. You will be able to add countries under the Geo-restrictions tab found next to Technical information.
Recommended streaming settings
You will need an upload speed of minimum 12MBps, and ideally an ethernet connection.
| | |
| --- | --- |
| Aspect | 16:9 |
| Output Scale | 1920p x 1080p |
| Bit Rate | 6000 |
| Keyframe Interval | 2 |
| Downscale Filter | Bilinear |
| Frame Rate | 25fps |
| Colour Format | NV12 (this is the 4:2:0 format) |
| Colour Space | Rec 709 |
Audio:
| | |
| --- | --- |
| Sample Rate | 48Khz |
| Channels | Stereo |
| Bit Rate | 320 |
| Lufs | -14 |
Ready to stream
The stream will open 1 hour before the event start date/time set under Event details. This means that you can do some final testing at this time, and you can preview the stream under Technical information. You should also use the Stream Health tab to monitor your stream. Check out this article for more information about the Stream Health tab.
When you get to the event start date/time, those who have purchased a ticket will be able to join the stream. If someone tries to open the stream before the event start date/time they will see a countdown clock.