Cancelling an event in TicketCo
If you find yourself in the unfortunate situation that you need to cancel one of your events, TicketCo has got you covered. With our event cancellation you can easily stop all sales and issue not only a refund but also the options for your attendees to waive their ticket to support you or receive a voucher that can be used to buy a ticket for one of your future events.
By doing this you can mitigate the negative impact of having to cancel the event as well as giving your customers the ability to show their support.
If I need to cancel an event, what are my options?
You can use the TicketCo Cancellation Request, and we will help you with refunding your customers. You can also choose to activate a waiver and voucher option for your customers.
You can refund your customers directly, in which case you should inform them of the cancellation and arrange to refund them manually according to your in house financial procedures.
This article will take you through how the TicketCo Cancellation Request works, and how this will affect your customers.
Note that only the primary contact on the account can initiate a cancellation. If you need to cancel an event and you can not find the Cancellation Request button described below, please ask your primary contact to initiate the refund or ask them to make you the primary contact.
Cancellation process and timeline
If you are using our Cancellation Request form, the cancellation process and timeline looks like this:
You decide or are informed that you need to cancel the event.
You contact your customers via the Contact attendees button. More help with this is found here. Please note that you should inform your ticket buyers of any cancellations or changes to the event as soon as possible.
You submit the Cancellation Request for the event. You might do this before contacting your customers, but either way, please ensure you inform your customers of the cancellation.
After around 10-14 working days, TicketCo issues an email to your attendees presenting them with available compensation options. The email contains buttons the customers can use to obtain their refunds/compensation options.
We aim to send out an email to your customers as soon as we can, but please be aware that the email is usually sent out after around 10-14 working days. This is due to a combination of manual processing and the time required by our payment provider to process the funds ready for refunding.
Once customers click the Refund my order button in the email we send out, their refund will be sent out within 1 to 5 working days. Any waivers will be registered straight away, and vouchers will be sent out as soon as the customer registers that they would like a voucher.
Contacting your attendees
As soon as you are made aware that you need to cancel an event, or once you have decided that you need to cancel, you should contact your customers.
Please be aware that filling in the Cancellation Request does not automatically inform the purchasers of the cancellation. You can use Contact attendees to inform your customers of the cancellation.
Keep in mind that if you have a physical ticket outlet (if you sell via our TicketCo POS app), it is possible to sell a ticket without registering an email address on the purchase. It is therefore very important that you also update your website, Facebook events and other marketing channels as soon as you are made aware of the cancellation.
Cancellation Request form
You can cancel the event in TicketCo by opening the admin pages and going into the event. Here you'll find an option call Cancellation Request (if you cannot see this tab, this means you are not the primary contact, so you will need to get the primary contact to do this for you).

On this page you will find the cancellation request form. We strongly advise that you review all information on this page before submitting the form, as once submitted, the cancellation cannot be reversed.
When you submit this form three things will happen:
A notification will be sent to TicketCo so that we are aware that the event has been cancelled.
It will no longer be possible to buy a ticket for the event.
A refunding process will be initiated (more information on this below).
Compensation options
The form itself consists of three parts:
General information about your event. This information is added to the form automatically.
Refund / Voucher options.
TicketCo's terms of service.
In the Reason for cancellation field you should tell TicketCo why your event is being cancelled. This will not be communicated to your customers.

You will then be able to Enable opportunity to waive a ticket. If this option is enabled your customers will receive the option to "waive" their ticket, meaning they will relinquish any rights to a refund. The text box is used to communicate this option.

If the Voucher option is enabled your ticket buyers will get the option to receive a voucher for the full face value of their original purchase. This voucher can be used like a gift card to purchase tickets to any of your future events in TicketCo. The expiry time on these vouchers is 3 years from when issued.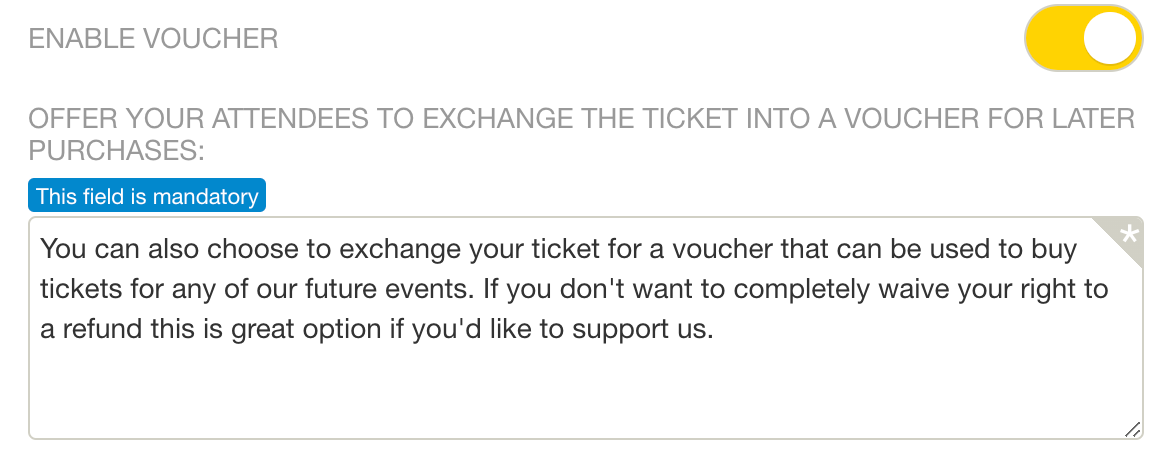 Refunds
In addition to the options you select above, all attendees will automatically receive the option to get a refund. This refund will consist of the original purchase prices minus any TicketCo fees. This is outlined in our legal terms which customers accepted when purchasing.
In general we recommend that you enable all three options. You will need to accept the TicketCo event cancellation legal terms before submitting the form.
Compensation email
Once you submit the form we will close all sales for your event. When this is done your event will be added to our cancellation queue. While we try to process these as quickly as possible, in times of high demand we might require up to 30 days to complete the cancellation. Usually emails are sent out to ticket buyers after around 10-14 working days.
Once your cancellation is processed, we will issue an email to your customers outlining the options you selected when submitting the form. The email your attendees will receive will look something like this: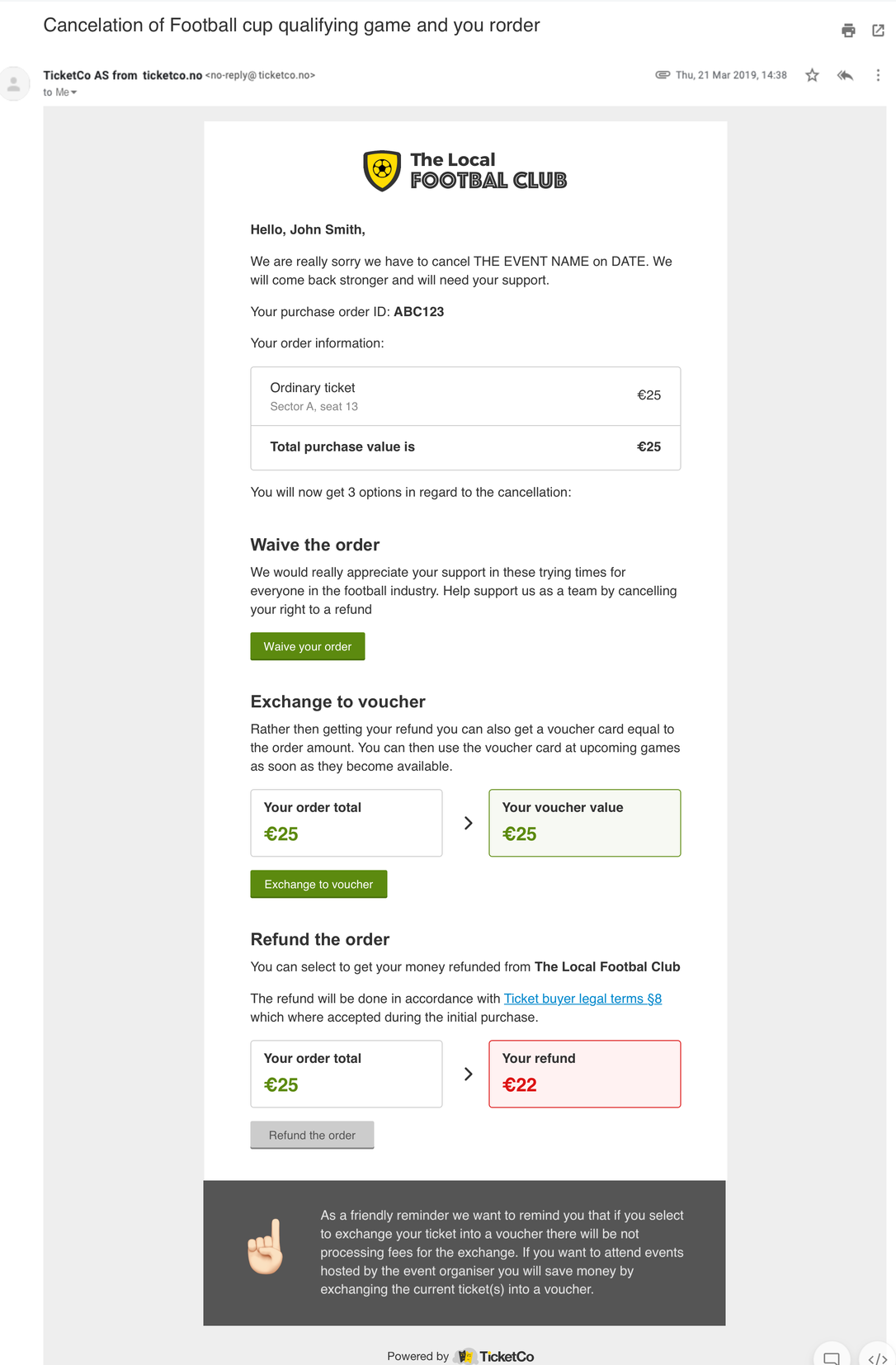 The text under "Waive the order" and "Exchange to voucher" is the text you entered when you submitted the form.
Your customers should use the buttons in the email to select the compensation they would like. If your customers require further assistance with this, we have prepared a help page here which you can send to them.
Once customers select Refund the order, they will be asked to fill out a short form, and upon completion their refund will be sent out within 1-5 working days.
After we have sent out the email to your customers, you will be able to see which tickets have been refunded or otherwise under the event report. Under Checkin status you will see whether a ticket was refunded, waived, vouched or whether the customer is yet to select a compensation option.
Important information
Email addresses
Emails will be sent out to the email address registered when the customer purchased. If a customer contacts you asking where their compensation email is, you should ask them to check their spam folder. If they cannot find the email, they should contact us on support@ticketco.net, and we will assist them further.
Tickets purchased with gift cards, vouchers or over the counter
The compensation options listed above are only available to customers who have purchased their tickets online, or via our mobile app, with a credit or debit card.
Tickets purchased with a gift card, voucher, or if the purchase was made over the counter (e.g. you have taken cash or accepted a card payment with a Zettle terminal), cannot be refunded in the TicketCo platform. We therefore kindly ask that you refund those purchasers directly.
Changed bank cards
Refunds are automatically sent out to the card that the customer used when originally purchasing the tickets/items. If the customer has since changed bank or updated their card, you should refund them directly as TicketCo is unable to refund items to new bank cards and accounts.
Responding to the compensation email
Customers have 120 days from when the event was cancelled to answer the compensation email. After this time, you will receive any remaining funds and you take over responsibility for any further refunds.
Settlement for waivers and vouchers
Our accounting department settles funds for waivers and vouchers around once per quarter. When these funds are paid out, an invoice will also be generated which you can then send onto your accountant.
Cancellations occurring post-settlement & claim letters
If you cancel an event after we have paid out some or all of the funds to you, we may require that you transfer these funds back to us in order for us to complete the cancellation and refund your customers. In such cases, we will send you an email containing a "claim letter" which will outline this in further detail.
If you have had to manually transfer funds to TicketCo in order for us to complete the cancellation, any subsequent settlement from waivers and vouchers will also need to be handled manually by our accounting department.
Any other questions or queries?
Please contact us here if you have any questions regarding your cancellation or cancellation invoice.