Setting up cashless items
TicketCo's cashless solution allows you to eliminate cash payments during an event, allowing you to maximise your bar output. This article will give you an overview of how cashless cards can be set up, and how you can implement the cashless system at your venue.
How does the cashless system work?
If you choose to use our cashless solution, you will first set up a series of cashless items. Cashless items are essentially tokens or coupons which customers will purchase either in advance of the event or during the event. Your customers will then be able to use these cashless items to pay for drinks, and perhaps some food or merchandise, in your venue. This means your staff can focus on serving the food, drinks and products, and they simply need to scan the customer's cashless QR code to accept payment.
An example set up
Our cashless solution works optimally when you physically separate the cashless top up area from the purchase areas at your venue. Here is a diagram outlining an example of how this could work:
The diagram here gives a birds-eye view of a venue, and the circle and arrows show an example of how customers might move around the venue.
First, the customer would head to the "Topup Zone" to purchase cashless tokens if they had not already done so. In this area, there is an iOS device connected to a Zettle terminal in order to sell cashless items. Next, the customer heads to a couple of the bars (2 & 3) and uses their cashless items to redeem drinks and snacks. When they have used up their tokens, they will then head back to the "Topup Zone" (4) to purchase more. The customers can also purchase the cashless items on our TicketCo Wallet app, so they might not even need to head back to the "Topup Zone" at all.
What equipment do I need?
As you can see in the diagram above, you will require some equipment in order to scan and sell cashless items. In order to scan cashless items, you will need:
Android devices with the TicketCo admin app downloaded
If you if you are planning on selling cashless items at your venue, you will need:
iOS devices with the TicketCo admin app downloaded
Zettle terminals to accept card payments
If you want to sell physical cashless cards, please contact us on support@ticketco.events and we will assist you.
Setting up your cashless items
The cashless feature needs to be activated for you, so contact us on support@ticketco.events to get this enabled. Once enabled, you will see a new tab in your main menu: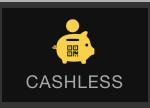 Click on +Create Cashless event to get started. You can then enter a title for your cashless event, as well as an image and description. Note that a cashless event is a page on which you can create various cashless items, and it is also where your customers will purchase those cashless items.
It is important to distinguish between...
Cashless items: think of this as the tokens or the balance that the customer purchases
Cashless events: the page on which you set up cashless items, and where your customers will go to purchase cashless items; a cashless event can hold multiple cashless items
Next, go to Cashless types to set up your cashless items. Select +Create new Cashless type to set up a new item.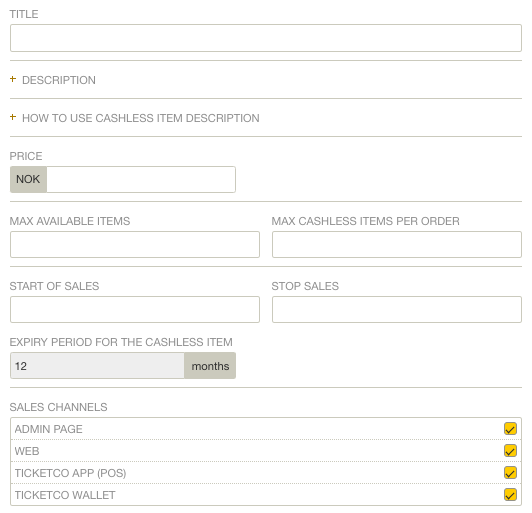 Add a name for your cashless item e.g. "£10 top up". You can fill out the Description and How to use fields if you like, and then enter the Price. Enter how many of these cashless items you will have on sale under Max available items, and then the max number that a customer can add to their basket at a time under Max cashless items per order.
Input when your cashless items will be on sale under Start of Sales and Stop Sales. Note that cashless cards automatically have a 1 year expiry date, and this cannot be changed. Lastly, remember to assign the relevant Sales channels to your cashless item.
Setting up multiple cashless items
You might want to sell a variety of values, meaning you might want a few different cashless items set up. It can be very useful to make sure that these items are multiples of each other so that your customers are not left with any remainder values on their cashless cards.
To the left, you can see an example of a bar menu where all of the prices are a multiple of £3.50. This makes it easy to convert these prices into cashless items.

Based on this example, you could set up the following cashless items:

1 token - £3.50
2 tokens - £7
4 tokens - £14
6 tokens - £21
What will you be selling?
If you have not already done so, you should now set up an event containing the food, drink and merchandise items you will selling at your event. You will probably want to keep this event hidden so that only staff at your venue will be able to access it. At the venue, your staff will then be able to select the relevant product in the Admin app (on an Android device), and then scan the customers cashless item to accept payment for the product.
We hope this article has helped you to get started with how to set up TicketCo's cashless system. We are working on more articles surrounding how your customers can use their cashless items, so watch this space! If you have any questions in the mean time, do not hesitate to get in touch.