Creating your first event with TicketCo!
In this article, we will take you through the initial stages of setting up your event in TicketCo. 
Events in TicketCo
An event in TicketCo normally represents a festival, concert, sports match or a show. This applies to both physical and digital (TMS) events. Depending on the type of event you are running, you might want to create one or more events in TicketCo. For example, a festival with concerts in multiple locations might require various individual events.
Once you have created your event, you can either save it as a draft and publish it later, or you can publish it straight away. Once you've created your event you can always go back and change the details if needed, and you are also able to edit some aspects once published.
Once an event is published, it will go live both on our site, and in the TicketCo Organiser app (that you can use for box office sales). 
When you are ready to create your event click Events in the main menu. Here is where you will find all your events, and they will be categorised according to their end date. You can navigate between All events, Upcoming, Ended, and Drafts (unpublished events) if you want to edit or view your TicketCo events and event reports. Let's get started by clicking the Create New Event button:

Event details 
The first thing you need to do when setting up your event, is to fill in your event details. Below is a description of which fields are required and an explanation of what information you would typically need to enter into them. You will also find explanations in the platform by hovering over the small blue question marks: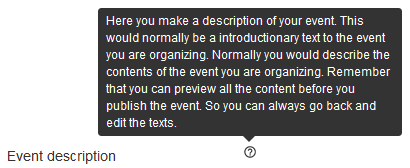 Title
The title field is the name of your event. This will be the heading on your event page and will also be prominently displayed on every ticket distributed to a ticket buyer.
Ingress
Here you can add a short summary of your event which will appear below the event title. This also displays on the event thumbnails on your organiser page. Note this should be a simple summary rather than a full event description, and there are maximum 500 characters for this field.
Make the event private
If you check this box the event will be created as a private event. This means that the event will not be listed on the TicketCo website, app or on your organiser subdomain. The only way to access a private event is to have the direct link sent to you. This may be useful for private events, such events specifically for employees or sponsors. Tickets can be sold for this event as well.
Image
Click the images box to select an image to display on your event page. This is the main image for your event and will be displayed when you share the link for your event on Facebook. The image should be in a .jpg or .png format.
You can add additional images using the Description box, described below. 
Description
This is the body text of your event page. This is where you would enter a description of the event, a festival line up or other practical information regarding your event. Keeping it short and sweet is generally recommended. You can customise the formatting and insert videos and hyperlinks here.  
Restrictions
This field is typically used to communicate age restrictions or other requirements that the ticket buyer may need to meet for their ticket to be valid. 
Waiver
Here you can enter any form of waiver you have, a typical example being "Tickets are non-refundable unless there is a cancellation".
Post-purchase message
The text you enter into this field is a fairly small message that pops up after someone has purchased a ticket. A good example would be "Thank you for your purchase! We are looking forward to seeing you at the event".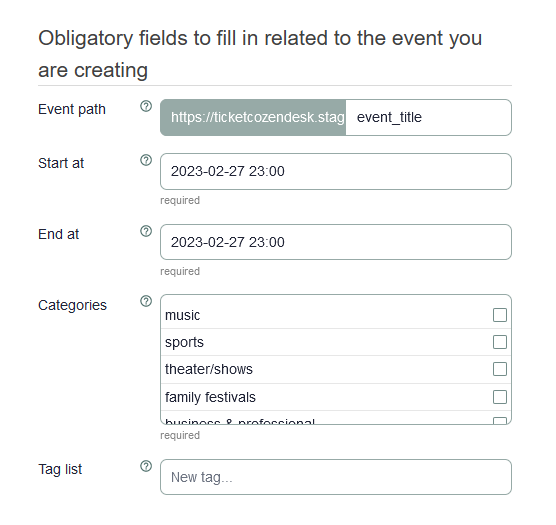 Event path
This is the link (URL) your customers use to purchase tickets for the event. The first part of the URL is static and can not be changed. The last part of the URL is automatically generated from the event title. You can edit the last part of the URL in this field. 
If you make any changes to the URL make sure not to use symbols such as "! ? / &"  and do not include any spaces in the URL. The only accepted characters are letters A-Z, numbers 0-9 and the underscore and hyphen symbols. 
You can change this part of your event's address if you need to. But be cautious! Do it before you publish it anywhere on the internet - changing the address post publishing will cause link breakage.
Start date
This is the start date and time of your event. This will be displayed on the event page and on the tickets as the time the event starts. The start date plays an important role when checking in tickets, and is also key in regards to live streaming events. 
End date
This is the end date and time of your event which will displayed on the event page and on the tickets. Again, this is important for checking in tickets and for streaming and Video on Demand events.
Categories
Here you select a category for the event. This decides which category we will list your event under on our public-facing pages.  
Tag list
Here you can tag your event with keywords. These keywords will be searchable on our public-facing pages. For example, if you enter "football" as a keyword your event will be displayed when someone searches for "football" on our site.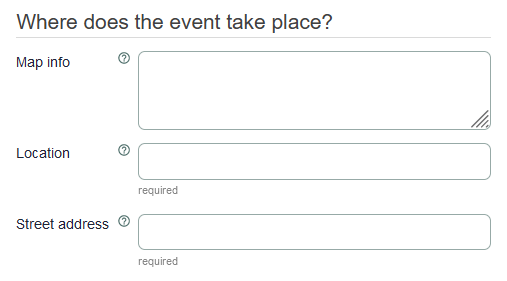 Map info
This field is not required. If needed you can enter a short description on how to get to the correct location here. Usually this is not needed. 
Location
This field is the name of the venue or location where the event takes place. Examples are "ATG Stadium" or "Junkyard Golf Club London". The location will be displayed on all tickets for the event. 
Street Address
This is the address where the event takes place, which draws locations from Google Maps. You can also use general areas such as "London" or "Mayfair". The address will be displayed on all tickets for the event. 
Save
When you have entered all the information above you can scroll back to the top of the page and click Save. If there are any issues with the information you have entered, you should see an error message telling you which fields need to be changed.
If there are no issues, your event will automatically be saved as a draft and you should see a green confirmation message. You will also see some new tabs and options appear next to Event details.
Next steps
You have now successfully set up a draft event, and you will now need to set up your ticket types and prices. Please head this way for an article explaining how to do this.
Publishing your event
Once you have set up all your ticket types, it's time to review your event. To do this simply go to the Event details tab inside your event and click Preview.
If everything looks good you can go back to the Event details tab and click Publish. You'll find the link to your newly published event left of the publish button.