Setting up click cards
What is a click card?
A Click card is a special type of ticket which allows customers to redeem individual tickets across multiple events within a certain time frame. You can think of this feature as a "punch card" or a set of coupons allowing you entrance to a certain number of events.
When setting up the card, you will be able to choose which events should be linked up with the click card, as well as the duration of the card itself. We will take you through all of those steps here. You might want to use a click card in order to offer your customers a good price when purchasing to multiple events, or it may be a good alternative to a season pass.
We will need to enable this module for you, so if you do not see the Click Card module in your main menu, please contact us here.
Some key terms...
We should first familiarise ourselves with the following terms:
Click Card event = This being the event where we create a group of click cards and prices.
Click Card type = This is the specific type of click card that the customer will purchase and then use to redeem other tickets.
Click Card ticket type = This refers to the individual tickets which the purchasers will redeem with their click card.
Let's consider an example...
Let's say we want to set up a click card for a series of matches during a season. The total number of games played on our pitch during the season is 15, and we want to sell a click card which would allow purchasers to redeem 10 tickets to any of the games in the season.
We would now need to know the ticket price of 1 ticket on these games so that we can create the total value on the click card we want to sell. Let's say the price of one ticket in one match is £10, this means that the value of the click card containing 10 games would be 10 x £10 i.e. £100.
Creating click card types
Head to the Click Cards feature in the main menu. 


Select Create new click card. You should now name your click card event, add a description, image and post purchase message. Once you have filled out the details, select Please continue.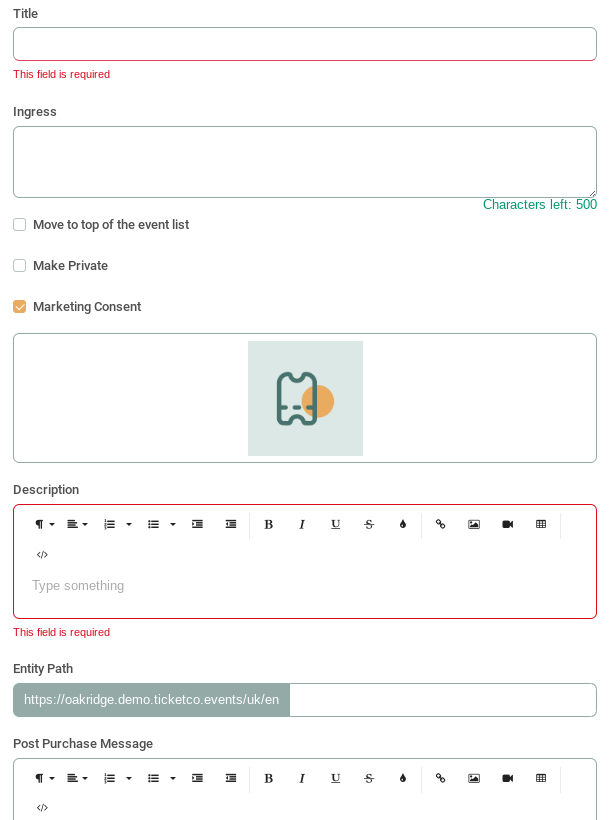 You can now start creating the different click card types that you wish to sell. Select the Item Types tab, and then + Create new Click card type. Add a name, description and specify your sale dates for your click card type.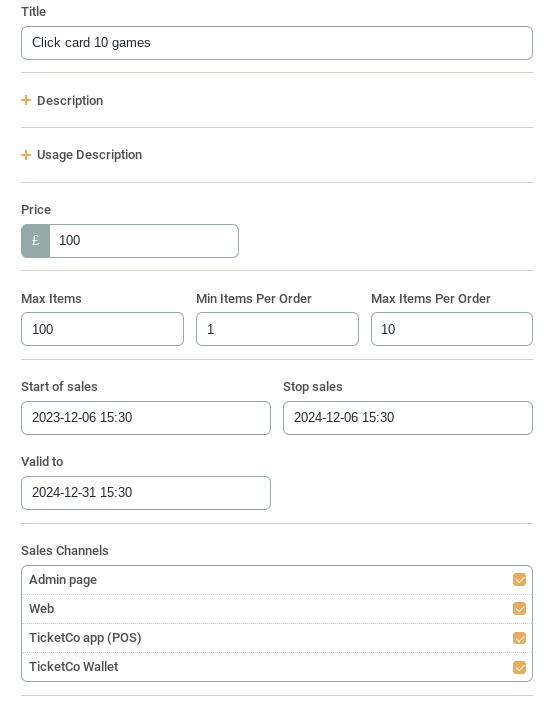 The Price of your click card will be the price that the customer pays for the click card, and this will also be total value that the customer can redeem in  individual tickets. Put simply, you should calculate your price according to this formula: [Ticket price on the individual event] x [Number of tickets click card contains]. 
Based on the aforementioned example, a click card designed to redeem 10 tickets costing £10 each should have a price of £100. 
Connecting the click card to ticket types
In order to connect a click card to an event, you will need to create a click card ticket type on an individual event. This will be the ticket that your customers can purchase with their click card. Customers will need to input their click card reference code in order to redeem these tickets.
Ensure that you input the correct price on these click card ticket types. According to the example mentioned previously, our click card ticket types would have a price of £10.
Once you have created the ticket type on the event, further down on the ticket type settings, you will see a new field called Demand Voucher Card Usage:

Simply activate the relevant click card and hit Save!
Redeeming click card ticket types
Once your customers have purchased their click card, they can use it to redeem individual tickets.
When purchasing a ticket with a click card, the customer journey looks pretty much the same as for ordinary tickets, except that the customer must input their click card reference code when purchasing an item marked with a blue Click card banner.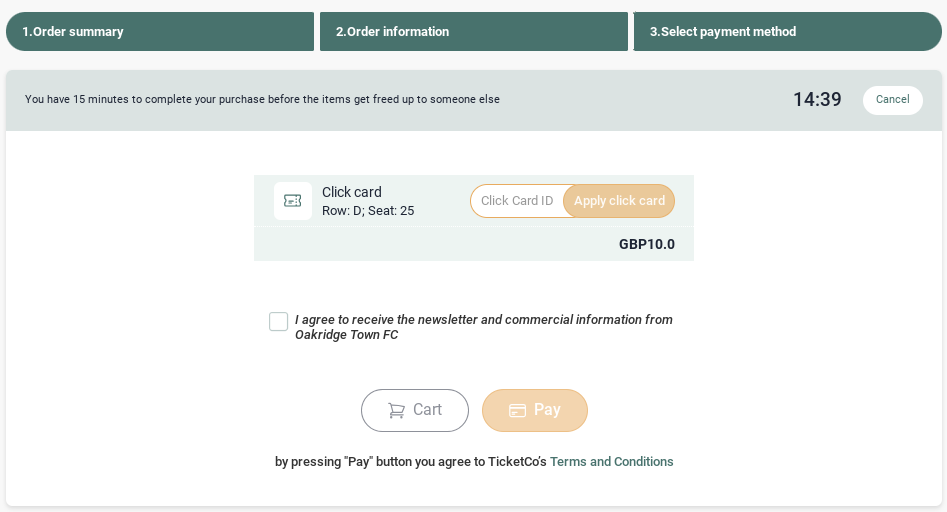 Provided that the Price of the click card and click card ticket types have been set up correctly, the customer will be able to use their click card to purchase (based on the aforementioned example) exactly 10 tickets, each worth £10. 
Note that click cards are not intended to be used for partial payments, so a ticket redeemed with a click card should not require any additional settlement.
If your customers need assistance with how they can use their click card, you can forward them this help article.
Congratulations, you have now set up your click card! For more help and for any additional questions about this feature, head this way.