Sorting your users into departments
Once you have created your users and managers in the platform, you might want to sort them into different groups, also know as departments. Our Departments feature allows you to control which users will be able to scan in and sell specific ticket types/item types in our TicketCo app.
This can be useful if you want to ensure that tickets are only scanned at one location, for example, VIP tickets are only scannable at the VIP gate. It can also be useful if you want to make sure that any merchandise sales are only scanned at your kiosk, thus reducing the chance of the incorrect item being scanned at the entrance to your event.
Departments is a feature which we will need to activate for you, so if you do not see the Departments tab under Organiser settings, contact us here.
Setting up departments
Head to Organiser settings, then Departments on the left-hand side.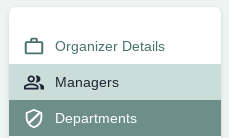 You will see that there is a Default already set up for you. To add a new department, select Create department.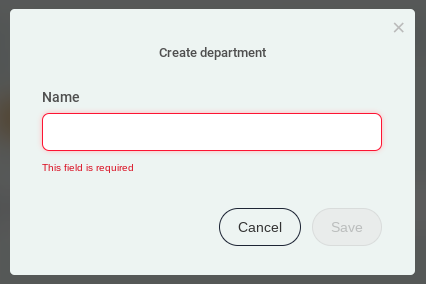 Input the name of the department and hit Save.
Typically you might have one department called "Kiosk" or "Merchandise", maybe some others for "Cafe", and "Standard Tickets" or "VIP Tickets". You should consider how many devices and users you will have at your event(s), and how many groups you need to divide them into.
Assigning departments to users
Now head to Managers and select a user you have created. Note that only the primary contact on the account can edit a user's settings. You will see that you can now select certain departments for each user. Simply tick the relevant department for the user (one user can have multiple departments). 

Doing this ensures that said user will only be able to scan and sell tickets/items which are a part of the same department.
Assigning departments to item types
When setting up your ticket types and other items, you will be able to select which department(s) to connect them to. You will see the list of departments on each of your ticket types, so simply check off the relevant department for each ticket/item.
This is where the Default department is useful, as this is automatically selected for all of your item types, meaning you might only need to activate specific departments for more specialised items e.g. VIP tickets.
For any standard or non-specialised tickets, it may be worth activating all departments. This means that any member of staff at your venue will be able to scan them in. 
Scanning and selling tickets in the app
When logging into the TicketCo admin app, you will be asked to select the relevant department for your user (if you have multiple associated).

 

You can only be active in one department at a time, so if you have a user activated in multiple departments, you will need to select which department you are operating in when scanning and/or selling.

The department you are currently working in is displayed on the main screen. Tap this section to switch departments.

If you try scanning an item outside of your designated department, you will receive an error message in the app.

You should then direct the customer to the correct location to scan their ticket/item type.

When selling items, you will only be able to see and select item types within your department. 

In the example to the right, only the tickets for VIPs have been made available for sale as the user is logged in with the VIP department. The user would need to select the Default department if they wanted to sell the standard tickets.
Departments vs Gates
The Gates and Departments modules operate in similar ways; however, gates is used for events with seat maps. You should use the Gates feature if your event has a large seat map and multiple entrances, as this will allow you to specify which entrances your customers should use according to their seats on the map. More information about Gates is found here.
It is possible to combine both features on your account. You can assign users to both gates and departments, and this may be especially useful considering the Departments feature additionally controls sales in the TicketCo admin app (whereas Gates are used only for scanning tickets).