Working within an organiser division
A division in TicketCo is a group of organiser accounts which are linked together in order to enable sales in our admin app between different accounts. This may be useful if your organisation has various branches which should be centrally controlled, or if you have similar TicketCo organiser accounts and want to be able to sell items for multiple accounts in our admin app.
If you would like to set up a division, simply get in touch with us! Note that we will need permission from the various primary contacts on the accounts involved.
Division hierarchy
A division is a group of organiser accounts in TicketCo, and each division contains at least one "mother organisation" and one other organisation. In general, we suggest having just one mother organisation, although it is possible to have multiple.
What do we mean by "mother organisation"?
The mother organisation is the main administrative organiser account, which will have access to make changes and collect reports from the other organiser accounts in the platform. That is to say if you have a group of organisations which should be centrally controlled, the mother organisation is the account you will log into in order to manage the other accounts in the division. 
Accesses
Users on the mother organisation will have various additional accesses so that they can manage the other accounts on the division:
Create and edit events and discounts in all other accounts
Create and edit other types of items which may be activated on the other accounts e.g. gift cards, click cards, season passes, subscriptions
View and download reports from other accounts e.g. from the Dashboard, Report tab or event reports
View Organizer settings page and make adjustments to features such as Branding, Legal terms and Unique promo codes if activated
Sell tickets and other items to all other accounts via the TicketCo admin app (via bank card, gift card or voucher)
Note that there are certain limitations, so users logged in on the mother organisation cannot:
Create or edit users on the other accounts
Access the Billing tab on other accounts
Scanning/validating tickets from other organisers
Sell tickets in the TicketCo admin app and register the sale as a cash payment
Refund items on other accounts (unless extra permissions are enabled by TicketCo - if you need this option, contact us for further details)
Child organisations
The "child organisations" or other accounts within the same division can be accessed through the admin pages by users in the mother organisation. Note, however, that any users within the child organisations will not be able to view or access other accounts through the TicketCo platform. In short, only those who have a user on the mother organisation will be able to view different organiser accounts in the TicketCo platform.
In the TicketCo admin app, all users within the child organisations can sell tickets and other items from all accounts within the same division. Payment for these items can be via bank card, gift card or voucher. Sales cannot be registered as cash. When accepting payment for items in the TicketCo app, the sale will be registered on the organiser account which the event is created on, and funds will be settled to that organiser account as normal.
Switching between organisations in a division
If you have a user on a mother organisation, you can simply click the user symbol at the bottom of the menu on the left, and then select Change organizer role to switch to one of the other organisations within the division.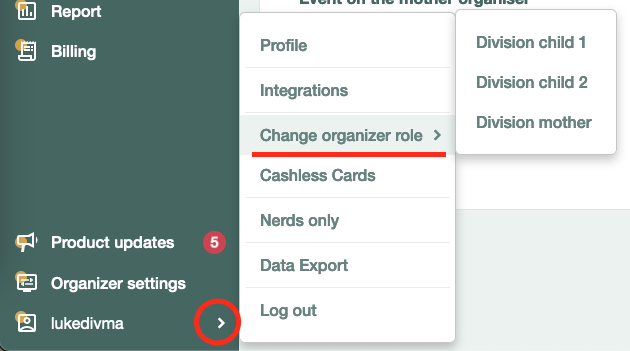 Activating sales across the division in the app
When logged into the TicketCo admin app, either on the mother organisation or on a child organisation, you can head to Settings to activate division sales.
If you do not have the division sales toggle activated, you will only see events and other items currently available for sale on the account you have logged in with. In order to view all tickets and items sold by all associated accounts, simply activate the toggle: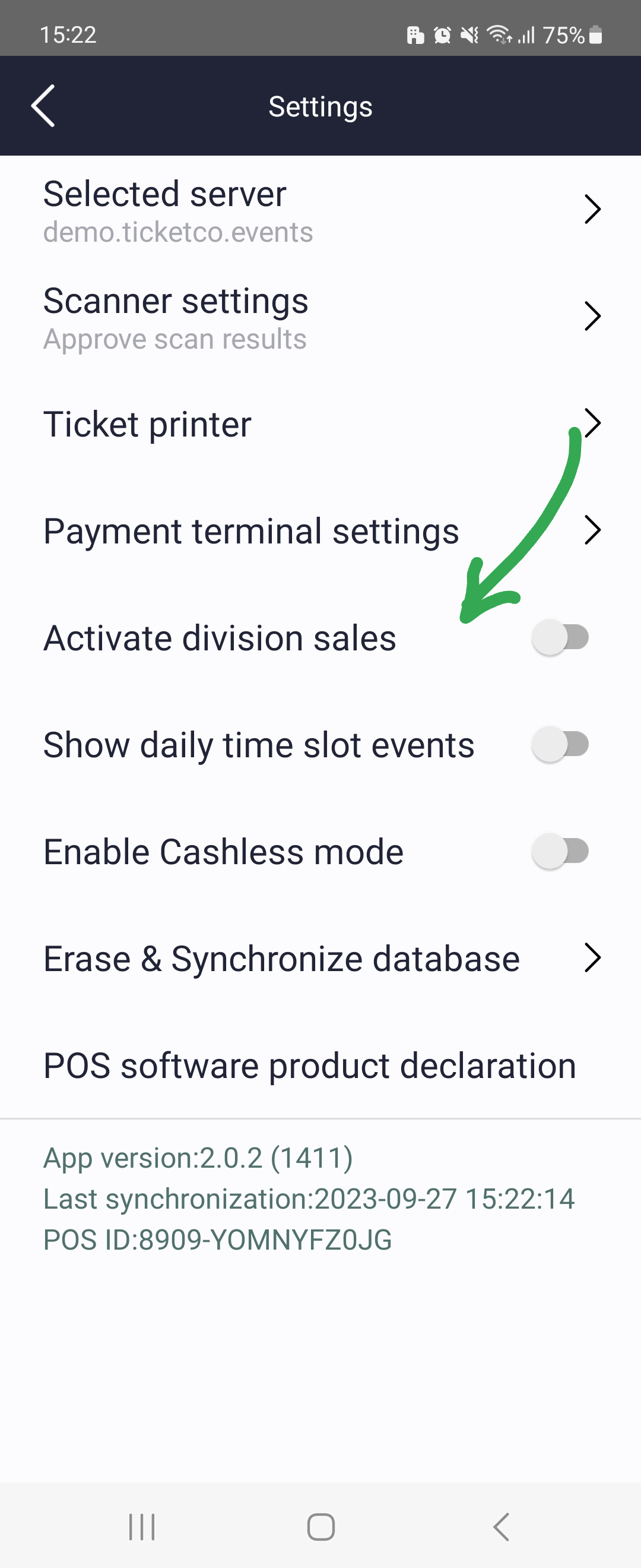 Once activated, if you go to the Sales section of the app, you will have the option to view items and tickets sold by different organisers within the division, or you can select to view items from all organisers: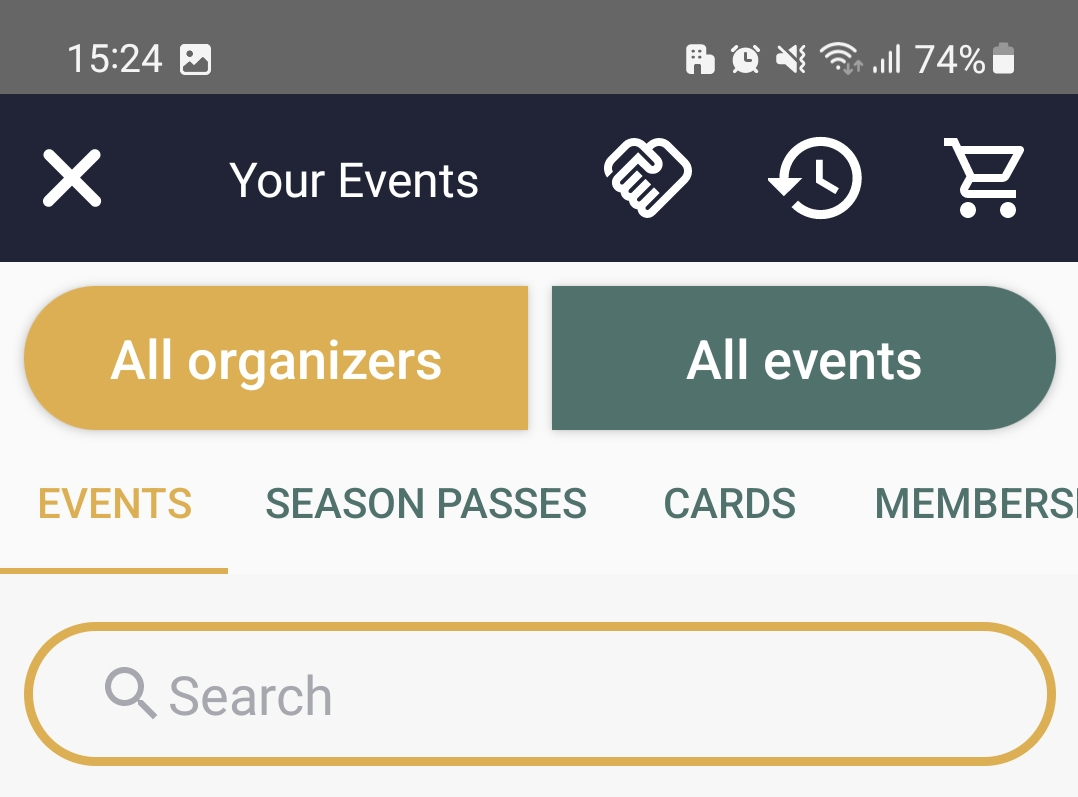 You will be able to make sales and accept card, gift card and voucher payments on behalf of the other organisers within your division.