Monitoring your subscriptions
Now that you have set up your subscription, including the different subscription types, you will want to be able to monitor your subscriptions and check their status. In this guide, we will explain what the different subscription statuses are, what happens when a payment cannot be made, and how you can check a subscription history.
Subscription reporting
Different subscription statuses
As with any other event or season pass, you can collect reports regarding your subscription sales. Unlike other reports in the platform, you will see some different filters and categories in the Report pages. These are shown below:

Lifetime

reflects the total number of subscriptions ever purchased.
Active

shows how many subscriptions remain valid and in use.
Cancelled

shows the number of subscriptions which have been cancelled by the end user.
Overdue

subscriptions are those which have not been withdrawn for the past month due to e.g. lacking funds, expired card.

See below

for more details.
Terminated

shows the number of subscriptions you have force-ended.
Selecting the relevant status in the filters on the Report page will show you a list of subscriptions, and you can also download the XLS report and filter by Subscription status (column S). In general we suggest reviewing this file every 1-2 weeks to ensure you have control over any overdue subscriptions.
If you wish to force end a customer's subscription, you can terminate it in the Report pages. Locate the subscription in question and select Terminate on the drop down menu. This will immediately invalidate the subscription meaning it cannot be scanned in the app.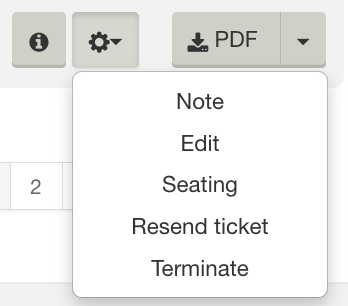 Please be aware that selecting Terminatewill stop all subscription items with the order. That is to say that if a customer has four individual subscription items included in their overall subscription, all four will be terminated.
Scanning subscriptions in the app
The customer can display their subscription QR code to gain access to all associated season passes and matches. An active and valid subscription will display in green once scanned, whereas an overdue subscription will be orange. A red result indicates that the subscription may not include the current match, or that the subscription has been terminated and thus is invalid.
What happens when a payment cannot be withdrawn?
Overdue subscriptions
After starting a subscription, the customer will be charged each month on roughly the same date as when they originally purchased. If a payment does not go through, the following will happen:
The purchaser will receive an automated email explaining monies could not be withdrawn. The email includes a link where the purchaser can update their card.
An attempt at withdrawal will be made 3 days later.
If the second attempt fails, a new automated email is sent, and another attempt is made three days later.
If the third attempt fails, the status of the subscription in the report will show as

overdue.
An overdue subscription can still be used and scanned in our app, although it will show up in orange once scanned.
Provided that the customer pays for their subscription with a valid Mastercard or VISA card, there should not be any issues with monthly payments. If, however, the customer does not have enough funds on the account, or the card has expired, this could result in a subscription becoming overdue.
Please note that if, after these three attempts, no payment can be withdrawn and the subscription becomes overdue, it is your responsibility to follow up with your purchasers and ask them to update their payment card in our platform. See above for how you can collect a list of overdue subscriptions.
Updating the payment card
If the customer needs to update their card at any point, they can use our Find your purchased tickets button on ticketco.events. They will receive an email with a link which they can use to access Your subscriptions. On this page, they can select Change payment method to update their card.
Once a payment card is updated, the subscription will be reactivated and the system will attempt to withdraw any missing payments over subsequent days. That is to say, if a subscription was overdue in January, and the card is updated in April, the customer will then be withdrawn over 4 consecutive days in order to settle the outstanding monies (payments for January, February, March and April). A receipt will be generated for each payment and sent to the customer.
More on the Your subscriptions page →
Subscription history
If you want to see a more detailed record of the status and payments for a specific subscription, you can use the History option found under to the cog symbol.

In the popup you will see the current subscription status, the name registered on the subscription as well as when their next payment is due. Beneath the current status, you will then see a list of previous payments, including when they took place, the amount and a link to the receipt.

If a payment could not be made, you may see an overview more like the image to the right.

Here you can see that the system has attempted to charge the customer after 3 days, and each time, the payment was not successful. This means that in this example, the subscription is now considered overdue, and the customer needs to update their payment card.