Setting up tickets for multiple scans
It is now possible to set up some ticket types so that they can be scanned multiple times within a given time period. This article will take you through how to configure this in the admin pages, how this affects scanning in the admin app, and how you can collect the necessary reports afterwards.
Setting up tickets for multiple scans
Access to this option must be requested directly from cs@ticketco.net, so please get in touch directly with us if you would like to find out more.
Once this permission is activated on your account, you will find a new Validation period field on your ticket types:
| | |
| --- | --- |
| Tickets on "regular" events | Time slot tickets |
Simply input the number of hours within which the ticket can be scanned. If the ticket can only be scanned once, you can leave this field as 0.
Note that the number of hours is counted from when the item is first checked in, so that means if a ticket is successfully checked in at 11.47am and it has a validation period of 3, it can be checked in multiple times until 2.47pm. After the validation period has ended, any further scans will be registered as invalid in the app.
Scanning in the app
You should scan the tickets as you usually would in the TicketCo admin app. You will notice, however, that if an item has already been checked in within the validation period, the previous scan will be registered on the screen: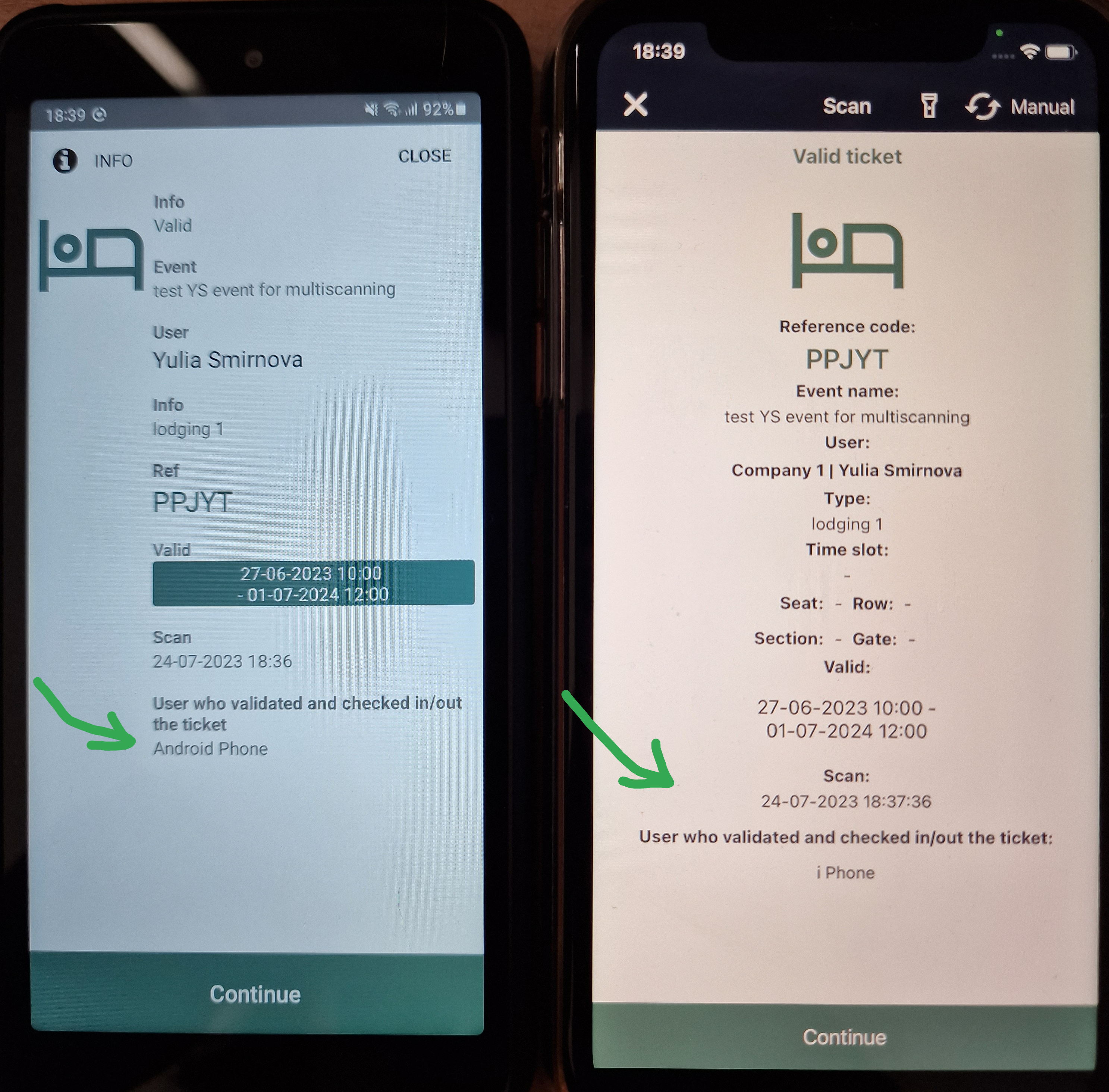 Once the validation period has expired, or if the item is refunded or invalid for any other reason, you will see an error message when scanning.
Collecting reports on multiple scans
After items have been scanned, you will find a new Validation history report available on the event report so that you can track which items have been scanned when:


Each row in the report reflects when an item has been scanned in. As you can see in the example above, ticket ppjyt has been scanned four times by users in different departments.
        For more information about departments, head this way →
You can also view a summary of scans for a specific ticket on via the info (i) button on the report page: