Changing a ticket buyer's seat
Now and again ticket buyers may request to change their seat for an event. Perhaps they want to sit with someone they know, or they simply bought the wrong seat.
It is worth having another window or tab open on your screen so that you can view your seat map and see which seats are still available.
How to change a ticket buyer's seat
Navigate to the relevant event, then go to Report. Find the customers' ticket(s) by searching up their reference code, email address, phone number or name.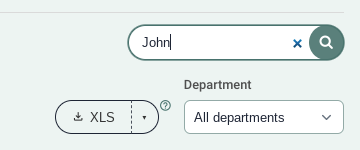 The tickets should be displayed at the bottom of the page:

Click on the little arrow next to the cog symbol, and then click Seating. You should then see a pop-up like this: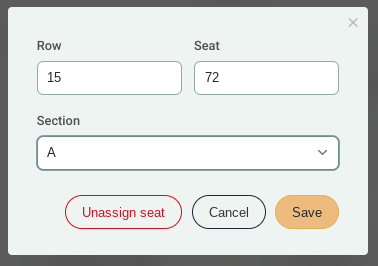 Simply type in the Row, Seat and Section you want to move the ticket to. This is where it's useful to check the seat map in the separate window, to make sure the the desired seat is available. If it is not available, you will not be able to save the changes. If the seat is available, you will be able to Save and this will automatically update and send out a new ticket to the ticket buyer.
Unassign Seat
You can select Unassign seat if you want to open up a certain seat for sale again. This may be useful if you have refunded a customer because they can no longer come to the event. You can always reassign the seat later if needed, by following the instructions above.