Locking and reserving seats on the map
You can manually lock and reserve seats on your seat map by heading to the Seating arrangement tab. This can be useful if you find that some of the seats may not longer be available, or if you want to prevent certain seats from being sold straight away.
This gives you the flexibility to customise your map for different events, meaning that you do not need to order a new map for each event with a slightly different seating arrangement.
Map key
You will see this key under Seating arrangement. Use this to keep track of which seats have been booked, which are available and which seats you have selected.

To select a seat on the map, simply click on it, or click and drag the mouse over various seats to select them all in one go.
Here is an example: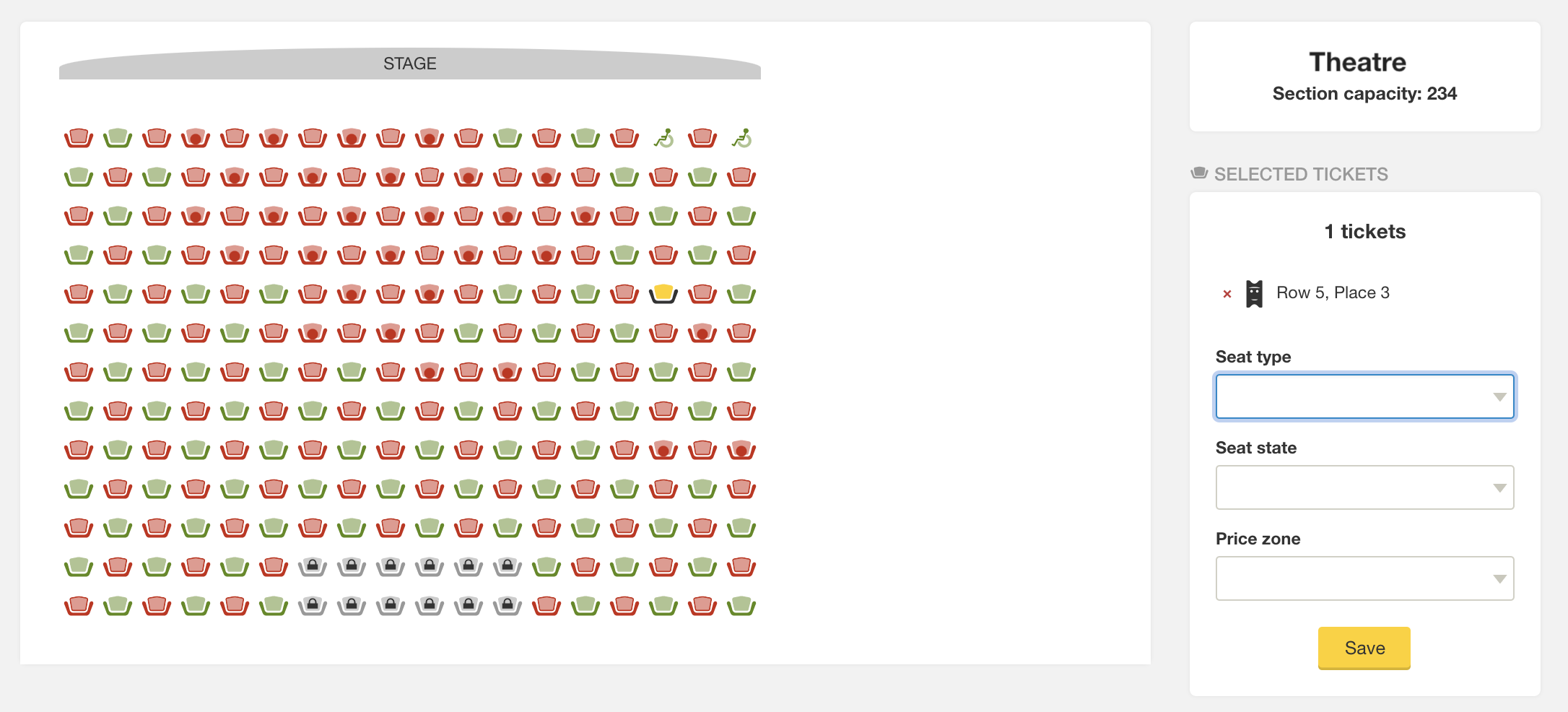 Reserving seats
In the example above, you can see that the organiser wanted to reserve every other seat in order to allow for 1 meters distance between all audience members. To do this, you would select an available seat e.g. Row 5, Place 3. Using the menu on the right, select Seat type = standard and Seat state = reserved, then Save:
You can also choose to lock seats by selecting Seat type = locked. A locked seat will be greyed out with a padlock symbol on, such as the seats in the last row in the map above.
There is not too much difference between reserving and locking seats, apart from how they are displayed for you under Seating arrangement. Just note that both reserved and locked seats will be displayed in the same way for your customers: as red non-clickable seats.
NEW: If you would like it to be made clear to your purchasers that seats have been blocked off due to Covid-19 measures, then you can select Seat type = Blocked off due to covid. This will mean those seats will display in purple on the customer end, instead of in red, and it will be clear to end users why certain seats are not available for sale.
Price zone
You can choose to assign a specific price zone to a seat using the Price zone picker. For more help with this, see here.
Accessible seating
You can also change a seat into accessible seating by selecting this option under Seat type.