How to get started with Video on Demand Follow
What is Video on Demand?
As an event organiser this feature lets you upload pre-made video content into TicketCos streaming service and sell access to the content to viewers. A typical use case is an event organiser that runs a live stream, records it and continues the monetisation of the digital content after the initial live stream. This can be done by uploading the recorded live-stream to TicketCo and sell access to this content. You are not limited to recorded live streams and can upload any piece of video content for which you have the rights to distribute.

TicketCo TV is a live streaming, and a video on demand feature, built on broadcasting grade technology from Amazon Web Services. When you live-stream or upload your content into the TicketCo TV service the content is encoded and made available on a CDN to support potentially million of viewers. We support Geo restrictions and DRM to safeguard that you are on top of your copyright and licensing issues.
Video on Demand is not available by default. If you'd like to get started with this feature please contact support@ticketco.events and lets us know.
How to get started with Video on Demand from TicketCo
Upload your video content into TicketCo TV service
Create an event in the TicketCo platform
Select what countries to allow viewing from
Uploading your video content to the TicketCo TV service
The first thing you need to do is upload your video file(s) to the TicketCo system. This can be done under Organiser settings → Files. If you do not see this option it means you do not have access to the Video on Demand feature and you'll need to contact support@ticketco.net to get access.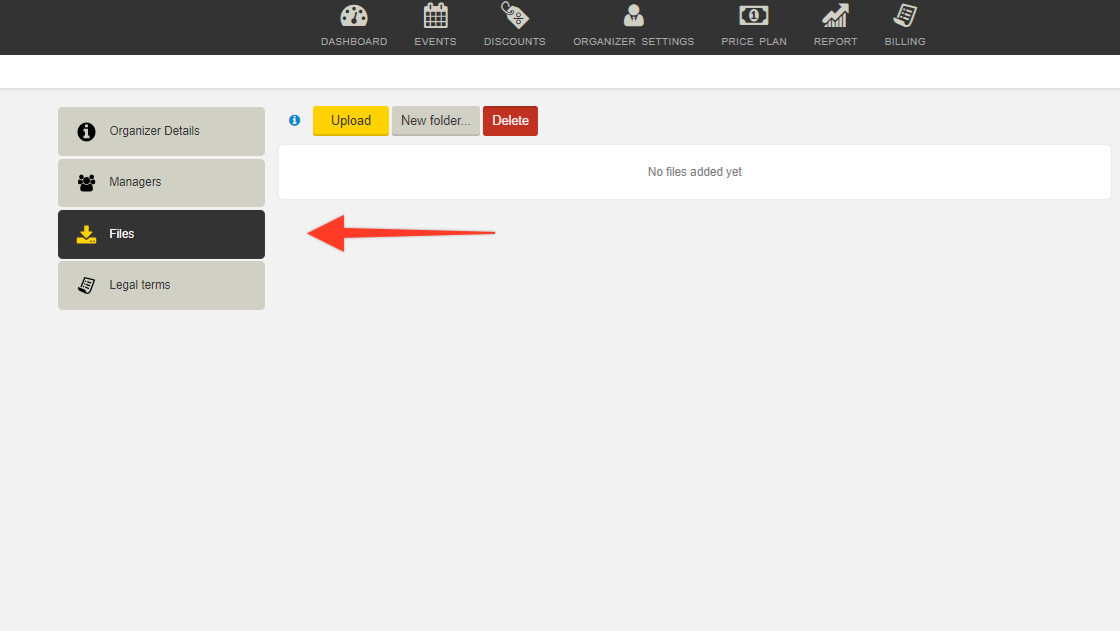 To upload a file simply click the Upload button and select your video file. It's recommended that you use folders to organise your content. While these folders will not be visible to your customers it will help you keep your video library tidy. It takes couple of hours to upload a file and process it. We recommend to have all the files uploaded at least 24 hrs before planned premiere to avoid any delays.

❗ Please note that the supported files for video content are MP4, AVI, MOV and MKV. The maximum size of the file accepted by VOD feature is 5 GB ❗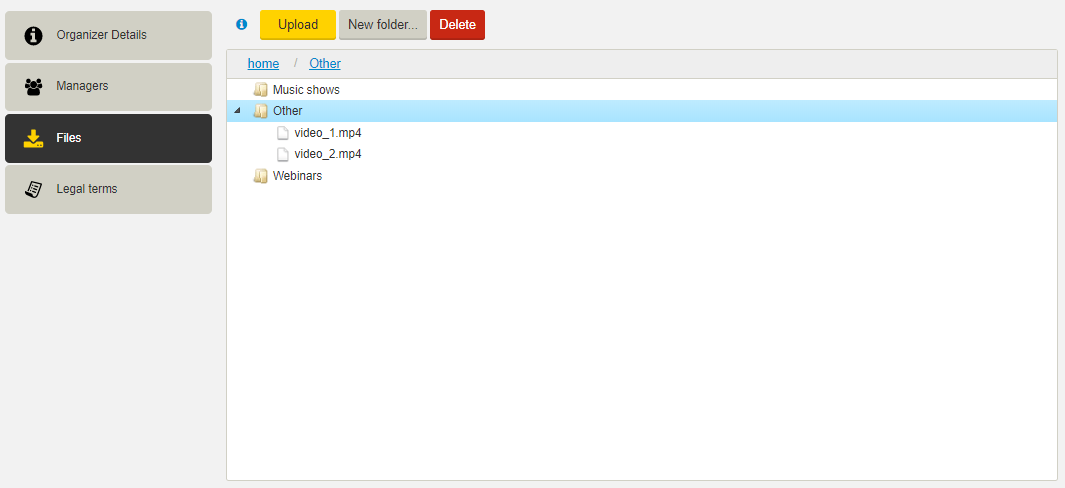 Create an Event in the Ticketco Platform
When you are done uploading your files the next thing you need to do is to set up an event. The event page in TicketCo will function as a web-shop where your customers can purcahse access to your content.
If you do not know how to set up events yet we recommend you take a look at our guide on how to create events.
On event start and end date
When creating and event you'll also need specify a start and end date. While the start date is not important in this context the end date is. Once we reach the end date you set for you event, your customers will no longer be able to purchase anything for the event. This includes video content. If you want to make your content available for longer you can extend the event end date or create a new event. The start and end date of your event does not impact when a video can be viewed. We will look at that later.
Once your event is created you'll need to add your ticket types and capacities. Read all about that here.

Once your event is set up go to your ticket types and change the CATEGORY to VIDEO ON DEMAND. This is crucial as this is what gives your ticket buyers access to the video content. If you do not do this the ticket they buy will not grant them access to the content

Once you select video on demand it will then give you access to attach the video content you uploaded earlier. If you select multiple pieces of content the buyer will get access to a playlist where all of the selected videos are available.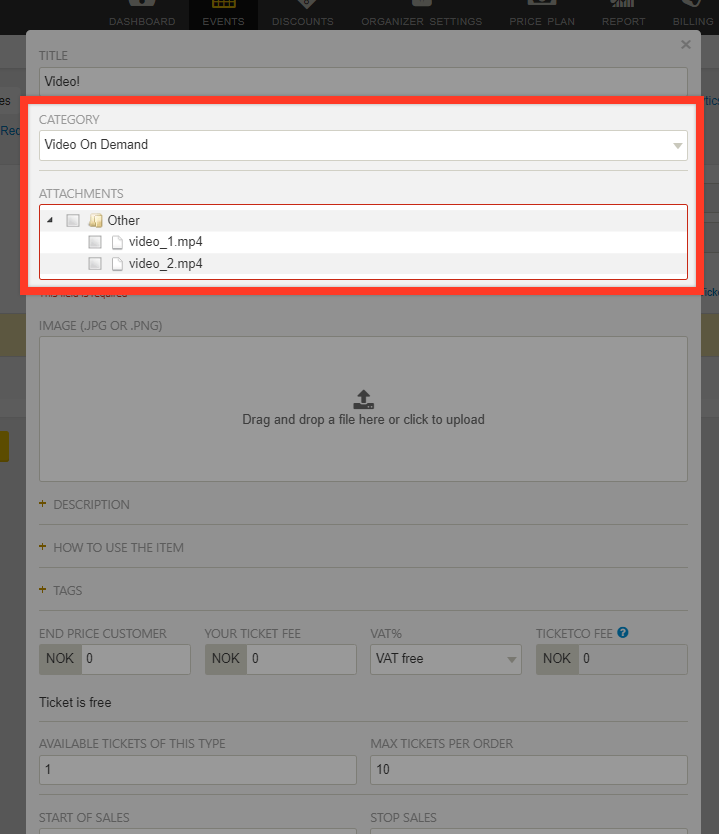 You should also consider for how long your customers should be able to view your content. You can control this by using the EXPIRY DATE field. This well let you select for how many days someone can view your content after having purchased it.

You can also select to which countries you want to allow viewing the country by adding countries to the SELECTED COUNTRIES list. If this list is empty your content will be viewable from all countries.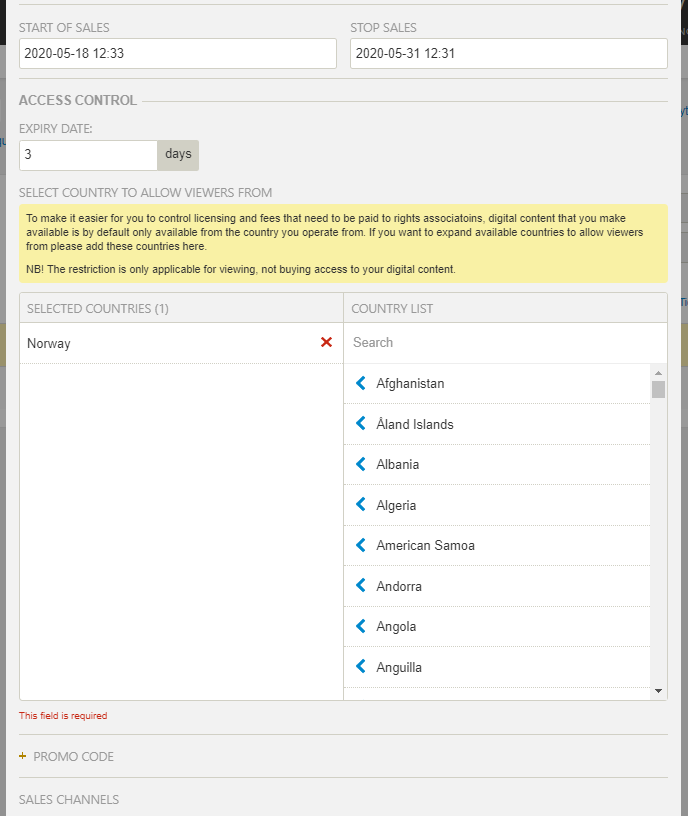 Please note it is important for Video On Demand that you add in the description part of the ticket type that buyers must check their email to access the link for the Video on Demand. This can only be viewed through the email confirmation and is currently not available at the end of the purchase process.
Once done you are ready to start selling. Simply save your ticket type go to Event details and click Publish.
The ticket buyer journey
Once you have published your event and added the link found under Event details to your homepage and Facebook-event, people will start buying tickets. The purchase journey is straight forward and works similar to regular events. Once someone has completed a purchase they will receive an email confirmation with a link to your content.

When someone has completed a purchase they will receive a text message and/or an email with the video content in it that looks something like this:
To view your content all they have to do is click the play button.