How to set up a Video on Demand event
What is Video on Demand?
This feature lets you upload pre-made video content to TicketCo, so that you can sell access to the content to viewers. A typical use case is an event organiser that runs a live stream, records it and continues the monetisation of the digital content after the initial live stream. This can be done by uploading the recorded live-stream to TicketCo. You are not limited to recorded live streams and can upload any piece of video content for which you have the rights to distribute.
Video on Demand is not available by default. If you'd like to get started with this feature please contact support@ticketco.events and lets us know.
How to get started with Video on Demand
Create an event in the TicketCo platform
- Connect your ticket types to your video
- Set up when your audience can view,
- and where they can view from
Uploading your video content
The first thing you need to do is upload your video file(s) to the TicketCo system. This can be done under Organiser settings → Files.
If you do not see this option it means you do not have access to the Video on Demand feature, and you'll need to contact support@ticketco.net to get access.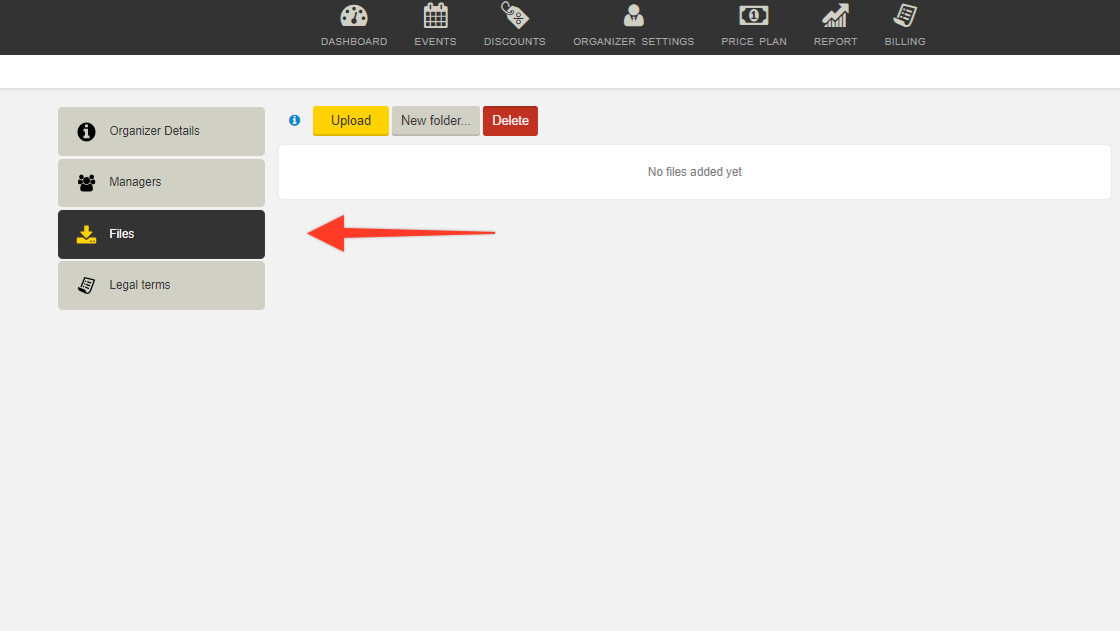 To upload a file simply click the yellow Upload button and select your video file. It's recommended that you use folders to organise your content. While these folders will not be visible to your customers, it will help you keep your video library tidy. It can take a few hours to upload a file and process it, depending on the file size. We recommend to have all the files uploaded at least 24 hrs before planned premiere to avoid any delays. You will receive an email from us when your content has been uploaded.
Please note that the supported files for video content are MP4, AVI, MOV and MKV. The maximum size of the file accepted by VOD feature is 15 GB. For closed captions SRT file format is supported.
Closed captions
In order to activate closed captions, an SRT file needs to be uploaded at the same time as the video file. TicketCo Media Services systems will then combine the SRT file with VOD file and activate the option for the viewers to enable CC if they want.
Please note that both files need to have exactly the same name and need to be uploaded simultaneously in order for the CC feature to work correctly with the output VOD file.
Create an event
When you are done uploading your files the next thing you need to do is to set up an event. The event page in TicketCo will function as a web-shop where your customers can purchase access to your content. If you do not know how to set up events yet we recommend you take a look at our guide on how to create events.
When creating and event you'll need specify a start and end date. For VOD events, these dates refer to when your video content will be available to view. Once your event is created you'll need to add your ticket types and capacities. Read all about that here.
Once your event is set up, go to your ticket types and change the Category to Video On Demand. This is crucial as this is what gives your ticket buyers access to the video content. If you do not do this the ticket they buy will not grant them access to the content
Setting up your VOD tickets
Once you select video on demand as the item category, you will then be able to attach the video content you uploaded earlier.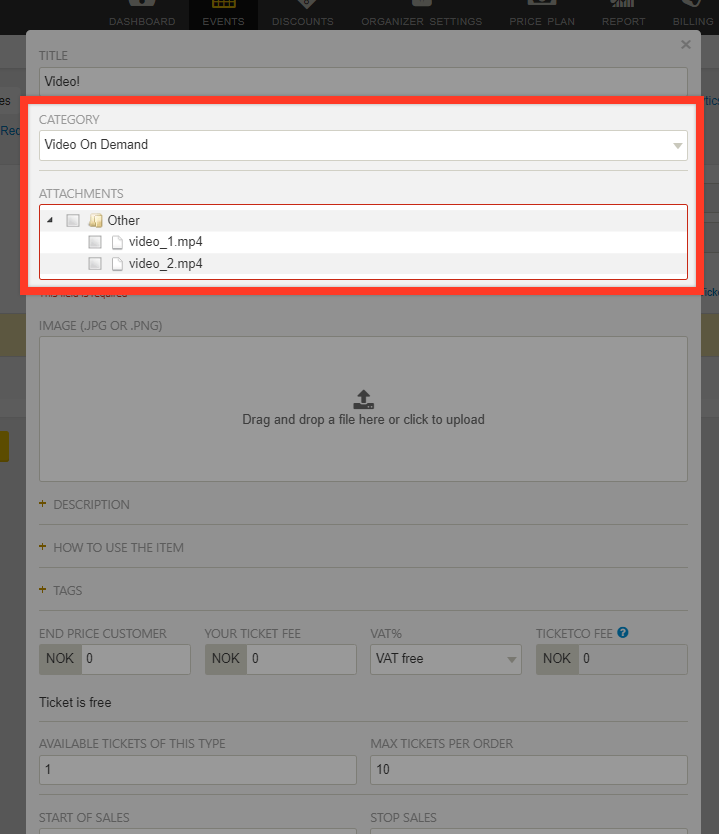 You can select the relevant video by clicking the little check box. Doing this will start the processing of the content, and you will see a little pending symbol while this is ongoing. Once fully uploaded, you will see a little green tick next to your video attachment.
Availability of the video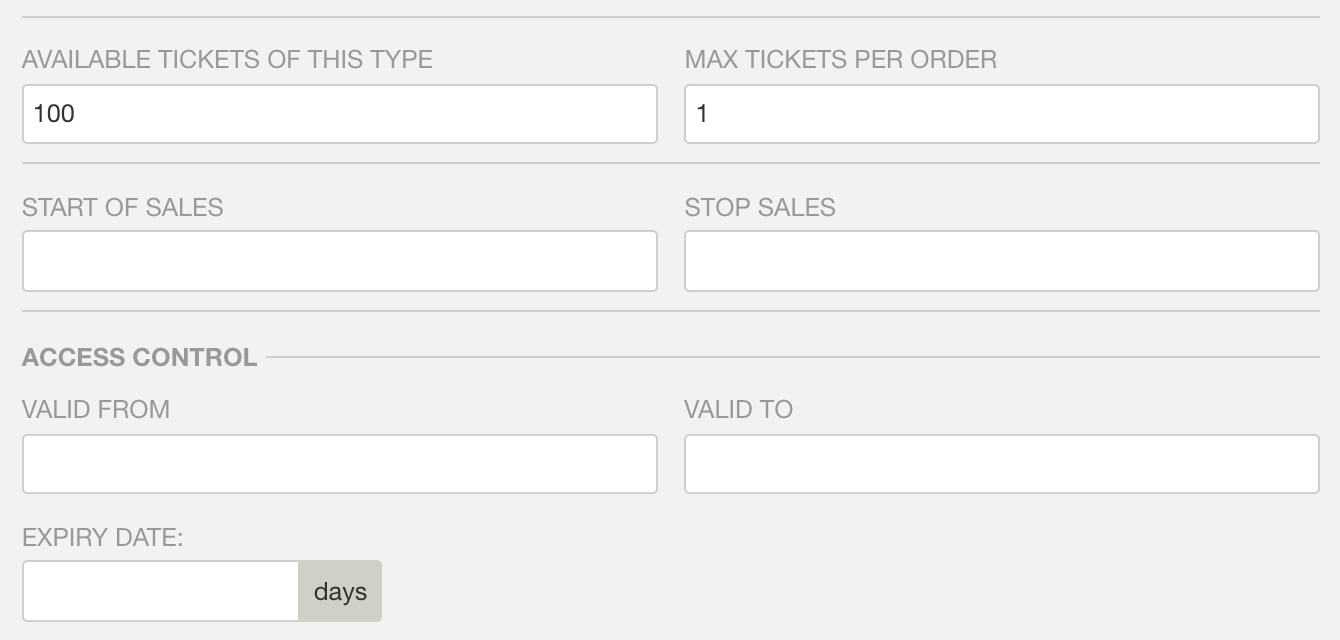 You should also consider for how long your customers should be able to view your content. You can control this under Access Control. Whilst Start of Sales and Stop Sales control when your customers can purchase tickets, the dates you select under Access Control will control when your viewers can access the video. You may, for example, wish to sell tickets in advance of your video release, which is why you may wish to have different dates registered under Access Control.
You should also pay attention to the Expiry field. This will let you select for how many days someone can view your content after having purchased it. For example, the video may be available to view for 30 days, according to your settings under Access Control, but the Expiry may be 3 days. This means that your audience can start viewing the video at any time within the given 30 days, but once they start watching, they will have 3 days to complete viewing.
Geo-restrictions
You can also select to which countries you wish to broadcast your content in. You can do this by adding countries to the SELECTED COUNTRIES list.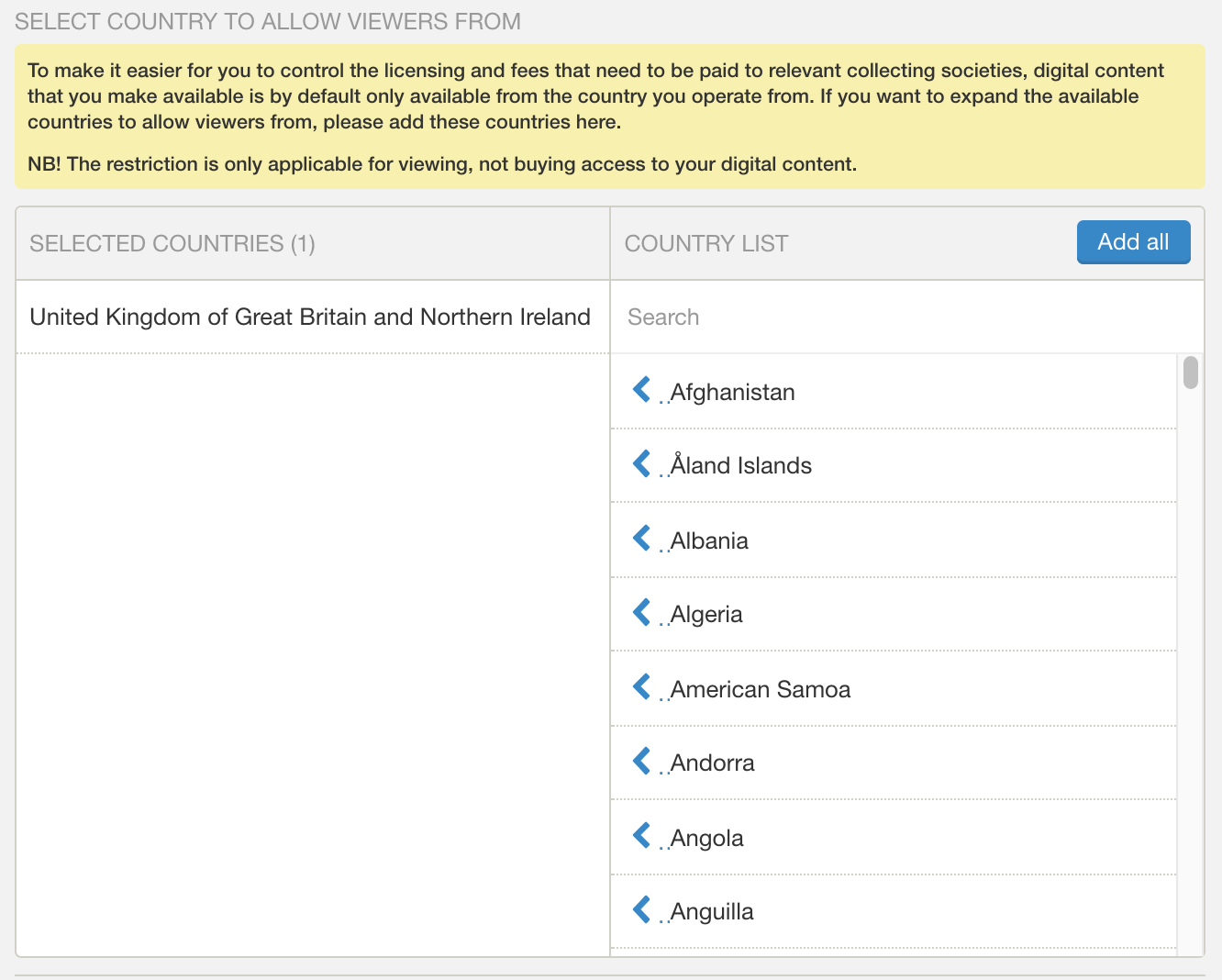 You are ready to start selling! Simply save your ticket type go to Event details and click Publish.
Viewing the content
When someone has completed a purchase they will receive an email with a link to the video content which will look something like this:
To view your content, the ticket buyer can simply hit the play button. Alternatively, they can input their five letter reference code into ticketco.tv or our TicketCo TV app. For further information about how ticket buyers can view the content, please see this help page.
Video specifications
If you are looking for some tried and tested settings for your video, we recommend the following:
| | |
| --- | --- |
| Format | H.264 |
| Frame size | 1920 x 1080 (or 1280 x 720) |
| Frame rate | 25fps (max. 30 fps) |
| Profile | High |
| Level | 4.1 |
| Bit rate | 20Mbps |
| File type | MP4 or MOV |
| Sound | -23Lufs |
If your content is over 15GB, we suggest reducing the target bit rate down to around 10Mbps.