How do I use my voucher?
What is a voucher?
A voucher is basically a gift card that can be used to purchase tickets. You may receive a voucher as a form of compensation if your event was cancelled e.g. due to the Covid-19 pandemic. The value of the voucher is based on the face value of the tickets that you had for the event that was cancelled. In this article, we will explain how to use the voucher when buying other tickets at TicketCo.
It is important to note that a voucher is locked to the organiser which hosted the event that was previously cancelled. It can only be redeemed on other events hosted by that organiser on TicketCo.
What does my voucher look like?
You voucher would have been sent via email and it would be clear that you received it due to a cancellation. The voucher looks almost like a ticket and it contains the following:
Reference code - The reference code which identifies the voucher.
QR-code - A QR-variant of the reference code (you do not need to worry so much about this).
Value - Total value of the voucher.
Organiser - Which organiser the voucher is valid for.
Expiry date - Your voucher will be valid until this date.
How do I use my voucher?
As previously mentioned, all vouchers are bound to the events belonging to the same organiser which you initially received the voucher from.
To use your voucher, you should head to the event page belonging to the relevant organiser, and find the event you wish to purchase tickets for.
You then follow the regular purchase process, but before you would usually click "Pay", you will have the ability to choose voucher as a payment method like the picture below displays.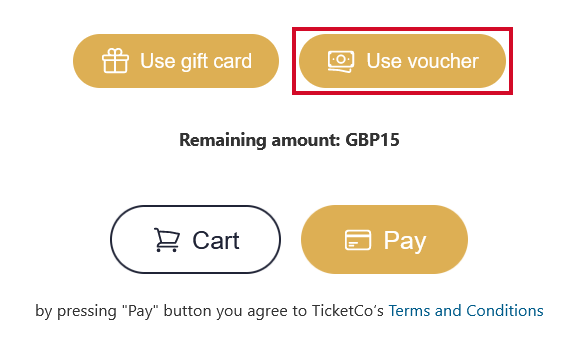 After clicking Use voucher, you should get a pop-up where you will need to click "I am not a robot" and then fill in your reference code which is on your voucher you have received. Please see the picture below.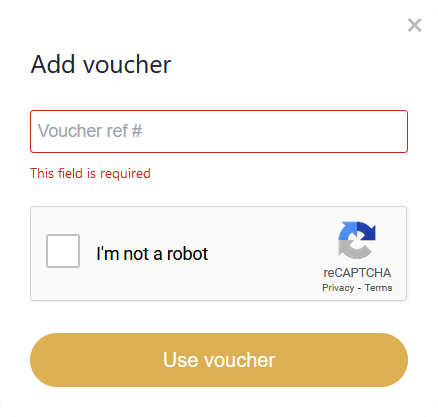 Once you have filled this in, continue and complete the purchase.
What if the tickets cost more or less than my voucher is worth?
Should your voucher not cover the full cost of your new tickets, you will be asked for your card details as normal, and you will need to pay the difference.
Should your voucher cover more than the full amount of your new tickets, the remaining value will stay on your voucher for future use. In this case, you can simply use the reference code again for your next purchase.
Congratulations, you have now used your voucher!