Integrating your digital event with Spektrix


In this article we will explain how to get started with TicketCo Media Services (TMS), and how to integrate your digital events with your Spektrix account. We will give you some tips and best practices on how to make your event look and feel professional.
Important Note: Please make sure to bind your event and ticket types to Spektrix before publishing your event in TicketCo. If you publish your event before following the below steps, you will not be able to feed the data back for this event. We have further advice and tips here.
Getting started
In order to get started you'll need the following:
A TicketCo account
A Spektrix Account (Remember to give us the API key if you haven't already before you get started)
Setting up your digital event with the Spektrix integration
Set up your instance within Spektrix, including your ticket types as normal. Ensure that your ticket types have a value of 0 in Spektrix.
Set up the event in TicketCo with the same ticket types, however DO NOT PUBLISH THE EVENT yet. If you are new to TicketCo, you should check out this article on how to set up your event.
Once your event has been created it is very important to bind your event to your relevant Spektrix instance. You can do this by selecting the instance in the dropdown menu under Spektrix instance at the bottom of the TicketCo Event Details page, and hit Save.

Once you have created your ticket types in TicketCo, remember to bind them to the corresponding Spektrix ticket on the ticket types page and hit save. You can do this by selecting from the dropdown menu inside each ticket type.

So you have now created your event in TicketCo, selected the Spektrix instance that the customer data will pushed to, as well as the relevant ticket types.
If you are planning a live stream, go to Technical information to activate your streaming channel. If your event is longer that 4 hours, you will need to contact support@ticketco.net and let us know you want to stream this event. You should also make sure that your ticket types have the CATEGORY: Live Stream. This is crucial as this is what gives your ticket buyers access to the stream. If you do not do this, the ticket they receive will not grant them access to the show. Check out the Live streaming events section below for more help.
If you are holding a Video on Demand event instead, you should ensure your ticket types have CATEGORY: Video on Demand. You will then be able to attach your video file and set up your video access settings on your ticket type. Check out the Video on Demand section below for more help.
Live streaming events
Under the tab called Technical information you will find the URL and Stream key field which will populate 1 hour before your event start time. Your producer will need these codes to connect your ticket buyers to the content.

It's also important to restrict form which countries your stream can be viewed. You can select the which countries to restrict your stream to in the Geo-restrictions tab. Remember to only select the countries where you have the rights to distribute the content.
Now you can go to Event Details and Publish! Once you have published your event and added the link found under Event details to your homepage and Facebook-event, people will start buying tickets.
Customer purchase journey
The purchase journey is straight forward and works the same way as with regular events. When someone has completed a purchase they will receive an email containing their reference code and a link to the stream. For more information on how to view the stream, your customers can click the How does it work button in their confirmation email, or go to this link: https://start.ticketco.events/uk/ticketco-ppv/
We would like to take this opportunity to remind you that we also have an app for Apple TV, Fire TV & Android TV that your audience can download. More information can be found on the link above.
Setting up and testing your stream
Make sure you have enough time to set up and test your stream. This is mostly done in your broadcasting software but you'll need the URL and STREAM KEY from the Technical information tab in your event in TicketCo. You should give this to your producer so that they can add this to their broadcasting software.
We recommend the OBS broadcasting software as a free alternative you can use to produce your stream. Please refer to our guide to the OBS software for more information on what settings to use. You can also jump straight to our recommended production specs article.
We highly recommend that you share the above guides with your producer so that they can set up their software correctly.
Ready to stream
The stream will open 1 hour before the event start date/time set under Event details. This means that at you can start doing final testing at this time and preview the stream under Technical details. When you get to the event start date/time, your producer takes over. At this point those who have purchased a ticket will be able to join the stream.
For further help with streaming, please check our other help articles found here.
We've also conducted several webinars on this and related topics. Especially worth mentioning is our webinar on the legal implications of streaming. Feel free to check them out on YouTube.
Video on Demand events
You can upload your video file(s) under Files in Organiser settings.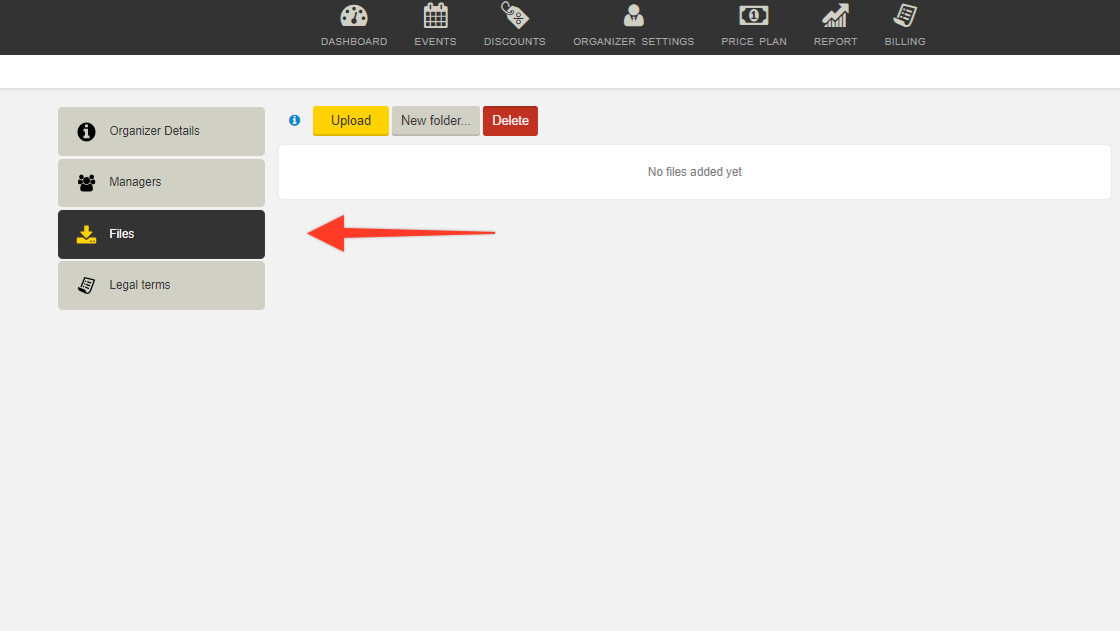 It can take a few hours to upload a file and process it, depending on the file size. We recommend to have all the files uploaded at least 24 hrs before your planned premiere to avoid any delays.
Please note that the supported files for video content are MP4, AVI, MOV and MKV. The maximum size of the file accepted by VOD feature is 15 GB. We have further guidance on video specifications at the bottom of this guide.
You can also upload captions to a video file so that your viewers can choose to watch with or without subtitles. In order to do this, upload an SRT file with the same name as your video file, at the same time as you upload your video. The SRT and video files must be uploaded simultaneously.
VOD ticket settings
Go to your ticket types and change the Category to Video On Demand. This is crucial as this is what gives your ticket buyers access to the video content. Under Attachments you can select the video content you uploaded earlier: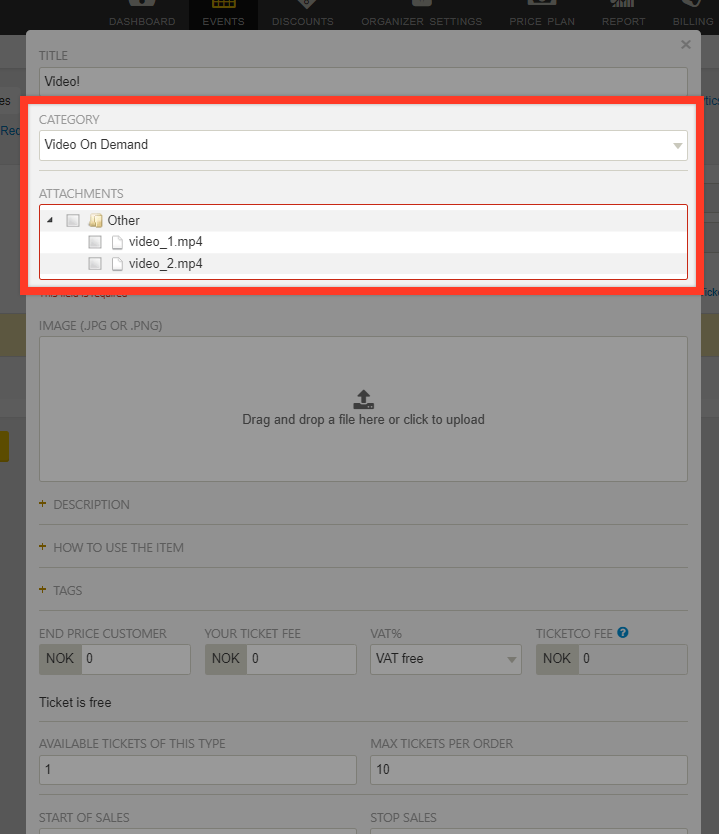 You can select the relevant video by clicking the little check box. Doing this will start the processing of the content, and you will see a little pending symbol while this is ongoing. Once fully uploaded, you will see a little green tick next to your video attachment, and you will receive a confirmation email.
Note that you can always create your VOD tickets and event in advance of uploading your content. Your customers can start purchasing tickets in advance, and then you can upload the videos once they are ready. We would advise you allow a minimum of 24 hours to upload the content to allow for processing time.
Access Control
You should also consider for how long your customers should be able to view your content. The dates you select under Access Control will control when your viewers can access the video. You should also pay attention to the Expiry field. This will let you select for how many days someone can view your content after having purchased it.
You can also select which countries you wish to broadcast your content in. You can do this by adding countries to the SELECTED COUNTRIES list.
More help?
Please refer to our top tips article for more help and information about how to get in touch if you have further questions.