How do I access my tickets on my phone?
When you go to use your ticket at an event, you do not necessarily need to print out the PDF version of your ticket. You can also access the ticket directly on your phone or tablet.
When presenting your ticket to the member of staff who is checking tickets in, you can simply show them your unique QR code which they can scan. It may also be possible to tell the staff member your reference code or booking details if you cannot find your ticket, although we recommend having your ticket to hand. If you cannot find your ticket, then please check out this help article.
Email
If you have your emails synchronised to your phone e.g. via Gmail or Outlook, then you should be able to find your order confirmation which we sent you when your purchased. You should open the email confirmation, and find the attached ticket. You can then download the PDF ticket to your phone, and show this to the staff member scanning in tickets.
SMS / text message
If you inputted your mobile number when you purchased, then you should have received an SMS with your ticket reference code and with a link to your ticket. When attending the event you can simply open this link and show the QR code on your ticket to the person scanning the codes.
Downloading to your wallet app
When you open your ticket link, you will see a link which will allow you download the ticket to your wallet app. You can simply hit Download under Save ticket to wallet, to download the ticket to your phone. Once downloaded, open the saved file in your phone's wallet/passbook application.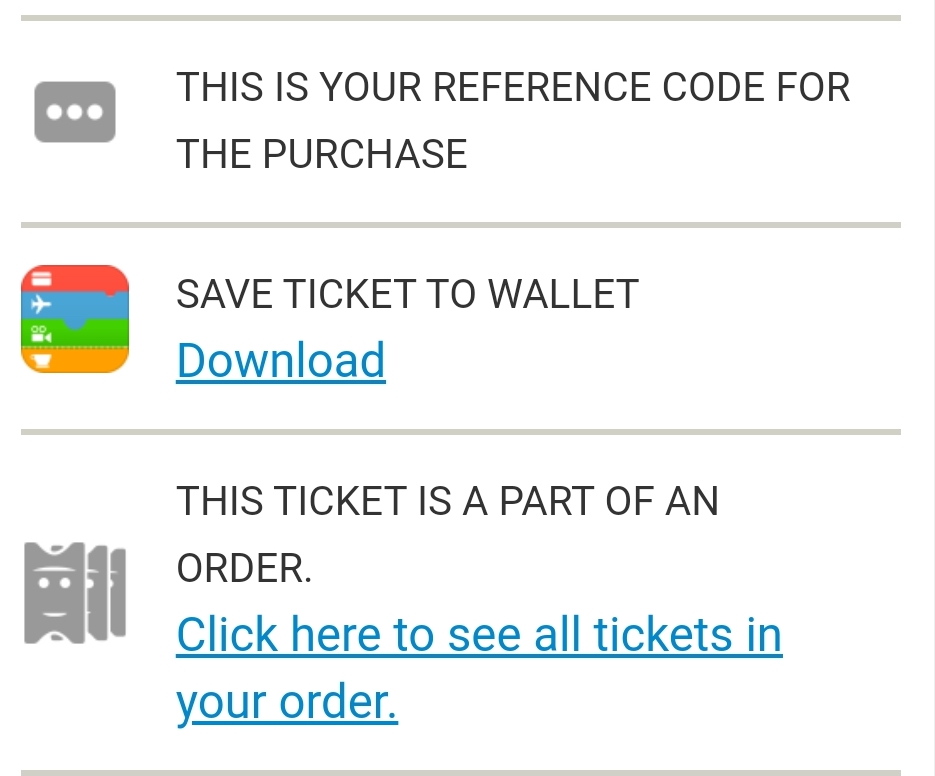 TicketCo Wallet app
Alternatively, you can download our TicketCo Wallet app from Google Play or the App Store. Simply search up "TicketCo Wallet" in the search bar of the store. The app is free to download.
NOTE: Only tickets bought in the TicketCo Wallet app can be accessible in the app. Tickets purchased outside the app can't be added to your Wallet.
Tickets bought in the app, stored in the "Receipts" - can't be deleted.
Our Wallet app allows you to search for events, purchase tickets and it will keep a record of your purchases ready for when you attend an event.

On the main page, you can click on Use, which will display a QR code containing all your active purchases. Simply present this QR code to the person scanning tickets and they will be able to check you into the event.

Selecting Active Items on this screen will show you which purchases are currently waiting to be used/checked in.

The Receipts tab will display all of your previous purchases.