Getting started with your seat map
Once we have created your seat map, you can start creating your events and linking them to your map. If you have not yet ordered a map, please check out this page.
Attaching your seat map to an event
Navigate to the event you want to attach your map to (or create the event if you have not already done so). Select Seating arrangement, and then click Assign seating arrangement.

You will then see a page like this:

Select the relevant map under Template, and then cross off the ticket types which you wish to connect up to your seat map. The maps available to you under Template will be those which we have activated on your account. If your map is not showing here, please let us know.
Assigning ticket types to map sections
The tickets you activate under Ticket Types will be activated on all sections of your seat map. That means that if you have a combination of ticket types e.g. Adult, Child, Under 18s, VIPs, Sponsors, you will need to consider whether you want the ticket types available on all sections of your map. You can always manually activate and deactivate this afterwards under Price zones, but getting this right at this stage can save you a lot of work.
Hit Save when you're done. You should see this confirmation message when the map has been successfully uploaded:

You will also see an overview of your seat map.
Please note that you will not be able to assign a seating arrangement to an event if you have already sold tickets on the event. You will also not be able to remove the seat map once tickets have been sold.
Price zones
Next you will need to go to the Price zones tab to make sure that your ticket types are assigned to the correct sections of the map. This is a very important stage in setting up your seat map, so you should not skip over this. Head this way for a more detailed article outlining how to set up and assign price zones.
Customer journey
The customer journey for an event with a seat map varies slightly from events without seat maps. Below is an example for a theatre venue: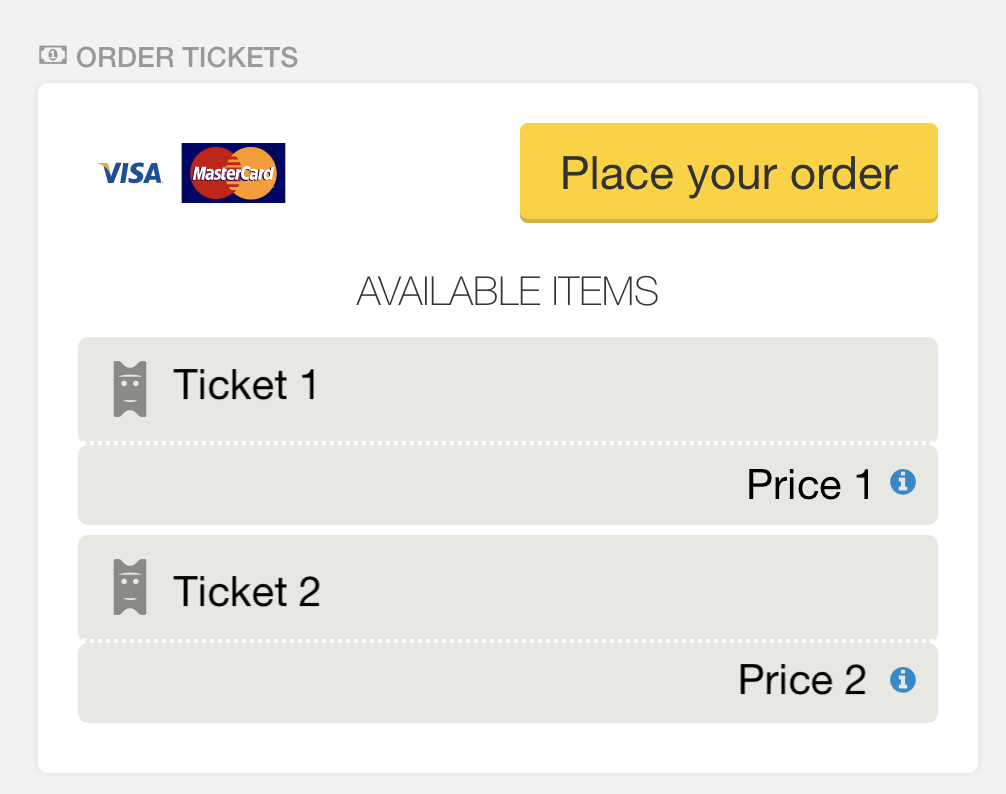 The customer can either select Place your order, or they can click on the different ticket types. This will take them through to the seat map.

They will then be able to select their desired seat, and the ticket type for each seat. The following key is also displayed on this page: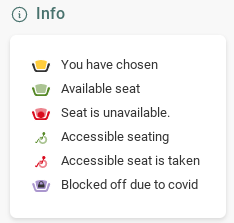 They can then hit Purchase when they are ready, and the purchase journey continues as normal from there. The customer's ticket will show their seat number, row and section.
Seat map DOs and DON'Ts
Do:
Let us know in advance if you would like us to create a seat map. Seat maps can take around 1-2 weeks to create, so give yourself plenty of time. Read here for how to order your map.
Ensure that your seat map is exactly as you want it before you start selling. Once sales have been made, we will not be able to edit your seat map.
Ensure your ticket types are connected to the relevant seat map section under Price zones.
Consider whether you would like to assign Gates to your map and users on your account.
Wait to publish your event until you have assigned your seat map.
Use Preview under Event Details to see how your seat map and event page is displaying for your audience.
Don't:
Add a seat map to an event which has tickets already sold (you will not be able to do this).
Remove a seat map from an event which has tickets already sold (you will not be able to do this).
Sell unnumbered tickets on the same event as your seat map-event. Unfortunately you cannot combine both in the same event, unless you seat map has been designed so that there is a specific unnumbered section.
Combine seat maps on a season pass (you will be prevented from doing this). Season passes can only be associated with one seat map, so note that you will not be able to associate events to the season pass if they have different maps.
Finally, we recommend that you check out our other articles under the Working with your seat map section. Then you're all ready to go with your map!