Introduction to time slots
If you have a series if events due to take place with specific time slots, or if you are a venue offering tickets for regular timed interval slots, then our time slots feature could be a very useful tool for you.
How do time slots work?
Setting up a time slot event essentially means creating a "template" or "macro" event which will then be automatically replicated in the platform, thus saving you having to input lots of separate events. A time slot event will be displayed to your customers in a slightly different way to a regular event: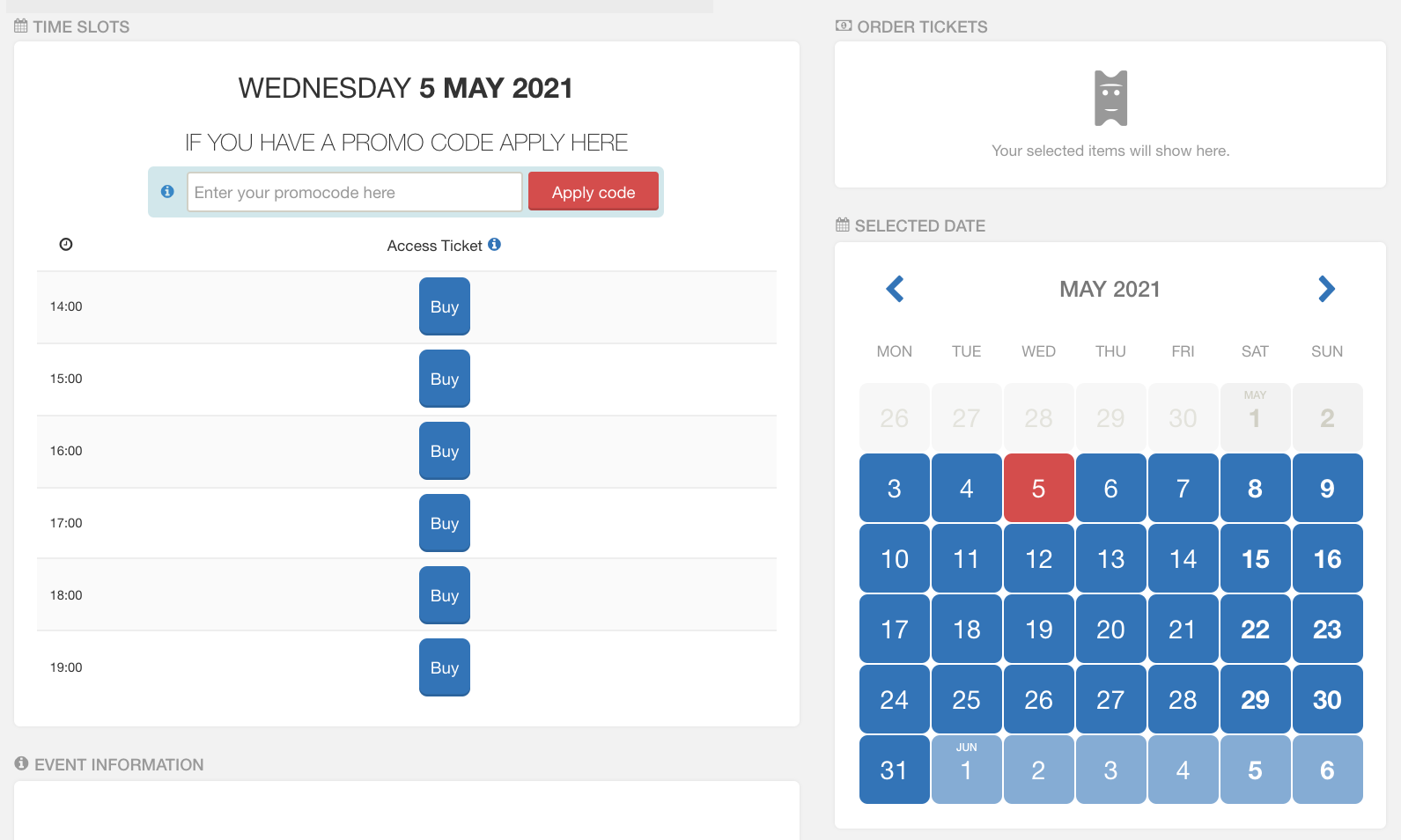 Customers will be shown a calendar, where they can select a day. They can then select a time slot and a ticket type and complete the purchase. When they arrive at the event, you can scan their tickets, and you will be able to see if the customer has arrived in time for their slot, or if they are too late.
Are time slots a good solution for me?
Before we dive into how to get started with time slots, there are a few important points to mention first:
The time slots feature is arguably one of the more complex features in the TicketCo platform when it comes to creating events. We therefore suggest that you take your time with the set up, and that you are familiar with how "regular" events work first.
The feature must be activated by us here at TicketCo, so if you would like access, send us an email to support@ticketco.events and we will assist you.
Time slots can be a great feature if you want to sell tickets for regular interval slots e.g. mini golf slots which started every half an hour between 12pm and 4pm Monday to Friday. If however, you are selling tickets to a series of different events e.g. concerts over the course of 2 weeks, you would should rather set up a "regular" event and copy it manually. Below are some more examples:
Example

Time slots should work for you!

Instead, you should consider...
Selling access to a mini golf course, and scanning tickets upon arrival. Customers should purchase tickets in half an hour slots, and the slots are consistent Monday-Friday.
✅
Selling access to a museum so that no more than 50 guests arrive per hour. The museum is open Tuesday-Sunday and has a range of ticket types e.g. adult, student, child.
✅
Selling tickets to a series of concerts. There is a new concert each evening over the course of two weeks.
❌
Creating a regular event, leaving is as a draft event, and then copying it in order to create the run of concerts.
Selling access to a swimming pool, where customers purchase a one-hour slot. Slots are the same Monday-Wednesday, but the schedule is different Thursday-Saturday.

✅

It is possible to set up different schedules for different days of the week.

Selling access to a venue which is open twice a week. Customers should answer a series of extra questions/submit extra information in order to book.

❌

When purchasing time slot tickets, customers will be asked to fill in name, email and phone number only.

Creating a regular event, and adding questions to that event. You can then copy the event across, and the questions will follow.
If after reading the above, you decide that time slots are the perfect solution for you and your events, please browse through the other articles in this section, which will help you set up your time slot event.