Questions - collecting more information from your ticket buyers Follow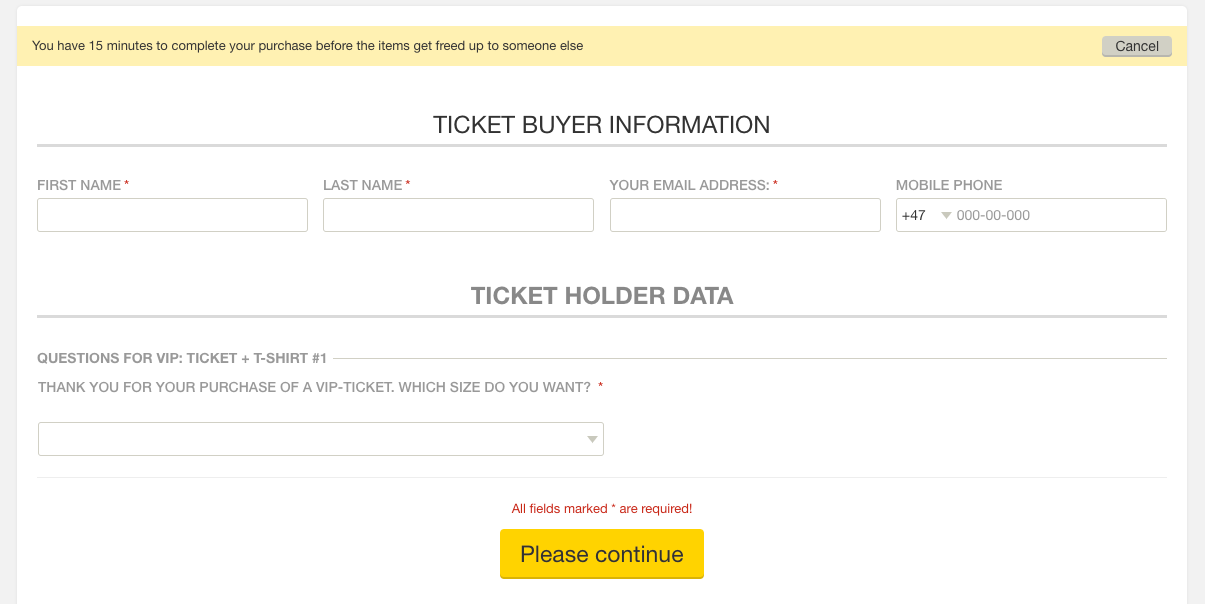 If you need to collect more information from the people buying your ticket you can do this by using the questions module in TicketCo. This lets you collect information such as t-shirt size if you are selling merch, food allergies or other information you may need to keep your event running smoothly.
Adding questions to your tickets

To add a question to a specific tickets, simply go into the event of the ticket in question, and then go to Questions. Here you can click the Create new question button.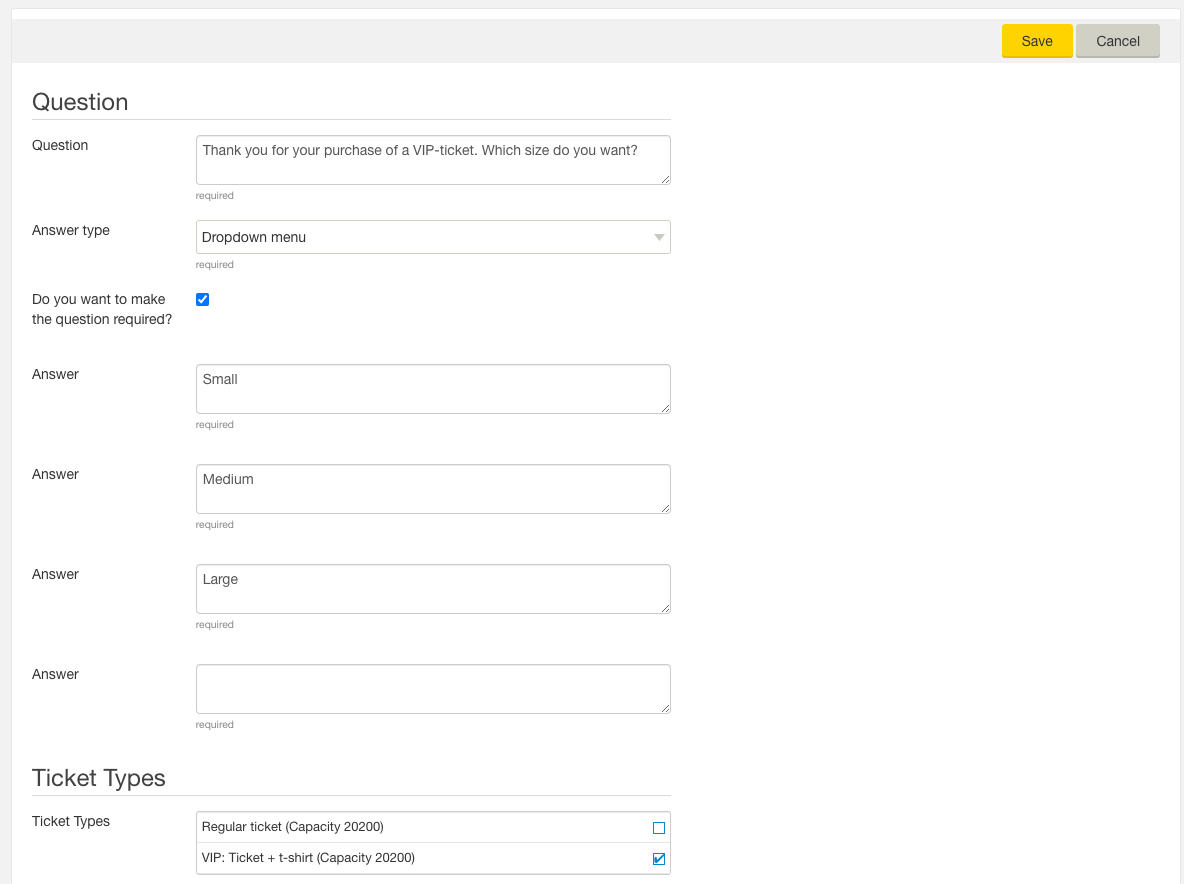 There are a few settings for your question that you need to set up. These are:
Question
This is the wording of your question. "Which size would you like?" or "Do you have any food allergies we should know about?" are good examples.
Answer type
Here you select how your customers can respond. The options are:
Radio button - a list of options where the shopper can select one or more options from the list.
Free text field - a text box that can be freely filled in.
Dropdown menu - a list of options where the shopper selects a single option
Checkbox - a checkbox the shopper can tick off before proceeding.
Obligatory question
If you tick this box your question will be obligatory to answer in order to complete the purchase. This means that the shopper has to answer the question in some way before being allowed to purchase the ticket.

If you make a checkbox question obligatory it will function much like a terms and conditions box where the customer has to tick the checkbox in order to continue.
Answer
Here you can provide the the shopper with different options such as the different t-shirt sizes. This field is not visible for checkbox or free text questions.
Ticket types
The last setting is deciding which tickets should be asked this question. For instance, in the t-shirt example you would only select the ticket that includes the t-shirt.
Things you should know
What information does TicketCo collect by default
By default TicketCo will only collect the first name, last name, email and phone number from the person purchasing the ticket. If the person purchases multiple tickets TicketCo will not ask for this information by default. This is due to the fact that the person purchasing the ticket cannot consent to TicketCo storing the information on behalf of a third party.
On privacy and what information you can collect
If you need to collect further information you must consider whether or not you are doing so within current regulatory guidelines and and privacy laws. There are many factors surrounding this issue and we recommend that you consult a professional on this topic if you are unsure of what information you can collect. We also touch on this topic in our GDPR blog post.

Questions are asked once per ticket
If someone purchase a two tickets with an associated question the question will be asked once for each ticket where that question is associated. Let's look at an example:
You are hosting an event and are selling both ticket including food and ticket not including food. You've set up a question asking the persons buying the ticket including food if they have any food allergies. If a person purchases one regular ticket and two tickets including food, the question will be asked once for each ticket including food and will not be asked for the regular ticket.
There is currently no way to set up a question in a way where it's only asked once regardless of how many tickets are being purchased.
You can download a specific report for your questions
Answers to your questions will be available in three places:
1. In the questions tab in your event. This gives you an aggregated report showing how many people have given each answer. This is great for things like t-shirt sizes where you need to see how many t-shirts of each size you need to produce.
2. In the event report spreadsheet-file. The question data is included in the spreadsheet-file you can download from report in your event. In this report all the questions and their answers are stored in the same cell and can therefore be tricky to work with.
3. In the question specific spreadsheet-file. If you go to Questions in your event you'll be able to download a spreadsheet showing all your ticket buyers with each question in its own separate column. This is great for when you need a more granular view of your customers and what options they have selected.