Reserving tickets for VIPs / staff members
You may wish to reserve and send tickets to your VIP guests, sponsors or perhaps your staff members. You may also want to reserve some tickets for some of your guests. All of this can be done with our Admin sales feature. In this article we will explain how you can use this feature to send complimentary tickets, and the different settlement types found within this feature.
NEW! This feature has been recently updated, so jump ahead to these sections which will explain more about...
What are Admin sales?
Admin Sales is the function within the TicketCo platform which you can use to create and distribute tickets for your guests and maybe even yourselves. This is especially useful when it comes to free tickets for sponsors, for example.
In the case of sponsor tickets, it is common to create free tickets in the TicketCo system by only enabling the "Admin page" under Sales Channels in a specific ticket type on an event, so that you can distribute them later from the Admin sales feature.
On top of this, you can also use it to create reservations so that a customer gets allocated a ticket, which they can then pay for at a later stage.
Where do I find Admin sales?
Start off by navigating to an event you wish to create an Admin sale for, and then click Admin sales in the menu as you see below.

How do I create an Admin Sale?
Once you have located the event and the Admin sales feature, you will see something similar the picture below.
Where you see No items, is where all of your Admin sales will eventually be displayed. You can now click Create Admin sale.

Next up you will choose which ticket type or types you wish to include in your admin sale. The easiest way to do this is by changing the number of tickets you wish to add, and then clicking on the blue arrow like the picture below shows.

Settlement type
Once you have selected the tickets and clicked Save, you will then get the option to choose which settlement type will be used. You will have the following options:
Sales - Invoice
By choosing Invoice, the system will not request payment for the ticket(s), but will give you the option to either deliver the ticket straight away to the customer once you have completed the sale, or to send it manually to the customer at a later stage.
TicketCo does not generate any invoices and therefore the responsibility lies with you as an organiser to invoice the customer and settle the payment. This will be reported as an invoice sale and the system will report this as if you have received the money elsewhere. This will be displayed on the invoice you receive from us.
With Invoice selected, our provision is reduced to 1% rather than the current price plan.
Sales - Cash
By choosing Cash, the customer will also receive the ticket straight away after you have completed the sale, and the TicketCo system will recognise this as money you have already received. This will also be clarified on the invoice you receive once you get a payment from us.
Here you can see how these different settlement types are displayed:

Leave as reservation
By choosing this, the customer will get a reservation link through email and text message once you are done setting up the admin sale. They can click on the link sent in the email and text message in order to complete the purchase. They can also go to the TicketCo website to confirm the reservation via our Redeem reservation feature: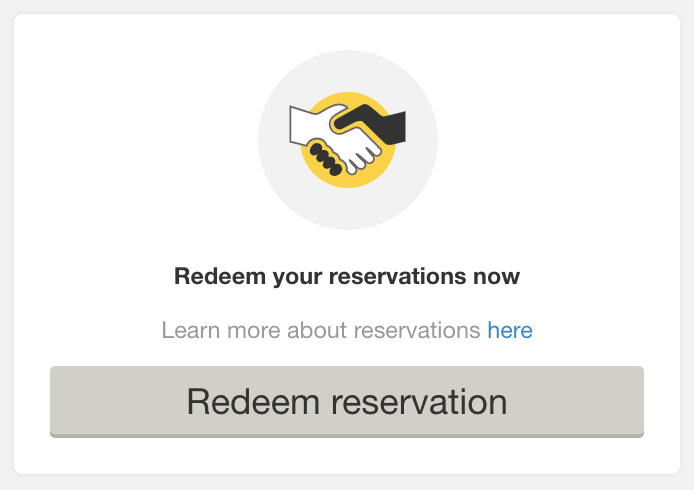 It is also worth mentioning that this is just like the ordinary customer journey for everyone who just buys a ticket on TicketCo, the difference is that you as an organiser have allocated a ticket or tickets to this specific customer.
NEW! There have been some recent updates to the reservations feature.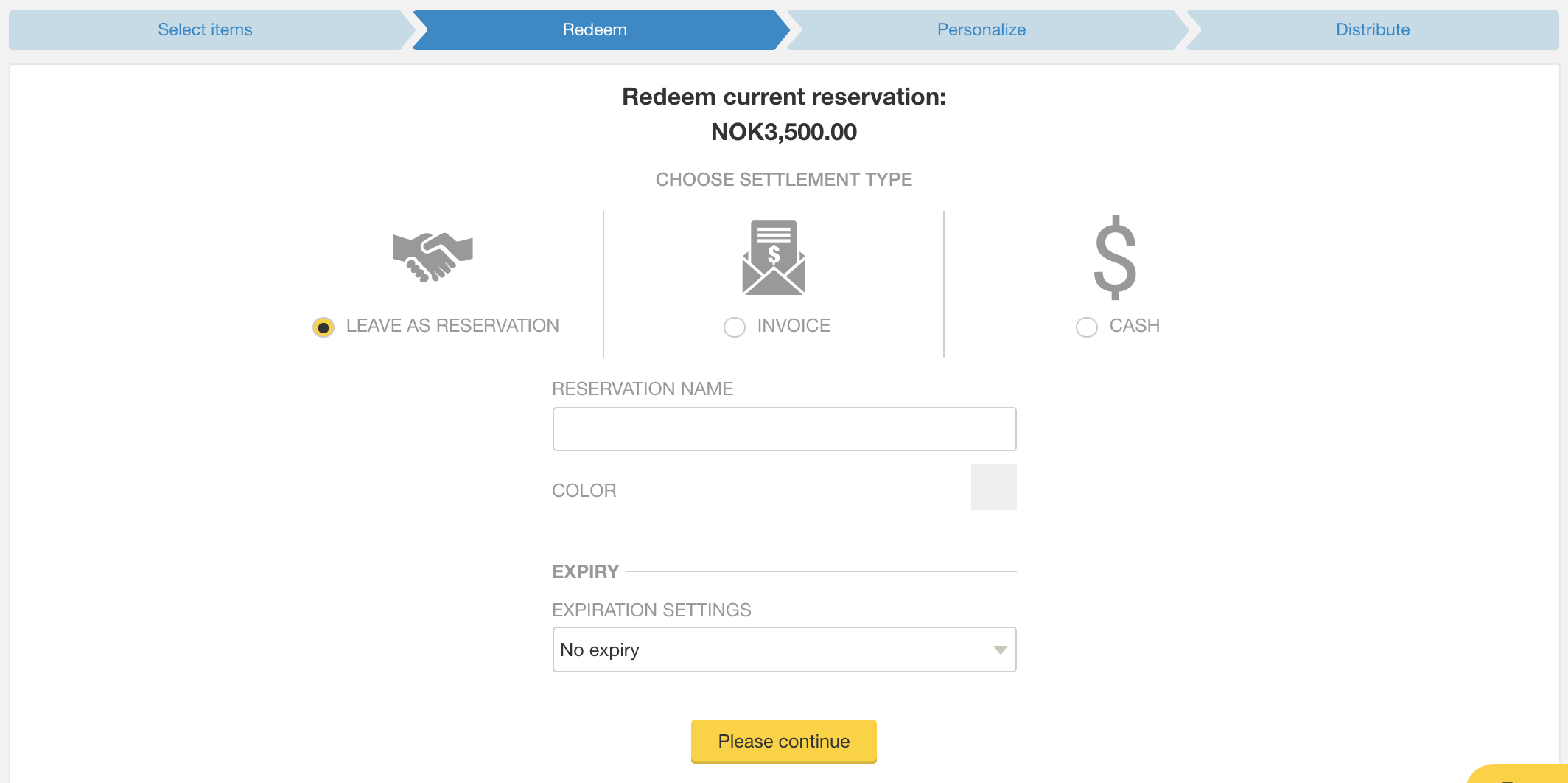 When setting up a reservation, you can choose to assign a name and colour to your reservation. You might want to colour-code your reservations if they are for certain customers or sponsors, and this can also help you to organise your admin sales page.
Under Expiry you can select whether the reservation should have no expiry, whether it should expire after a certain number of days, or whether it should expire after a specific date. Selecting From now in the drop down menu will allow you to define how many days or hours until the reservation expires, and selecting Exact date will allow you to define exactly when the reservation will expire.
Personalisation
Once you have selected which settlement type you want to go with, you should personalise the tickets selected by adding the details of the customer(s) who will be using them. Please note that it is not mandatory to personalise the tickets, but it can be useful to do so in order to keep track of your admin sales.
Bear in mind that if you create an admin sale for multiple tickets (e.g. a bulk invoice sale), you can only distribute them to one email address and one phone number. This means that if you personalise the tickets, the recipient must then distribute the tickets amongst themselves.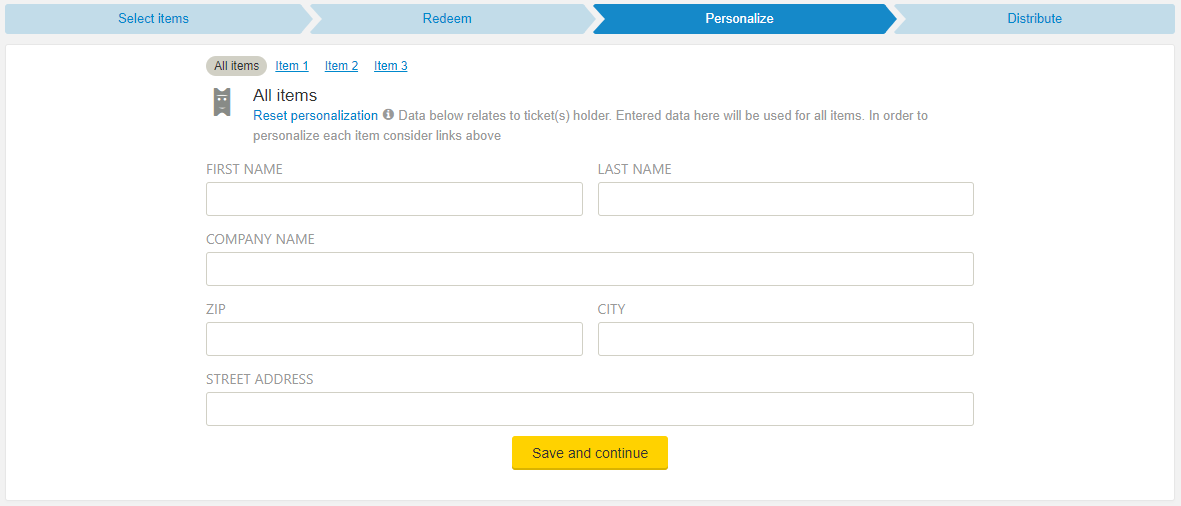 Distribution
The last step is to distribute the tickets, and you do this by filling in the email address and phone number of the recipient and clicking Send receipt, as the picture below shows. This will generate a ticket in the system straight away and distribute it to the email address and phone number provided.
If you wish to find the tickets in the system afterwards and perhaps distribute them at a later time to the customer, you can select Skip sending (contact information will be saved) instead. This means the ticket would be generated in the system so that you can locate it, but it would not be sent to the customer until you prompt this at a later point.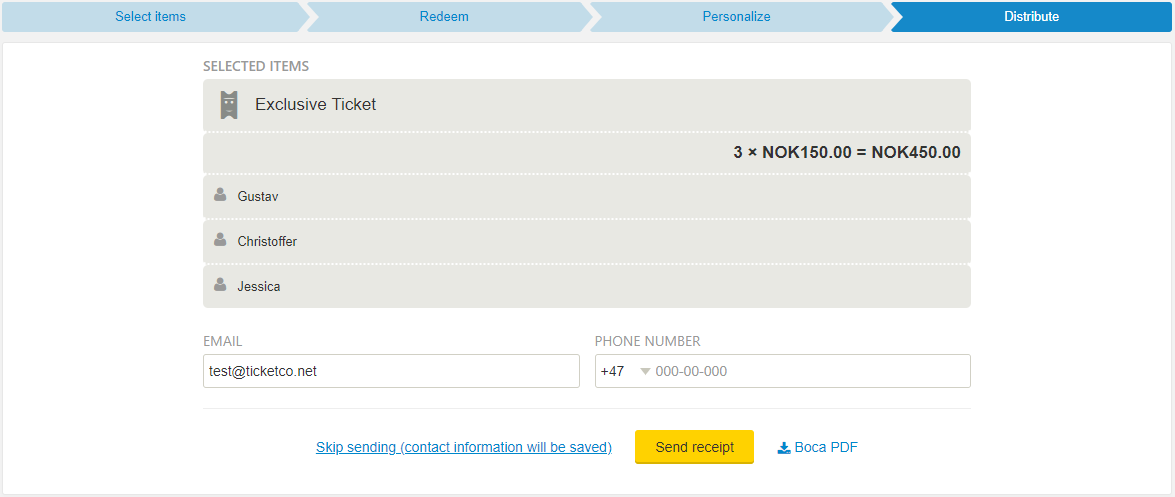 Admin Sales list
If you now click on Admin sales once again, you will see all your admin sales listed on the event you are in. It's worth noticing the different symbols on the left on each Admin sale to understand what kind of settlement type you have for each admin sale.
Click image to enlarge.

In the picture, you can see we have marked the different admin sales by colour to distinguish them. They also have a different icon depending on the settlement type displayed on the left.
The admin sale marked with Blue has Cash as settlement type.
The admin sale marked with Green has Invoice as settlement type.
The admin sale marked with Purple has Reservation as settlement type.
It is worth keeping in mind that when you select Cash and Invoice as settlement type, the tickets are generated straight away. If you select Reservation as settlement type, this would not generate tickets straight away, but rather, keep the tickets set aside for the customer. The customer, upon receiving their reservation via text and email, would then have to confirm their reservation for their tickets to be generated.
In the scenario based on the picture above, I would only be able to see the tickets for Cash and Invoice payments under the Report-tab in the event. This is because the reservation has not been settled by the customer yet. Once the customer has paid for their reservation, their tickets would be generated and also visible under the "Report"-tab on the event.
Splitting reservations
If you have assigned 10 tickets for a certain sponsor, and then your sponsor decides that they in fact do not require all 10 tickets, you can choose to split the reservation into smaller groups. Click on the arrow next to Edit, and then hit Split reservation.

You will be able to select which items in a reservation you want to assign to a new reservation, and then continue as normal. You can also choose to Delete reservations if needed.
Admin Sales Report
You can download a list of all of your active admin sales by clicking on the Settings symbol next to the search bar. The list will be downloaded as a CSV file which you can then import into Excel or other spreadsheet software.

NOTE: We have a complimentary video about admin sales as well