Connecting the Zettle card reader to an Android device Follow
If you have an Android device with the TicketCo app installed, you will be able to use a Zettle card reader (formerly known as iZettle) to accept card payments over the counter. This article outlines how to connect your Zettle card reader to your Android device. You can source a Zettle card reader on many shopping sites, such as eBay, or directly from Zettle.
Please note that you will log into the Zettle terminal via our TicketCo admin app, so you should not download any Zettle software or sign up to Zettle directly.
Important information
You can use any of the readers listed below, and they will work in the same way. The only difference is that the Zettle Reader 2 may first go through a Firmware update. After it is finished you should be ready to proceed.
During the pairing process described below you will be asked to enter a Zettle username and password. As previously mentioned, you cannot use your own private Zettle account within the TicketCo app - you must use the credentials we have provided you.
You may not use the TicketCo Zettle username and password to log in to the Zettle app to sell. Doing this will lead to complications in accounting for your sales, and amongst other things can cause a substantial delay in payouts as well as possible additional fees.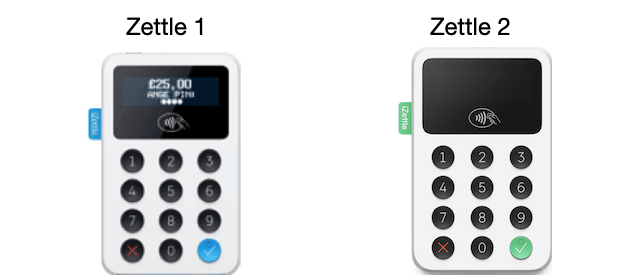 Connecting the Zettle Reader with an Android device
What do you need? An Android device (with at least Android 6), TicketCo Admin app (version 1.8.1 and higher) and a Zettle device.
1) Turn on the Zettle Reader
The power button is located at the top of the terminal. You may need to charge the terminal if it is brand new.
2) Connect the devices (only Zettle 1 can be connected like this! Zettle 2 - point #3)
Firstly, connect your Zettle to your Android with Bluetooth like any other device. On your Android go to Settings, then Connections, then Bluetooth (or access your Bluetooth settings however you normally would).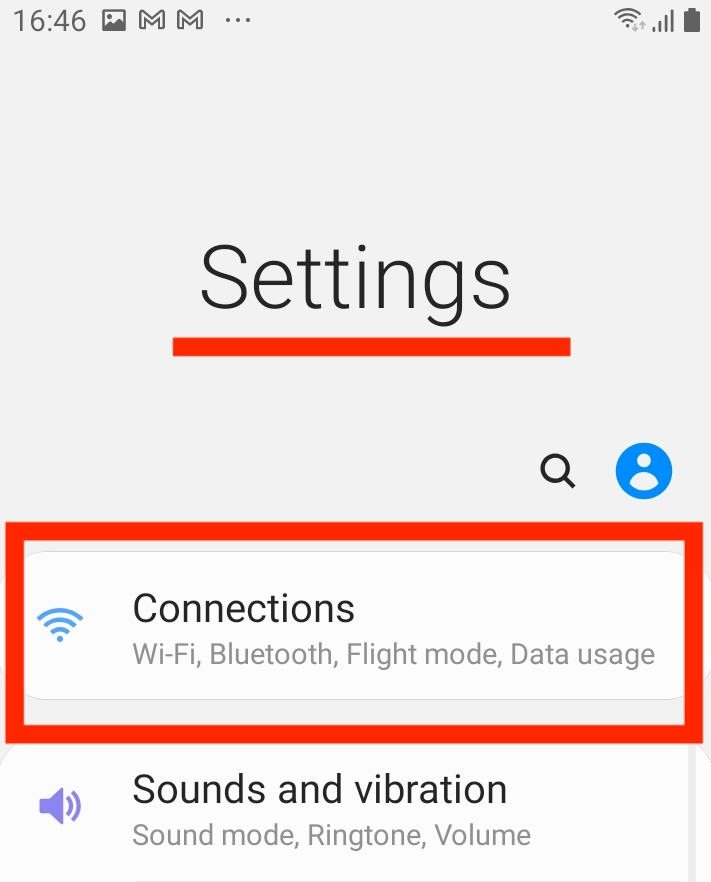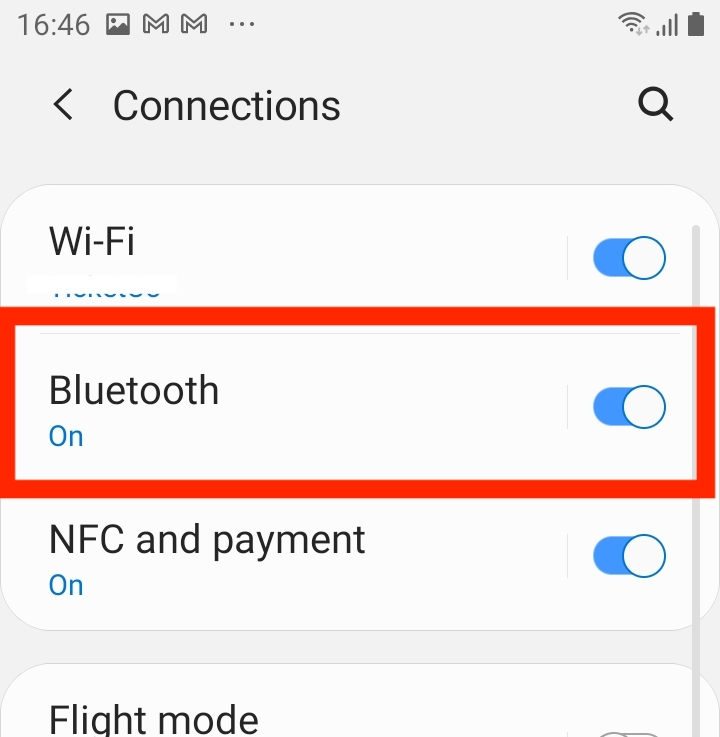 Turn on your Zettle terminal. If your Zettle Reader 1 was previously connected to another device, press the Blue "V" to reset it first. You should then see the reader name:
You should see Zettle on your available connections list on your Android device. Select and confirm the pairing on your device and the card reader: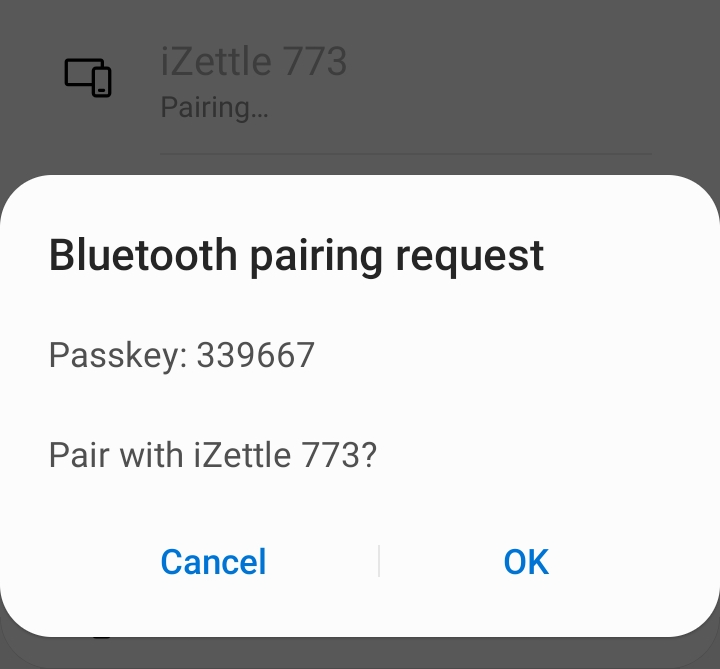 3) Open the TicketCo Admin app
After they are connected go to your TicketCo Admin app and log in with your TicketCo username and password.
4) Connecting the Zettle account with your TicketCo account
Now you need to go to Settings in the app and select on Payment terminal settings.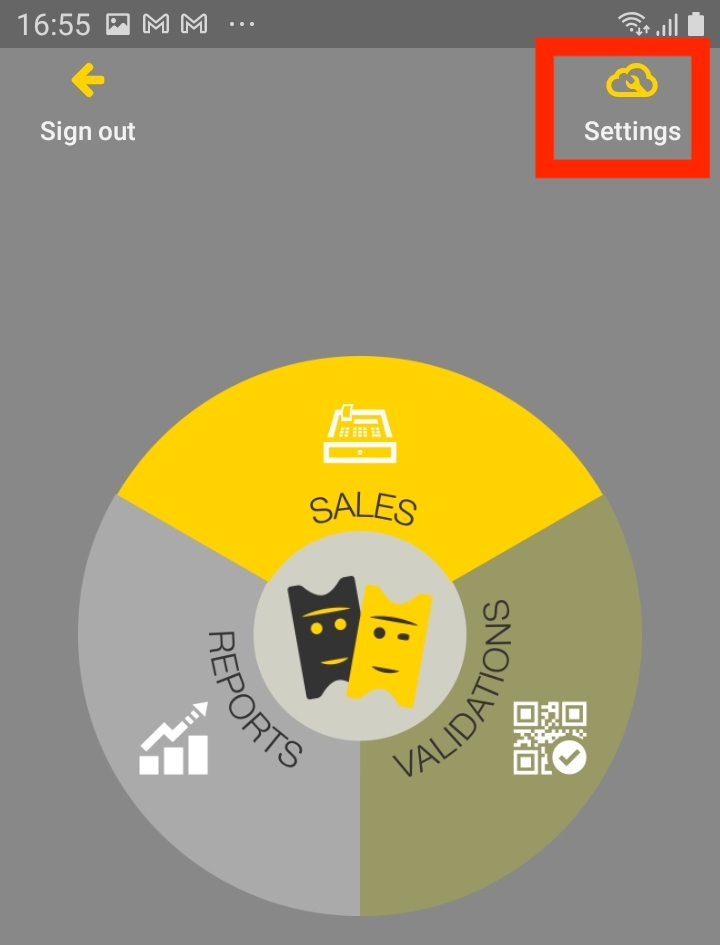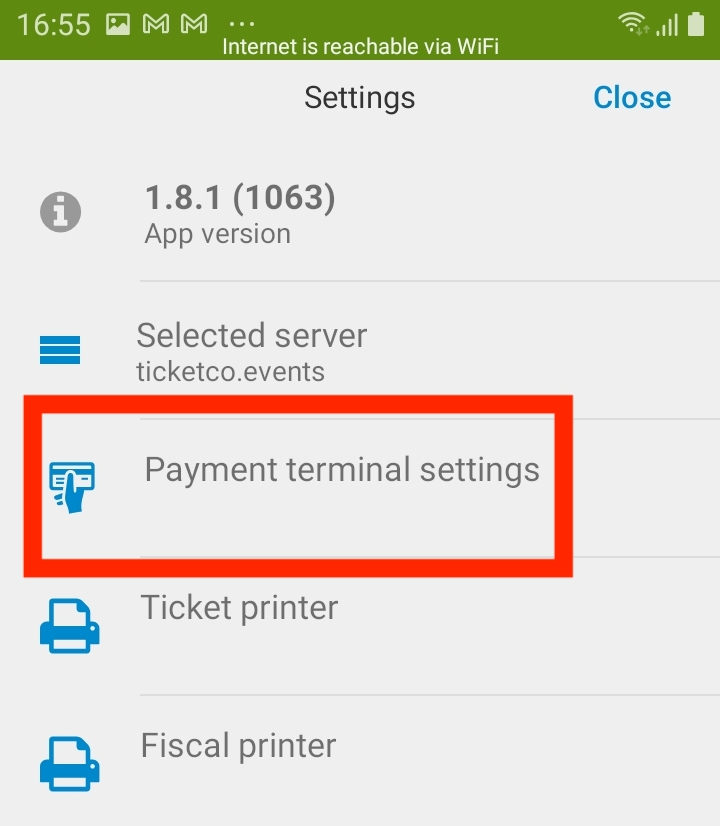 Select the iZettle account log in that matches the account found under Integrations in the TicketCo platform. (There is typically only one option here anyway).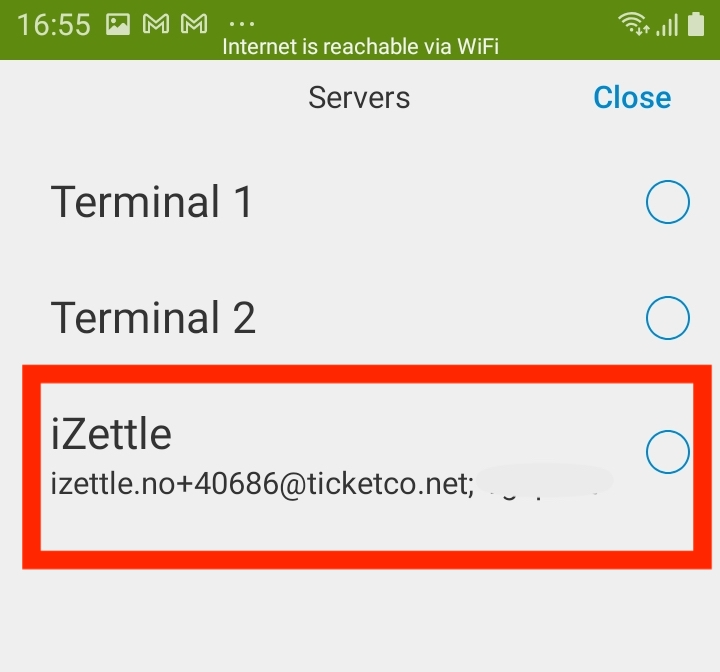 It is very important that you log in with these credentials, so note them down. If you enter incorrect details more than 3 times you will be locked out, and TicketCo will need to provide you with a new password.
Please log with your iZettle credentials (email address and password)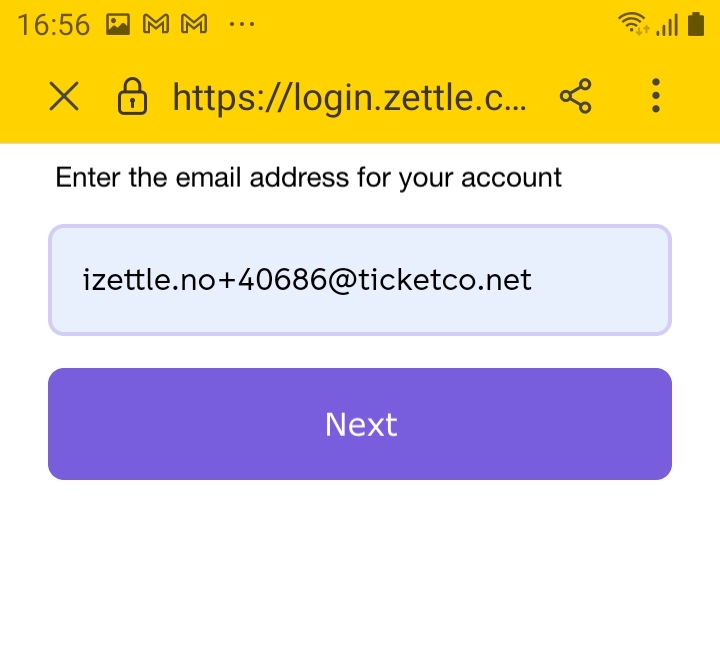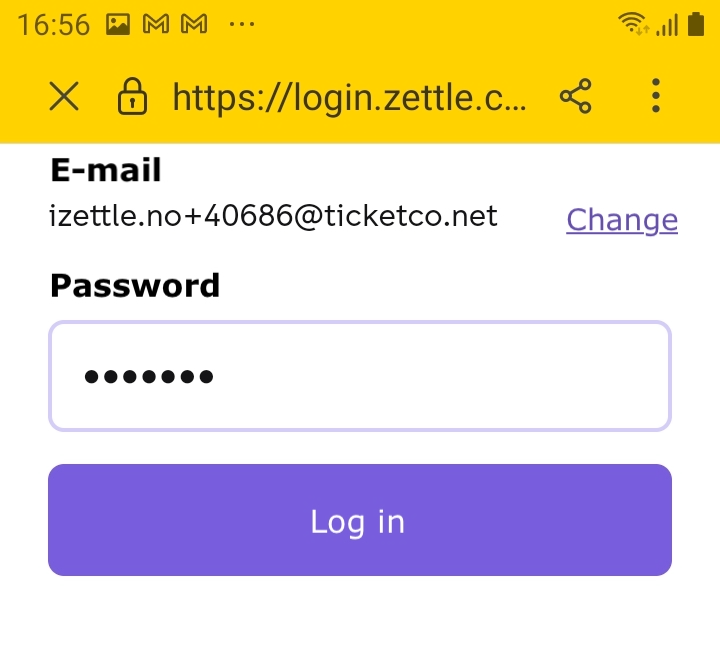 You should see this screen if you successfully connected your Admin account to your Zettle account.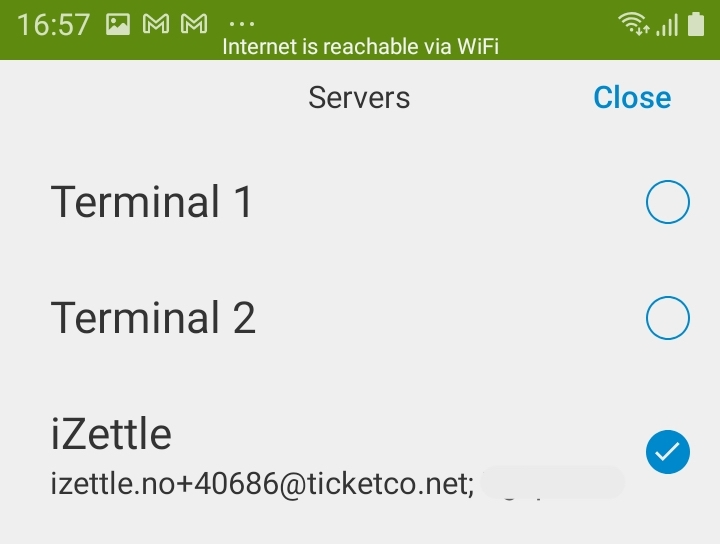 Now tap Close and go to the main screen.
5) Connecting the Zettle device to your Android
To complete the process, we will initiate a sale to make sure the Zettle terminal is connected to the device. Select SALES on the main screen, then choose an event, and a ticket type (with a price tag). At the bottom of the screen, click on blue Card button.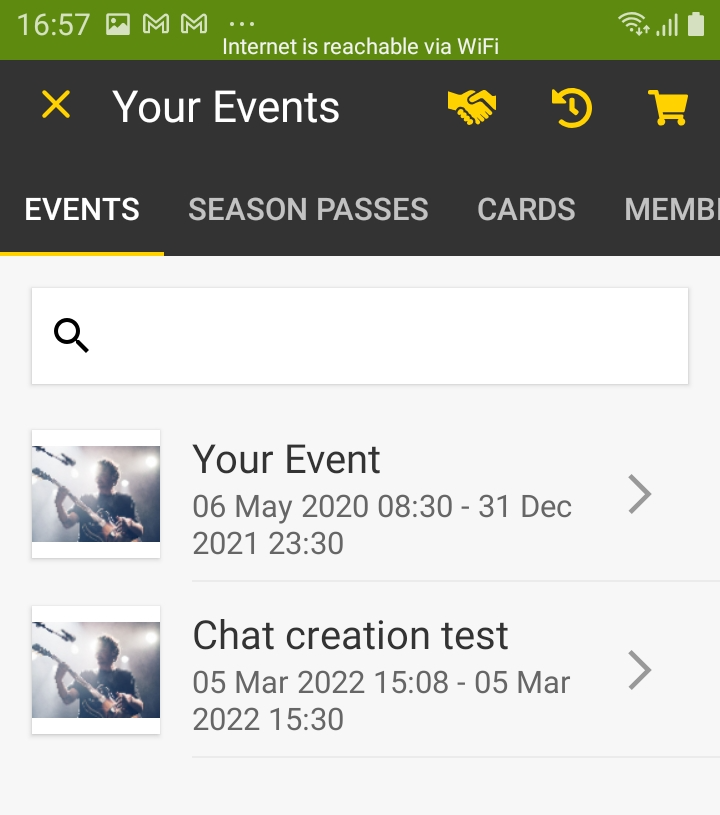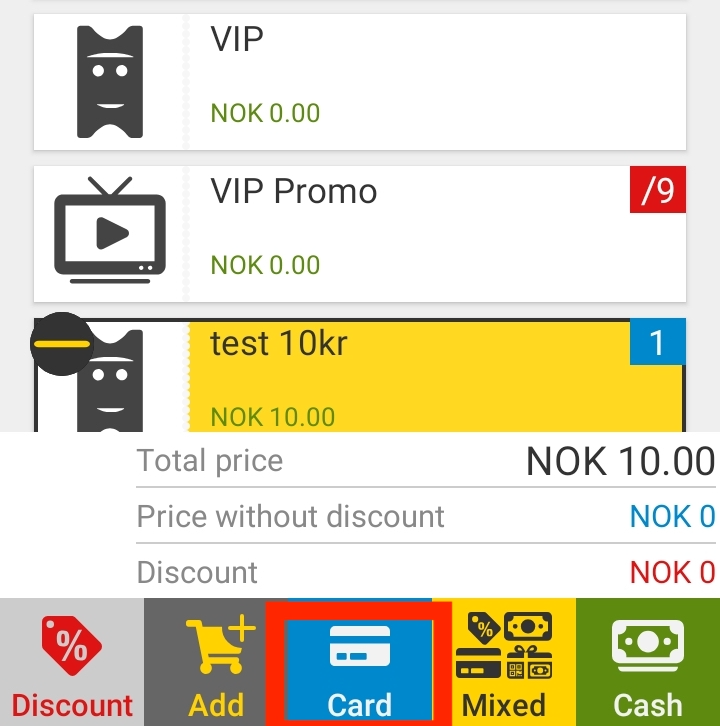 Hit OK in the pop-up window, and allow location tracking. Choose Connect card reader.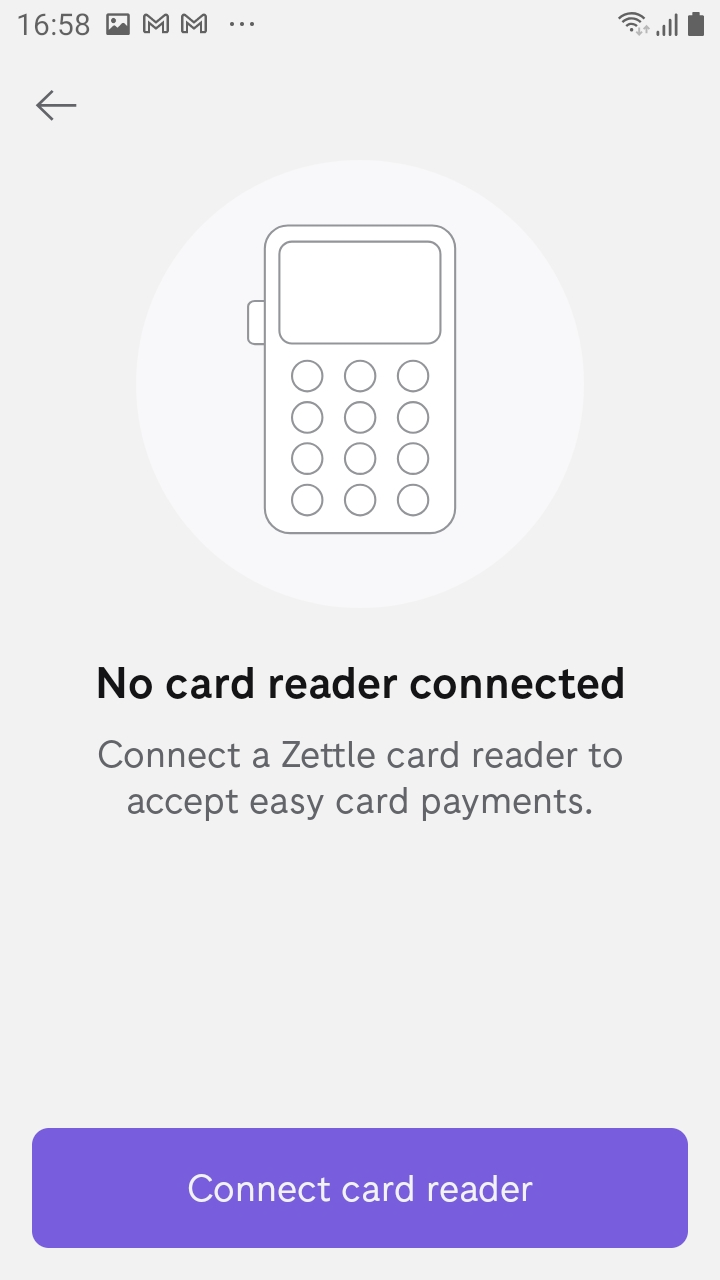 Choose the relevant reader Zettle Reader terminal, connect, and then cancel the transaction.
Congratulations! You have now fully connected your Zettle reader to your TicketCo app, and are ready to accept card payments over the counter. For help on how you can start selling, head this way.
Troubleshooting
If the display on the reader does not show "Insert card" while the TicketCo app is open and you've followed the steps above, it usually means that there is something wrong with the Bluetooth connection. Try the following:
Make sure the Android device and Zettle readers are paired following the steps above. If you have multiple devices and Zettle readers, they can sometimes get mixed up!
Restart the the Zettle reader.
Force-close the TicketCo app by double-pressing the home key and swiping the app out of the screen.
Open the TicketCo app and try again.
If the display on the Zettle reader says "READER DAMAGED" please contact your supplier and request a replacement. This error code means that the reader is permanently damaged and can not be fixed.
If you are not able to activate Zettle sales following the steps above there might be something wrong with the username and password you have been given by TicketCo. Contact TicketCo support to resolved this issue.