Getting started with TicketCo Follow
First of all - Welcome!
We are very happy to have you as a customer and want to help you get started as smoothly as possible. This article acts as a quick intro to get you up and running. It will also give you a good overview of the steps you may wish to follow in order to set up your first successful event with TicketCo.
Please note that this articles does not cover all the features available in TicketCo. Please use the search box above, or navigate through the various help sections for further information. If you can't find what you're looking for, please contact us on support@ticketco.net.
Step 1 - Get to know TicketCo
It is important to get to know the fundamentals of any new system. Please have a look at the below to make sure that you're ready to get started.
How do I sign in to start creating my events?
Once you've signed up to TicketCo and submitted all your details to us, you should receive a verification email. In this email you'll find a link to confirm your account and create a password.
Please note that we do not recommend activating your account on a mobile device.
Use your laptop or desktop computer to confirm your account. If you do not receive this email or experience any issues with signing in please contact us here.
To start using TicketCo all you need is a web browser. While we support most browsers, the latest versions of Google Chrome, Firefox, Safari or Microsoft Edge are recommended. Please note that Internet Explorer is not recommended, particularly as Microsoft no longer supports it.
Once you have confirmed your account and created your password, simply go to ticketco.events webpage, select your country and click the "Admin" button in the top right corner.

What is TicketCo Admin and how does it work?
When we talk about TicketCo Admin, we are referring to the online tool you use to create your events. As mentioned above, all you need to do is log in to get started.
It's worth mentioning that TicketCo is a cloud-based system. If you don't know what that means, you can think of all your events the same way you think of your Facebook events. Once you log in and create your events, you can access them from anywhere as long as you have a web browser. When you publish them they'll be live instantaneously and if you ever need to make any changes, all you have to do is log on and edit.
Unfortunately, TicketCo Admin is not yet fully available on mobile devices. If you need to access TicketCo Admin from your phone or tablet, you'll have to request the desktop version of ticketco.events and access it in that way.
Creating users for your staff and colleagues
Once you're logged in, the first thing your should do is created users for your staff or colleagues who need access. Please refer to this article for information on how to do this.
When does TicketCo pay out my ticket sales?
You can read all about how TicketCo handles your money and when you can expect the payout to your account here.
TicketCo logos
If you want to add TicketCo's logos to your posters and online materials you can find all our logos in different formats here.
Step 2 - Create your event
When you feel ready to start, have look at this article on how to create your first event.
Ticket types and capacities
Once your event is created you'll need to add your ticket types and capacities. Read all about that here.
Seat maps
Do you need a seat map? First you need to order one. Read about how to do that here.
Discounts
You may want to apply some discounts to your tickets and products, and you can find more help regarding this here.
Reserving tickets
Perhaps you want to reserve some tickets for some VIP guests, or you want to give your staff free access to the event. Simply head this way for more information about how you can do this via Admin sales.
What hardware do I need?
You'll need some hardware to scan and sell tickets. Check out these articles on what hardware you need.
Other useful features
You can also use e.g. our Legal Terms feature, and the Questions tab to customise the ticket buyer journey for your customers. You will find information about these features here. Our Branding feature is also very popular, and you can read more about it here.
Step 3 - Marketing
Integrate with your website
The simple way to do this is with our iFrame solution, which you can find under Promote in the main menu. It is also possible to use APIs for this, so for more help regarding our APIs, please send us an email to support@ticketco.net.
Linking to the event on your website
To link to the event from your website you can either use the link found under Event Details of your event or link to your TicketCo subdomain. Your subdomain will show a list of all your published events like so: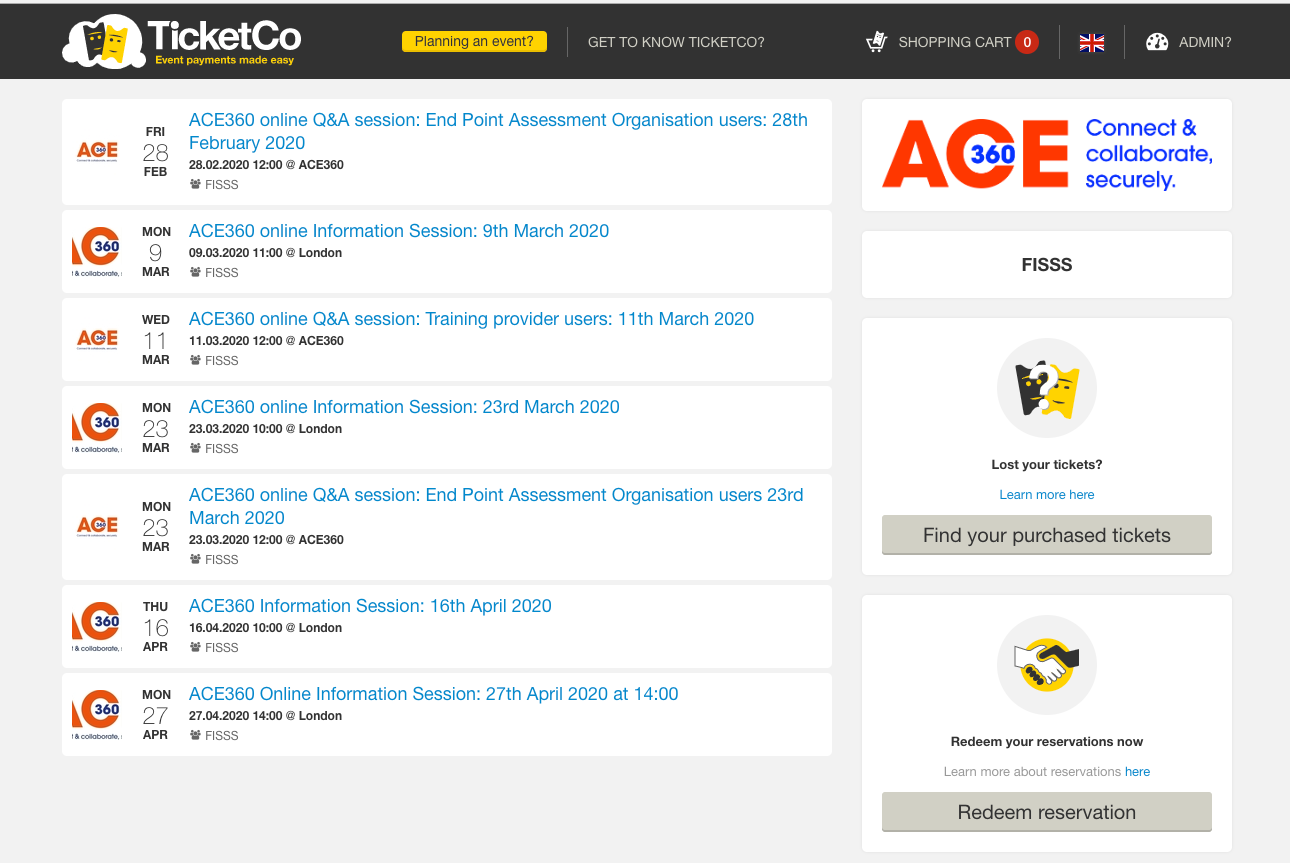 To find your subdomain link simply take the first part of your event link found under Event Details.

Tracking sales
You can use Google Tag Manager or our Tracking Links feature in order to track sales on your events. We will need to activate GTM for you if you would like to use it, so please contact us here for further information regarding this. You will find our tracking links feature under Promote in your event pages.
Step 4 - Hardware and the admin app
Prior to your event taking place, you should ensure you know what kind of hardware to will need. Please read through this article for further guidance.
How to set up iZettle
If you are using an iZettle terminal to sell tickets over the counter, please see here (iOS article) and here (Android article) for help with how to set this up.
Scanning and selling tickets in the app
Here is where you can get more help and guidance in regards to scanning and selling tickets on the door.
How to connect a receipt printer in the app (STAR TSP650)
Here is a guide on how to connect your printer to an iOS or Android device.
Step 5 - Reporting
There are a range of different reporting tools available in our platform, so head this way for an overview. You might want to collect a summary report from the Dashboard, or take a deeper look at your sales reports under your event page. Either way, we suggest looking at the documents found here for some more information.
Step 6 - Helping your ticket buyers
You may receive some questions or queries from your ticket buyers once your events are on sale. We have created articles such as this in our help pages which is specifically designed for ticket buyers, so feel free to have a browse through the help articles there. If you want to issue a refund to your ticket buyers, please see this article.
Any other questions?
Please do not hesitate to contact us here, or send us an email to support@ticketco.net if you have any further queries. We wish the best of luck with your oncoming ticket sales!