4. Reporting
Once you have started selling your streaming or VOD tickets, you will want to keep track of this. In the TicketCo platform, you can collect a range of different reports, depending on whether you want an event report, or a report covering multiple events. Here is an outline of the different reporting tools we have, and how you can access them.
Daily report
This tool is quite a simple but effective feature. If you go to one of your events and click the Daily Report tab, you can enter one or more email addresses. Once entered here, we will send out a daily update to these addresses. You will receive a PDF which shows the ticket types, number of purchases per type, the gross item price and the raw sales figures (note that TicketCo's fees are not shown in this report).

Event report
This type of report is probably the most widely used, and is very useful when it comes to box office enquiries, which we will get to in section 10. Under the event pages, you will find a Report tab. Here you will see a couple of tables:
Event report- sales overview - This shows sales per ticket type, and also breaks down the sales into raw sales, TicketCo provision, and net sales. The "Settlement" column shows how much, as a %, of your net sales we have paid out to you.
Event report- settlements - This shows sales per ticket type according to the settlement type e.g. "Online TicketCo", "Gift Card", etc.
Further down on this page, you will find a list of all tickets purchased to your event. You can use the filters to view certain ticket types, or tickets purchased with gift cards, for example. You can search for specific tickets by using the search box at the top of the Report page - you can look up a customer's name, email, phone number and reference code.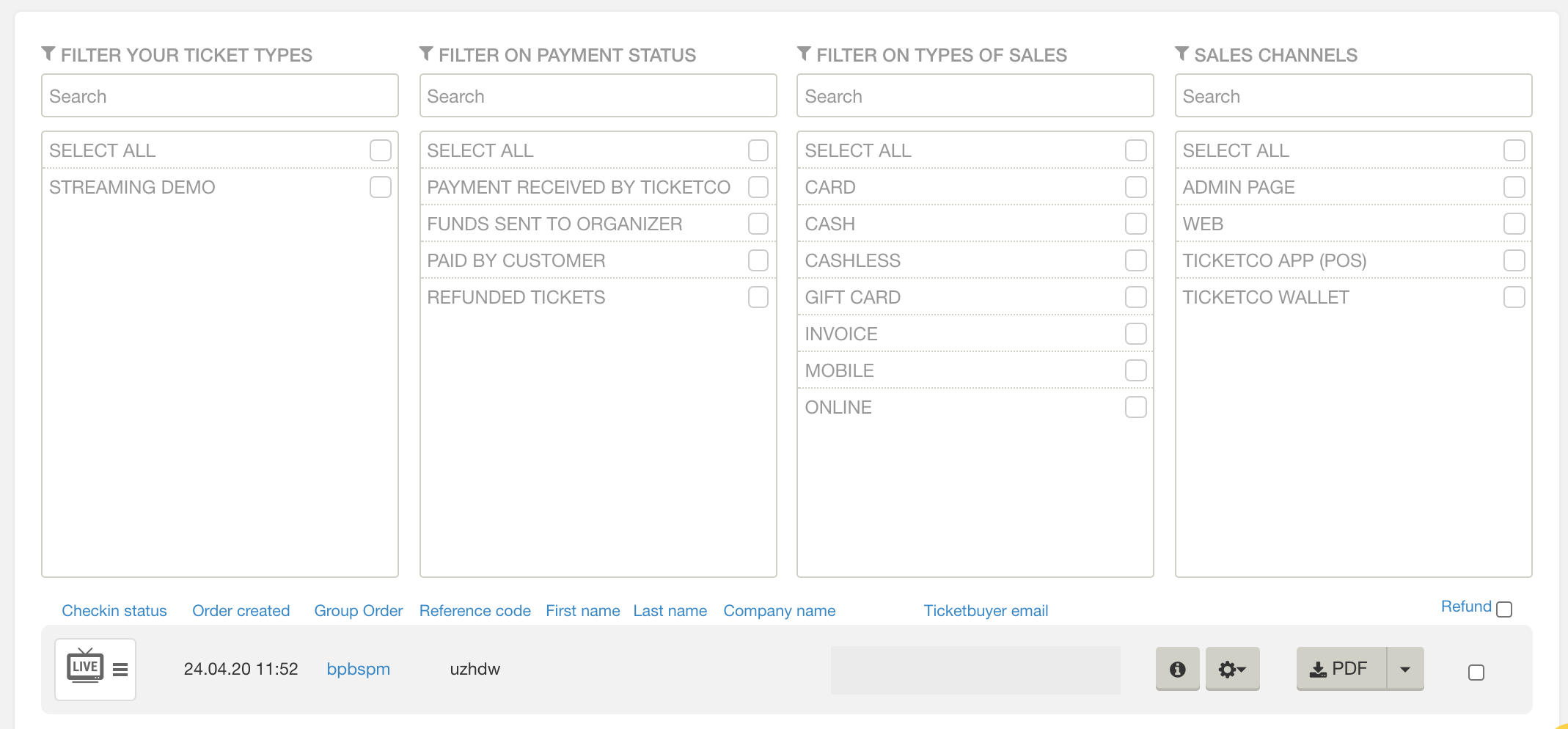 Amongst the list of purchases, you will be able to see:
Checkin status - a red banner will be displayed across the ticket symbol if the ticket was refunded
When the order was made
The group reference code, or "Group Order" - each order has a separate code; if there are 3 individual tickets purchased within the same order, they will have the same code
Reference code - this is the unique code per individual ticket, and this code is what the viewer inputs in order to view the broadcast
Customer's name and email
You can click on the cog symbol next to a specific ticket in order to edit a customers' details.
Scrolling back to the top of this page, you will find a green XLS button. Clicking this will download an Excel spreadsheet showing all the transactions for this event. It is essentially a detailed version of the list of purchases found at the bottom of the report page.
Dashboard report
As you may have already discovered, the Dashboard tab gives you a good overview of your ticket sales per event. If you would like to a downloadable version of this information, you can choose to download a spreadsheet for the past week, month or a specific time period by using the fields here:

Under Show you can toggle between viewing the sales in relation to your ticket capacity, or the sales in relation to your net profit and % of sales settled by us. Clicking on the Report button on each of these events will take you directly to the relevant event report, as described above.
Report tab
Using Report in the main menu will allow you to download a spreadsheet showing sales for multiple events. You can toggle between different time periods under Choose dates to filter data.

When it comes to digital events, you will probably want to select all options under Managers. Then you will be asked to select which events and which ticket types (Item types) you wish to view data for. Once you have selected your options, you can click on XLS to download your spreadsheet. Alternatively, you can view a summary of the sales figures by clicking Run report. You will also be able to select whether you wish to display the data according to item type, settlement type or daily sales.
Billing
When a customer purchases a ticket, the payment is cleared by our payment provider, Adyen, which processes and clears the payment into the TicketCo client account, where it is held until we pay out to you. TicketCo pays out funds for your events on the Wednesday after your event end date. An invoice is also generated in the platform, which you can access under the Billing tab. This tab contains all previous invoices in PDF form, and you will also be able to download an XLS file which documents the transactions included in the PDF invoice.

To have access to the Billing tab, you will have to have the Is billing contact permission activated on your user. This permission will also mean that you will automatically receive an invoice via email each time one is generated in the TicketCo platform. You will find further information regarding settlement and billing under the Reporting and accounting section in our help pages.