2. Ticket types
Under the Ticket types tab is where you will add your different ticket types, including their price. For video on demand events, you will also assign the video file to the different ticket types on this page. For a detailed explanation of all the settings under ticket types, read this article.


You will firstly need to set up a capacity. The capacity name is only visible to you as the organiser, and the quantity can be set very high for digital events e.g. 10 000. If you are planning a hybrid event, you will need to have your digital tickets in a separate capacity to your physical tickets.

Then Create New Ticket Type within that capacity. I started with the standard "Early Bird" ticket.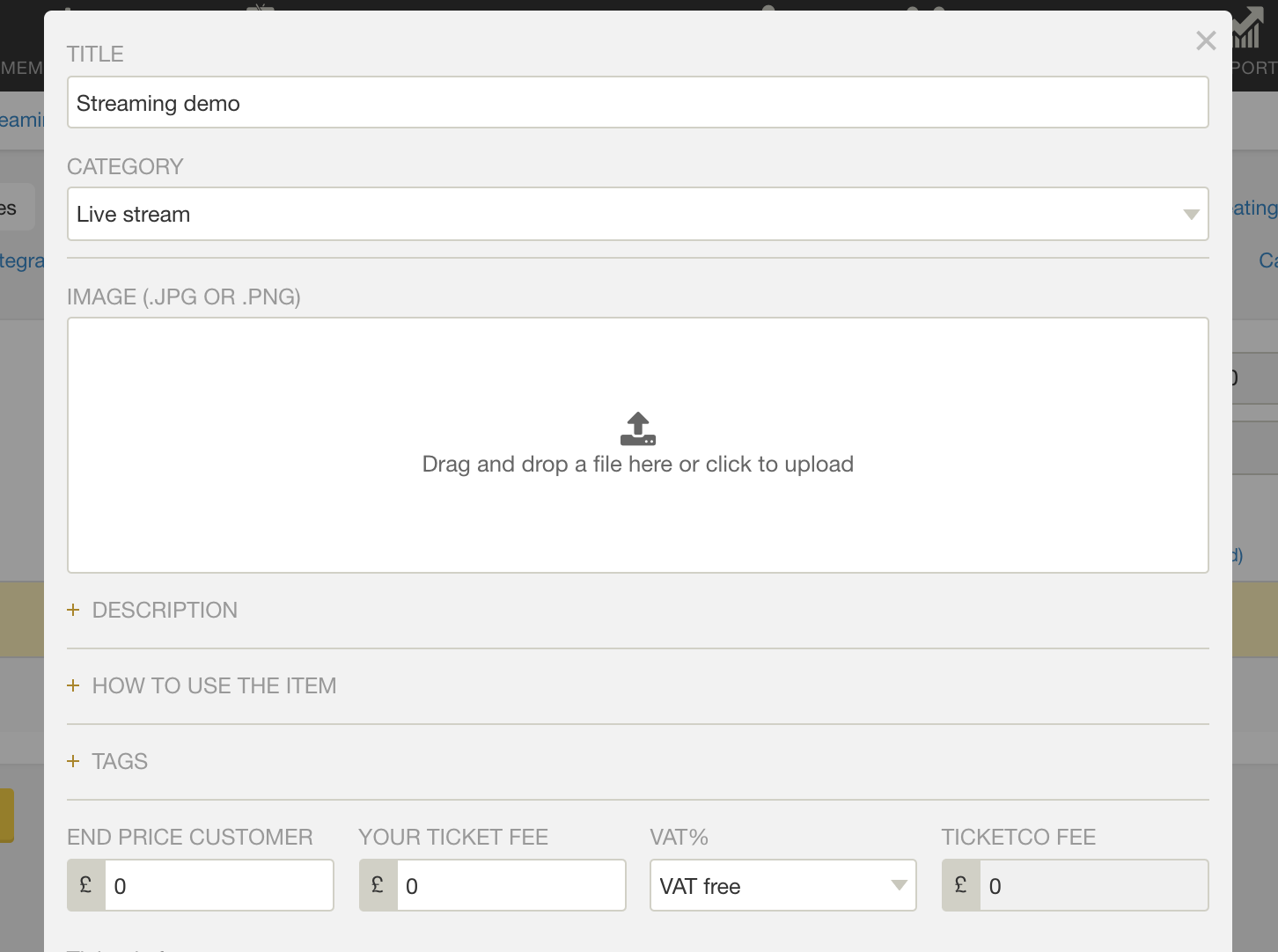 Title - I suggest the name of the show followed by the ticket type.
Category - This will need to be either "live stream" or "video on demand" depending on what you are selling. You will not have access to the "live stream" category until you activate streaming on your event, so you should first set up your tickets as regular "Tickets", then change this once streaming is activated. To get streaming activated, go to Technical information and click Create. If your stream is longer than 4 hours, you will need to send an email to support@ticketco.net and we will assist.
How to use the item - Here, you get another chance to communicate with the audience and tell them what will happen next and how this will work. This text appears on their emailed ticket.
End price customer - This is the total price that your customers will pay, inclusive VAT and your ticket fee which you may choose to stipulate here. If you are unsure of the VAT level on your tickets, please contact your accountant; TicketCo cannot advise on this. The TicketCo Fee will automatically be calculated based on your price plan.
Available tickets of this type - This might feel arbitrary, but it can be useful to have a cap on this if you have a free comp. code, for example.
Max tickets per order - I usually define this as one, as most people only want one pass to view regardless of how many people they are watching with. This idea mostly works, but schools groups often want multiple tickets to give to their students, so there are exceptions.
Start of sales - This tends to auto-fill with the current time and date, but I change this to when we are on sale.
Stop sales - This auto-fills to the end of the event, but I suggest changing to the start of the event so people can't buy a ticket halfway through and then complain they missed the first half. Also, this means you can run promos like Early Bird Tickets etc.

Sales channels - Here is where you will define where your tickets are available for sale. Generally speaking, all of these options can be ticked, unless you are setting up free tickets for special guests or staff. If you are making discounted tickets or free exchange tickets, make sure you select Admin page only, or your free tickets will show up on your web page!

Promo code tickets
+ Promo code - This can be a really useful feature which allows you to hide reduced price tickets behind a promotional code. The customer will have to type in the code in order to access the reduced price ticket type. Wise Children used this feature to sell reduced price tickets to:

Students
Friends and Family (Staff Tickets etc.)
Comps (Press, Admin, Creative)
Social Media Promotions
You can read a bit more about this here.
Video on Demand tickets
For Video on Demand events, you will also be given a couple of other options. You will be able to select the relevant video file under Attachments and you will also be able to define when your customers can view your content. This is done under Valid from and Valid to under Access Control. The Expiry date defines how long your customers will have to view the video after they first click play. For a more detailed explanation please see this article.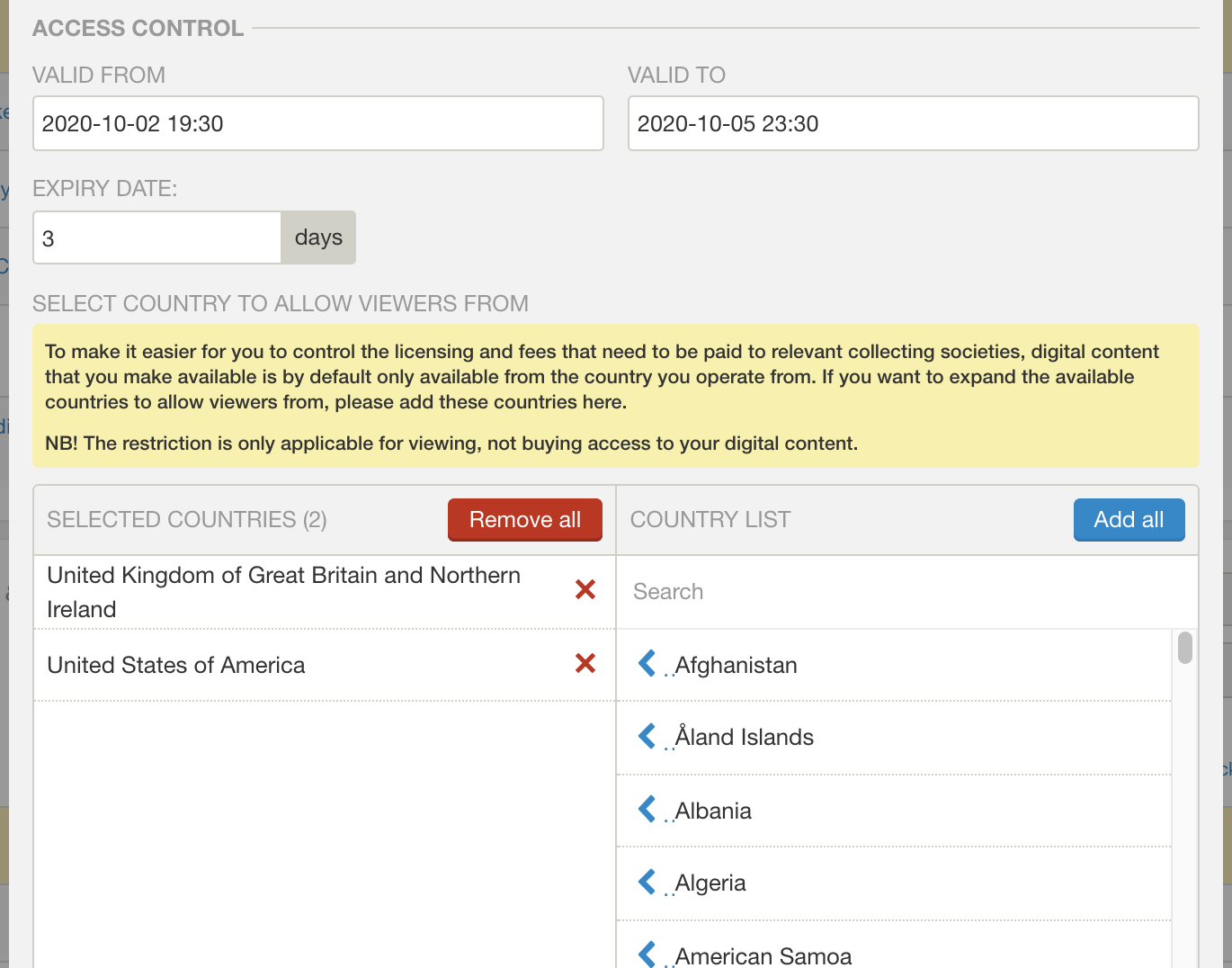 You can also select which countries can view your content. Please remember that you should have the correct licensing to broadcast your content in these countries. TicketCo cannot advise you on this, so if you have any queries, make sure to contact an industry specialist.