3. Branding & Marketing Tools
Branding
Branding is a feature we will have to activate for you, so pop us an email to support@ticketco.net and we will assist. For a more thorough help article regarding branding, as well as all the specifications, see here. Once you have set up branding for your organiser pages, this will be applied to all your events.
Once activated, you will find the branding feature under Organizer settings, in the tabs to the lefthand side. Here are some key elements:
Header Logo Image = the image displayed above your event details, found across all your organiser pages and displayed on your digital tickets
Header Background Color & Footer Hero Background Color = colours at the top and bottom of your pages, respectively
Primary Foreground & Background Colour = the colour of the "Place your order" button, often contrasting to your header and footer colours
Main Card Foreground Color = the background colour for your event description and image
Main Background Color = background colour applied to all pages; you could also use an image if preferred
Main Label Foreground Color = colour applied to obligatory text in purchase process e.g. "First name" "Last name"
Main Font SRC = font applied to all text on your pages
Do some testing to see how the branding is looking for your end users. Remember that the mobile and desktop sites vary a little when it comes to branding, so check both!
Like any new platform, it takes a little time to get the brand look and feel right. We had to invent this, and I wanted to go vintage to make people feel safe and secure around the technology. There's two things to do here: sell the show, but also sell the experience as a new way of watching a show.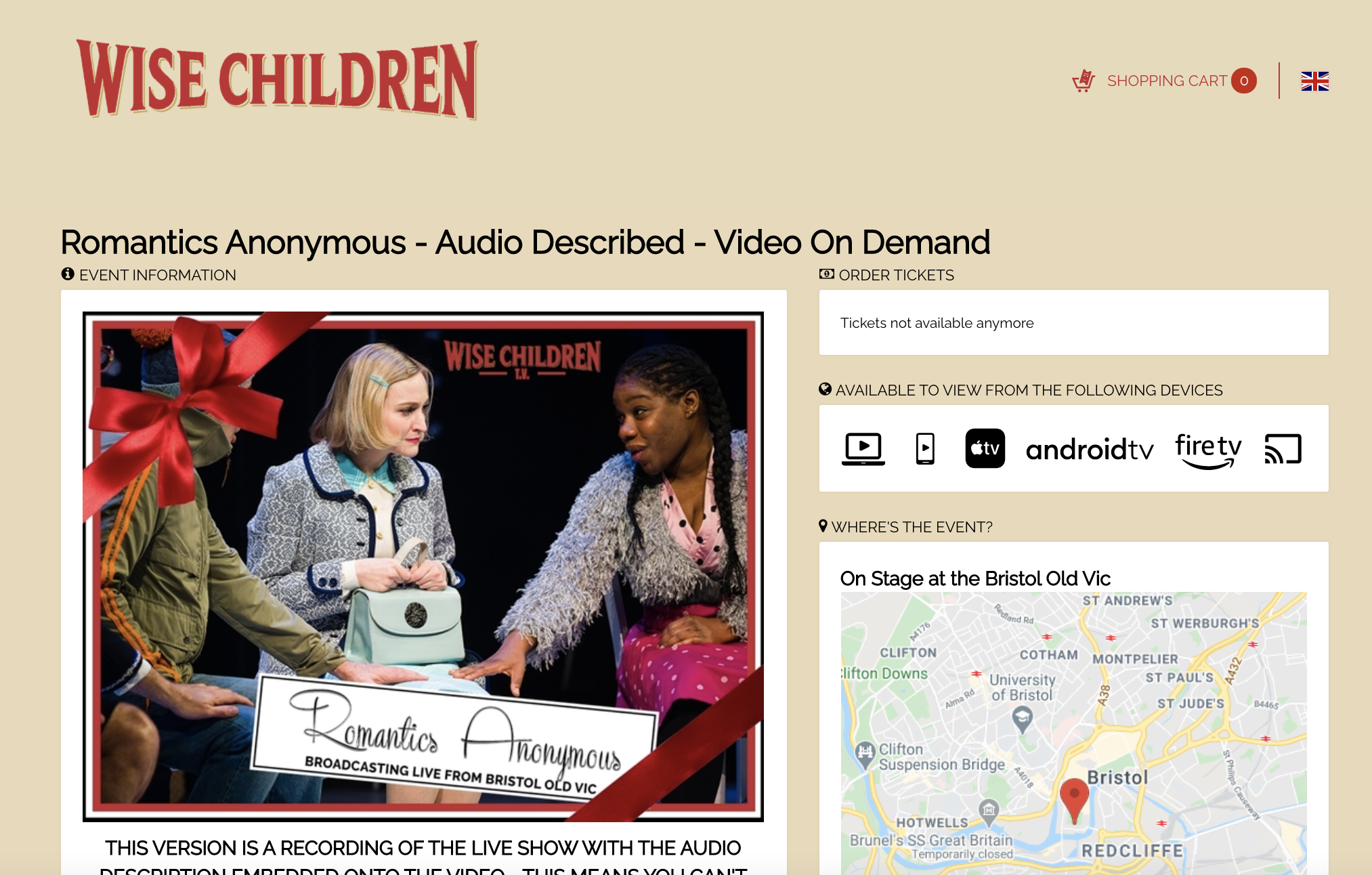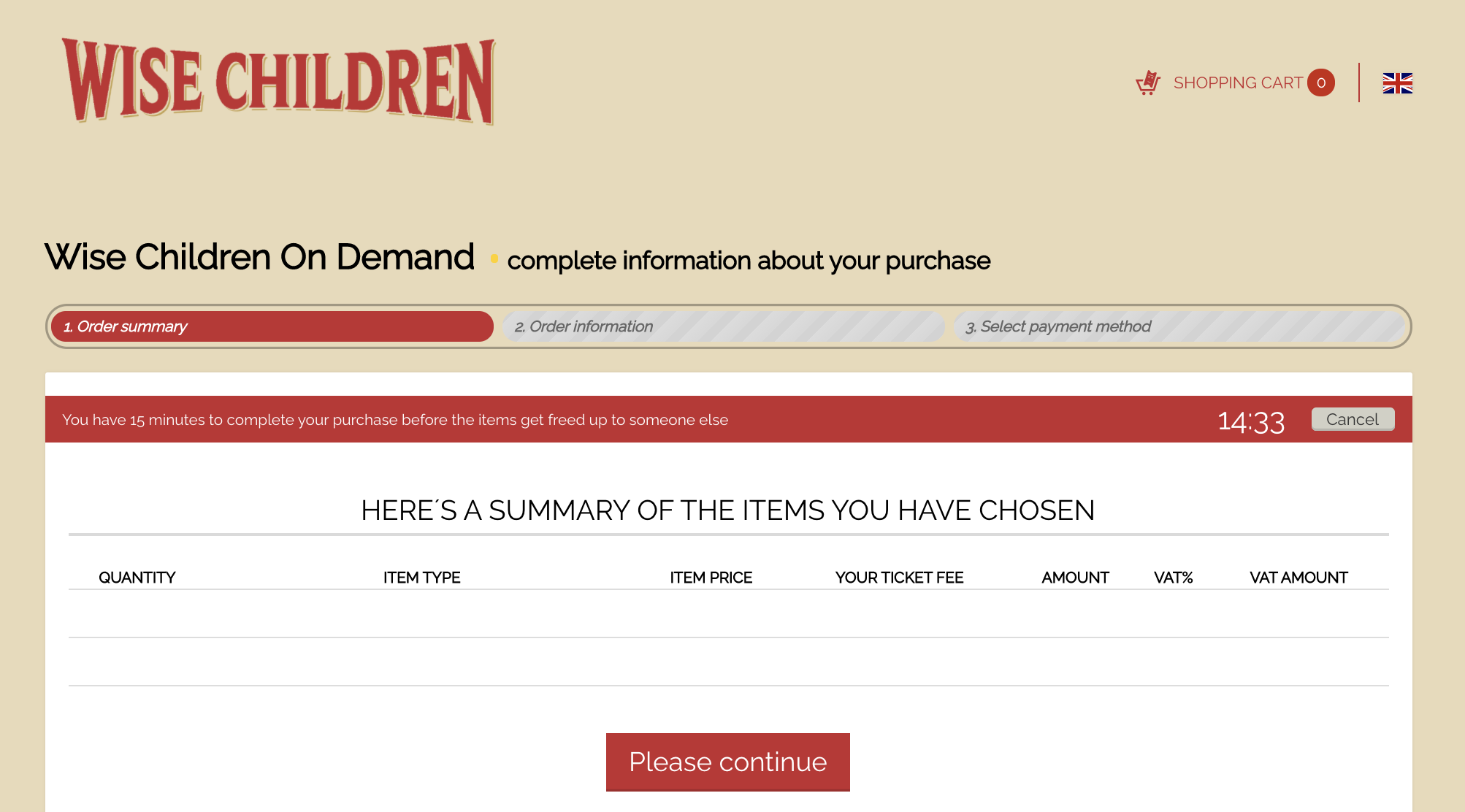 Questions
If you wish to add any questions to the user journey e.g. asking the user if they wish to be added to a mailing list, or what address you should send their merchandise to, then you can add this in the Questions tab under your event.
I created a question such as "I would like to receive email updates and marketing materials from Wise Children", then added a Radio Button of Yes/No and made it obligatory. Once you've made your questions, you have to allocate them to each ticket. This might feel odd, but it makes sense if you use questions for other reasons such as collecting postal address to send merchandise to.
You can find a thorough explanation of this feature here. Please note that you should be acting in accordance with GDPR regulations, and if you need further advice surrounding this, please contact a professional on this topic.
Marketing your event
The simplest way to do this is probably to use the Link to event URL you'll find in the main Event details page. You can easily assign this URL to a "click here" or "book tickets" button on a website or on your socials. This would take you directly through to your event booking page.
You might prefer to embed an iFrame code for you event, or you may need to send an iFrame code for embedding in someone else's site. If you need an iFrame code, go to Promote on one of your events, and then click on iFrames (Embedding) on the left. We have an article here which will help you with this.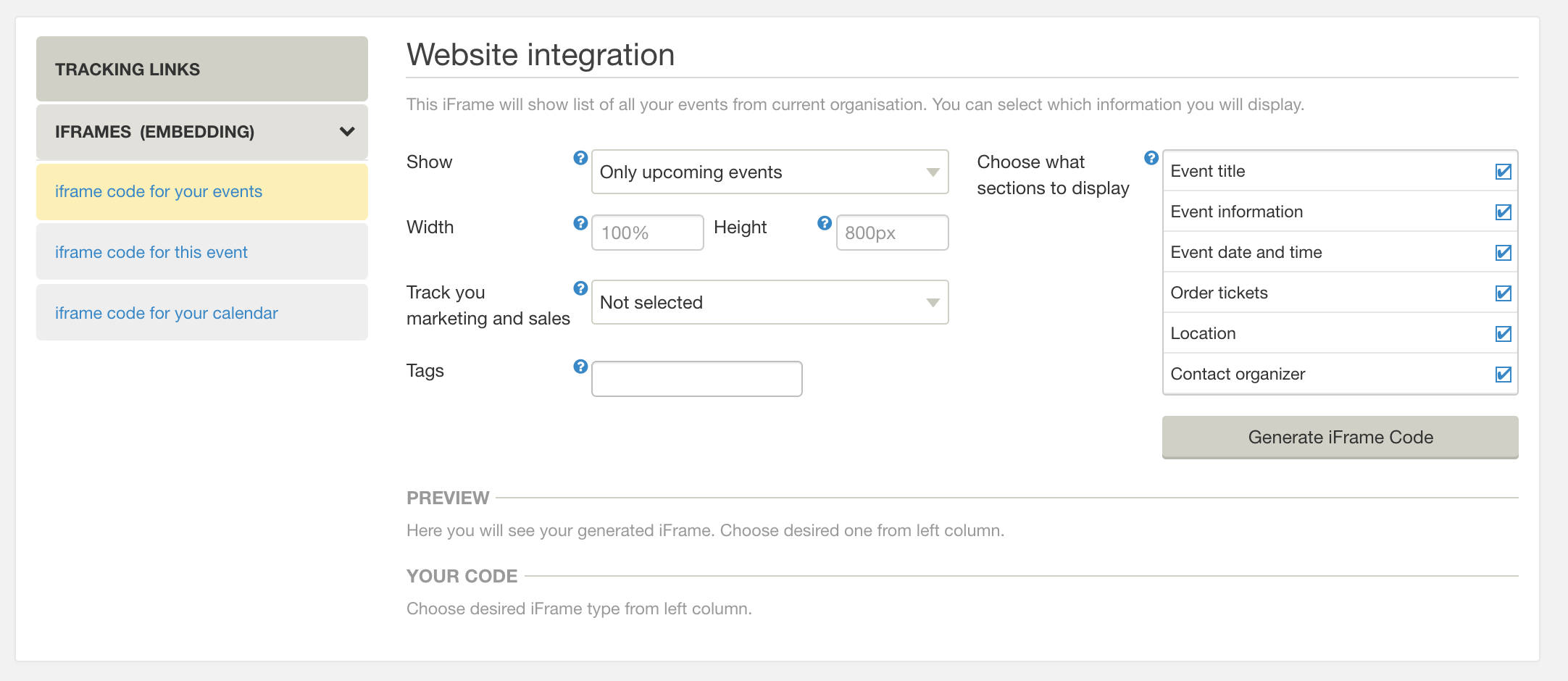 Tracking Links
If you need to track sales, then tracking links might work for you. Maybe you are working with other organisations on a type of commission on purchase, or you want to follow a promotional campaign.
On Promote under your event, you will find the Tracking links tab. You will see your original event URL, as well as number of hits, tickets sold, conversion rate etc. You can create a new link by hitting the Create new tracking link at the top of the page. This asks you to name your tracking link, which will automatically generate a UUID which will be added onto your original URL. This will create a new trackable URL. Each time someone uses this URL to buy a ticket, it will add this to the "hits" and "sold" stats. More help with this is found here.
Google Tag Manager
TicketCo have a great webinar on this which takes a little while to follow, but I found it very useful. You can find it here, and here is a guide explaining how to set this up.
We will have to activate this feature for you, so send us an email at support@ticketco.net if you would like access to this. Once activated, you can add your Google Tag Manager ID by going to Promote in the main menu, and selecting Google Tag Manager on the left hand side.
Contact Attendees
This feature is invaluable. It allows you very quickly to send a targeted email to everyone viewing that event. An email on the day event with reminders to view, and "how to view" information, can cut down questions to your Box Office by a considerable amount.
You will find this tab in your event pages. You can enter your email subject line and input your text, together with some basic formatting. As highlighted in the box to the right, the email will be sent from your registered email address, and ticket buyers may reply to you on this address.

Note that you should not use this feature for marketing purposes. More help with this is found here.
Gift cards
Some of our TicketCo Media Services organisers, Wise Children included, have used our gift cards feature. Many ticket buyers have enjoyed purchasing gift cards for their friends and family in order to provide them with an online viewing experience. You can read more about how to set up gift cards here. Send us an email at support@ticketco.net if you would like access to this feature.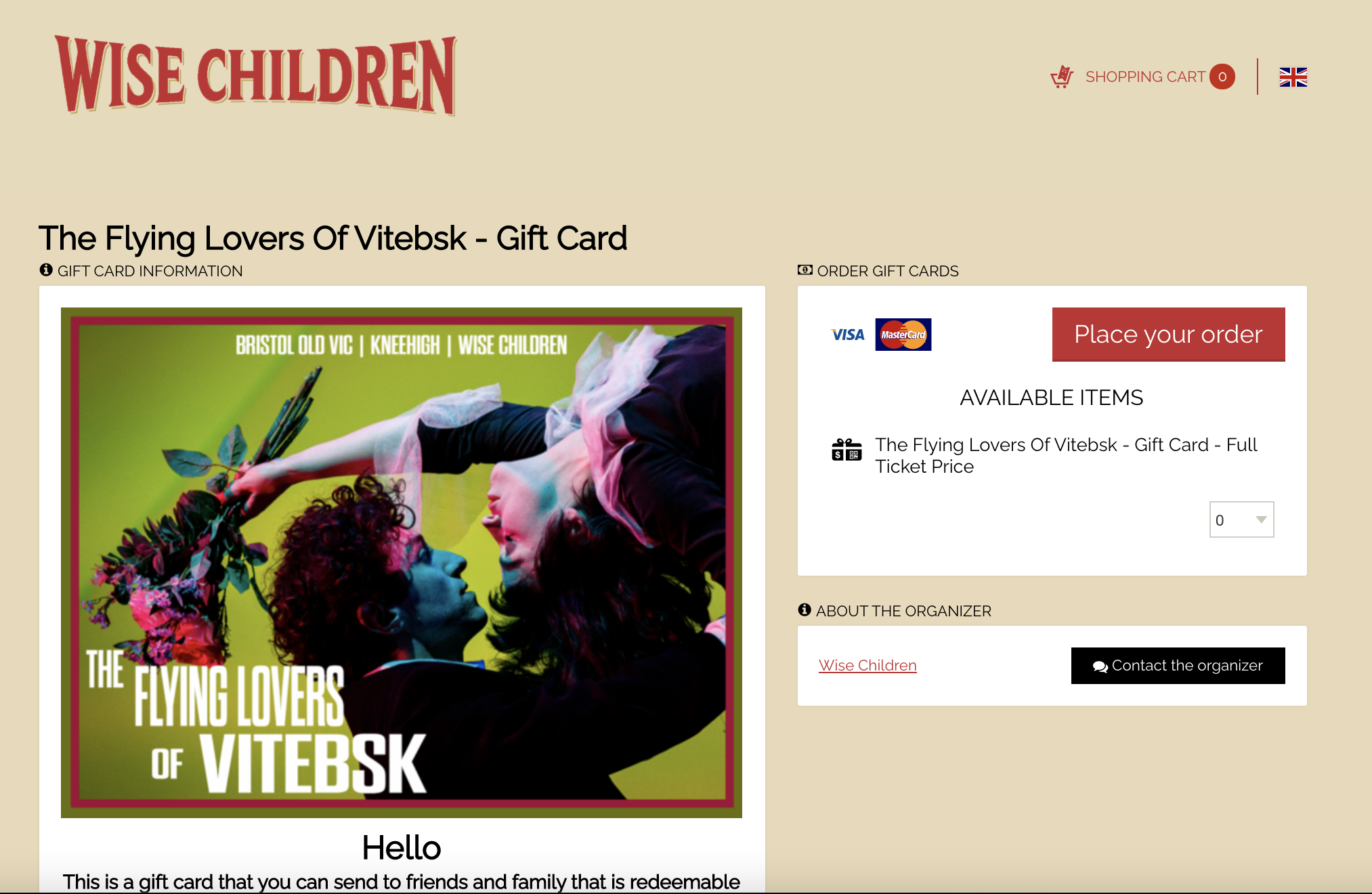 Please note you will need to make it clear to your customers that gift cards do not give direct access to your digital content, but should rather be used to redeem streaming or VOD tickets. Here is a useful article you can forward to your ticket buyers explaining how they can use their gift cards.