Bundling items together in one purchase
TicketCo has recently released a new feature known as Items Bundling. This feature is designed so that you can group together a combination of tickets and/or other items so that your customers can purchase multiple items in one transaction, at a reduced price.
Let's look at some examples...
Weekend away pack
You are selling tickets to a concert, and an overnight stay, and you are also selling some refreshments. The price of the concert ticket is £50, the overnight stay costs £75 and a glass of wine usually costs £5. These individual items would total £130 usually, but you want to offer your guests the chance to buy all three items in one easy purchase at a discounted package price of £110. You could easily set this up using our Items bundling feature.
Hybrid festival pass
You are planning a series of concerts and want to provide both physical and digital tickets in one package price for your customers. That way they can view some exclusive VOD (video on demand) content as well as visiting your concerts in person. Item bundling allows you to create a media library for your digital content, and you will be able to scan your purchasers' physical tickets at the gate.
How to set up a bundle
Once activated, you will access the Bundling feature under Ticket types.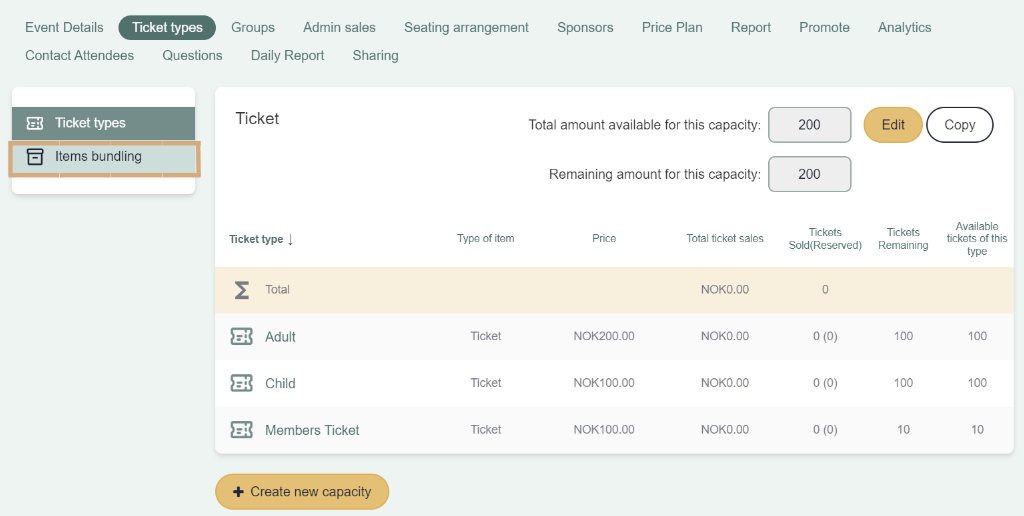 Before getting started, please note that you will need to establish the contents of the bundle before going on sale, and you will not be able to edit it once your sales have started.
Please be aware that you must first set up the individual items which will be grouped within your bundle. For example, for the "weekend away pack" described above, you would need to set up a) the concert ticket b) the overnight stay and c) the refreshments, within the appropriate events/capacities. If you need help with how to set up ticket types and capacities, check out this support article.
Go to Items bundling, and click Add: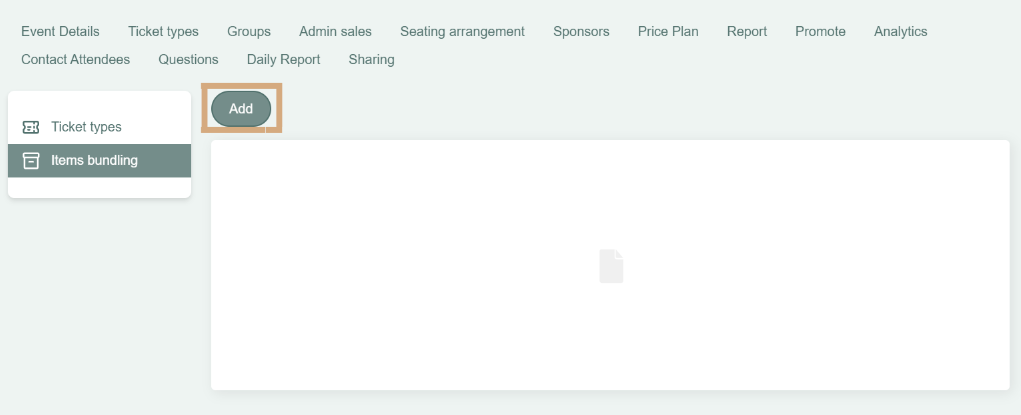 Fill in the required fields as shown below - you will recognise most of these from when you set up your tickets/items: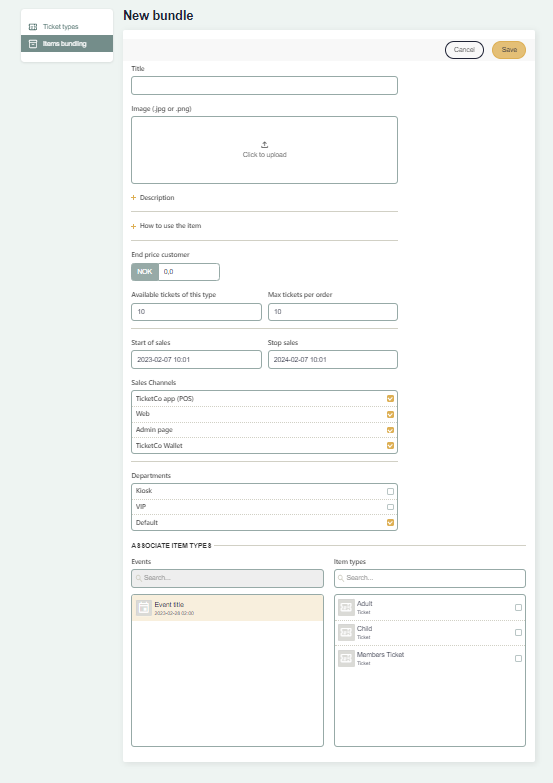 Note that you cannot assign a VAT level to your bundle. This is because the VAT has already been assigned to your individual items, and the relative value of the VAT will be clearly displayed in your reports and for the end customer. Remember that a bundle is simply a grouping of various items, so the items themselves must be set up with the correct VAT level and price.
Under Associate Item Types you can now select which tickets or items you wish to include in your bundle: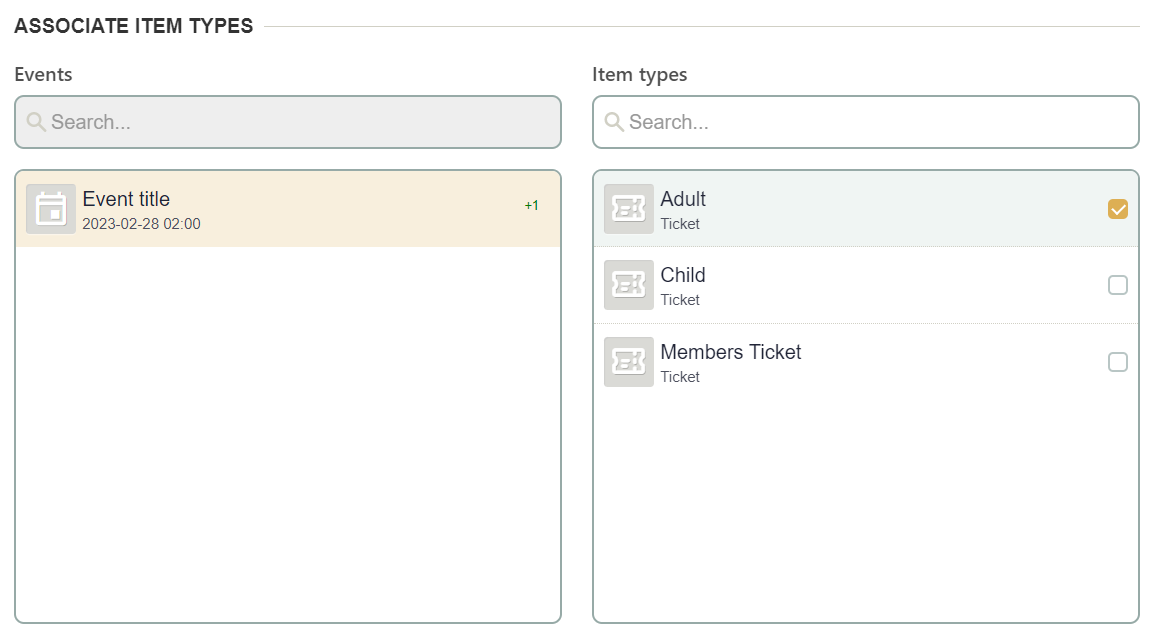 The number of items added from each event is indicated by the small green number next to the event title on the left. Note you can only add one of each item type to a bundle e.g. you cannot add 2 x children's tickets to a bundle, but if you had set up 2 separate items called "Child ticket 1" and "Child ticket 2", you could add both of these.
Remember to select Save once you are done!
Reporting and accounting for Item bundling
As mentioned above, a bundle is essentially a group or pack of various individual items or tickets. Below is an example of how the order summary is broken down for a customer who buys a bundle consisting of items which would usually cost £75:

As you can see, the bundle price is displayed as if it were a discount.
Sales will be recorded on your invoice based on the individual items. This allows you to have different VAT rates for your different items, and the relative price of the item will be calculated automatically. Put simply, the price of the constituent parts will be calculated relative to the price of the bundle. Let's look at an example...
In this case the items described below usually cost £20, but when sold as a bundle, the price of the individual items recorded on the invoice will be adjusted based on the price of the bundle:
Item
Individual price
Bundle costing £10
Bundle costing £15
Burger

£

5

£2.50

£3.75

Beer

£

5

£2.50

£3.75

Ticket

£

10

£5

£7.50

SUM

£20

£10

£15
That means the VAT rate on the individual items will also be calculated based on their resultant price when they purchased as a part of a bundle (columns 3 and 4 above).
Scanning tickets within a bundle
You can scan tickets included within a bundle in the normal way. When a purchaser receives a bundle via email, they will have a QR code for their bundle, and they will receive a link to a page displaying the individual items within the bundle. In the TicketCo admin app, you can scan both the QR code for the bundle and the individual ticket QR code.
Important information about Item bundling
You may only add one of each item type to a bundle e.g. you cannot add 2 x child tickets in one bundle.
At the moment Item bundling is not compatible with seat maps, so you cannot add numbered tickets to a bundle.
At the moment Item bundling is not compatible with time slots.
You cannot set up a free bundle.
You cannot assign a promotional code to a bundle, but you can assign discounts.
You are not able to add new items after you have started the sales of the bundle, so ensure you have add all the constituent parts before you start selling.